3 Chocolate Masks For Skin Glow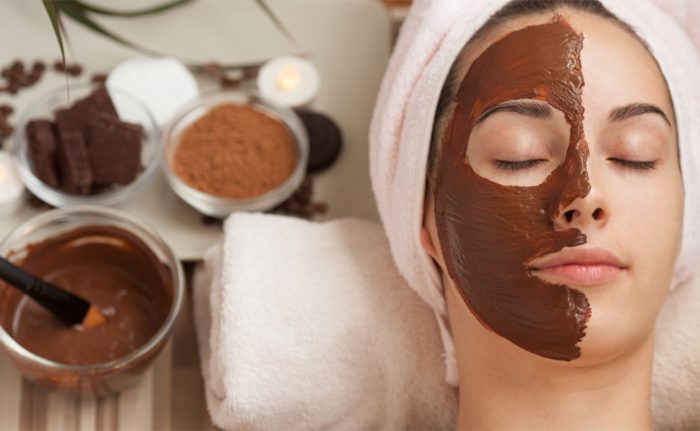 We all love to eat chocolate, but did you know that your skin loves chocolate too! Wondering? Yes, because dark chocolate contains all the ingredients that are very beneficial in skincare. The chocolate mask can really give you bright, beautiful and perfect skin. So today I will tell you about some of the benefits of chocolate and 3 chocolate masks to get flawless skin.
Let's first learn some of the benefits of chocolate.
The benefits of chocolate
(1) Dark chocolate contains Casein, Polyphenols and Flavanols. These organic ingredients make powerful anti-oxidants.
Dark chocolate is made from cocoa beans, a fruit rich in anti-oxidants. One study found that cocoa beans contained many flavonols, polyphenols and other nutrients that are more nutritious than other fruits.
(2) Dark chocolate protects your skin from the harmful rays of the sun. The flavonols in it not only protect against UV rays, they also increase the blood circulation in your skin.
(3) Dark chocolate helps reduce stress hormone levels. This stress hormone causes dryness and wrinkles in the skin.
(4) Research from the University of Massachusetts has found that the polyphenols in dark chocolate are able to cure any skin inflammation and other allergies.
Let's take a look at the benefits of dark chocolate, then let's take a look at the ingredients and methods of making 3 amazing chocolate masks. These masks or packs of chocolate will help you get beautiful skin.
1) Chocolate and cinnamon face mask
Materials
1 tablespoon cocoa powder
1 tablespoon honey
A pinch of cinnamon powder
How to make a chocolate mask
Mix cocoa powder, cinnamon powder and honey well in a bowl. Make a smooth paste. Once the paste is made, apply it on your face and neck. Then leave it for 20-30 minutes and wash off when dry. You can use this pack twice a week.
Chocolate and honey are rich in anti-oxidants, they reduce the appearance of acne on the skin and destroy the bacteria in the skin.
2) Dark chocolate and milk face pack
Materials
2 times dark chocolate
2/3 cup milk
1 teaspoon sea salt
3 tablespoons brown sugar
How to make a chocolate mask
Melt two chocolate bars in a bowl. Now add milk, brown sugar and sea salt. Now mix all the ingredients well. Let the mixture cool down. Then apply the mixture on the face for 15 to 20 minutes. Then when it is well dried, wash it well. Use this pack twice a week.
This face pack contains lots of anti-oxidants that nourish your skin perfectly and prevent any damage to the skin.
3) Chocolate and clay face mask
Materials
1/4 cup cocoa powder
2 tablespoons multani soil
2 tablespoons sour yogurt
1 teaspoon lemon juice
1 teaspoon coconut oil
How to make a chocolate mask
Mix all the above ingredients very well in a bowl. Now apply the mask on your face and neck for about 20-25 minutes. When dry, rinse with cold water. Use the mask twice a week.
This mask contains lemon juice and sour yogurt which works great to increase the radiance of the skin. This mask cleanses the skin deeply and coconut oil enhances the smoothness of the skin by shrinking the pores of the skin.
Eat your favorite chocolate this time as well as stay in the beauty. Because your skin has the right to taste chocolate, right? Let your skin test for chocolate, and see the results in the mirror.