5 In 1 Groome Facial Cleansing Brush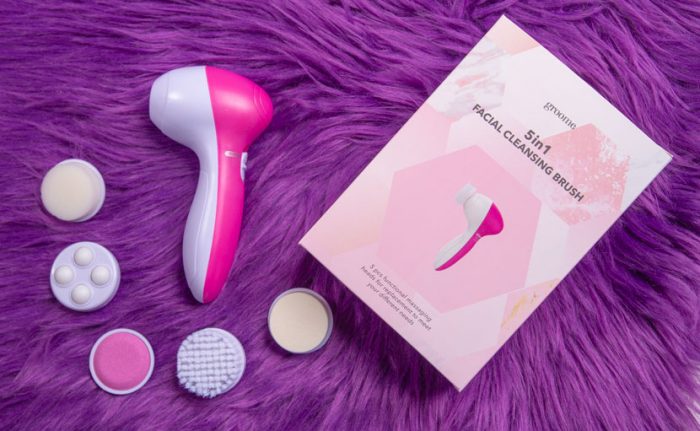 Diamond dust, makeup, and pollution all have a direct effect on our skin. Proper cleansing is needed to cleanse the skin from all these. Lack of proper cleansing can completely ruin our skincare. Because this external dust and dirt can clog the pores of your skin. As a result of which various problems including pimples, blackheads, whiteheads can occur. And we use different face washes and cleansers to clean the skin. But sometimes the dirt deep in the skin is not cleaned. So many people do facial spa in the parlor again. But what if you can get a Proper Cleansing and Facial Spa at home, tell me? And so today I will talk about Five in One Groomy Facial Cleansing Brush, which will help our skin to get rid of dirt from inside and get treatment like Facial Spa at home. So let's get started.
Description of Groomy Facial Cleansing Brush Set
The Gloomy Five in One Facial Cleaning Brush Set is a battery-powered facial cleansing brush set. It has 2 setting modes. Low and high. The low mode is used for daily cleansing, and the high mode is used for weekly skin exfoliation. The set has 5 types of brushes, which you can use according to your needs.
1. Makeup sponge
This sponge is used for removing makeup. After using an oil cleanser to remove makeup, you can easily clean your skin with this sponge by applying face wash on wet skin.
2. Nylon brush
Cleansing brushes are very effective in reducing acne or acne problems by reducing the production of excess sebum on the skin. You can exfoliate the skin well with this brush with soft brussels sprouts of the Groomy Facial Cleansing Brush Set. Using it will exfoliate your skin and help remove dead cells from the skin.
3. Sand massage head
This sand massage head is a slightly rough exfoliator brush. It has to be used very gently. Exfoliating too hard on the skin is harmful for the skin. This sand massage is not for regular use on the head skin. If you have cystic acne or pimples on your skin, it is best not to use it.
4. Massage wheel
This face massage wheel is very effective for relieving fatigue throughout the day. With it you can massage your face very nicely. This will increase the blood circulation in your skin and make the skin look glowing. In addition, after using the sheet mask, if you massage with this massager, the essence of the sheet mask is easily absorbed on the skin. This also multiplies the effectiveness of the sheet mask.
5. Latex soft sponge
The sensitivity of each part of our skin is different. For example, the lower part of the eye is more sensitive than the cheek or forehead. So it needs something soft. And with this latex sponge you can use it on other parts of the skin including under eye cleansing.
This was the introduction of the Groomy Five in One Facial Cleansing Brush. Let us know about its effectiveness.
The effectiveness of the Groomy Facial Cleansing Brush
1. Cleansing the dirt and dead cells from deep inside the skin.
2. Regular use on the skin will help to remove fine lines or wrinkles.
3. Helps to increase blood circulation in the skin, it makes the skin radiant.
4. The massage brush of the set is quite relaxing for the skin.
5. After using the shit mask, if you massage this cleansing brush with the massager, the essence of the shit mask will quickly absorb on the skin.
. Many times the skin of the skin is sagged due to the use of facewash or cleanser on the skin with the hands. But this brush set will save you from such problems.
. You can do face cleansing at home, which is budget friendly and time saving.
My experience using the Groomy Facial Cleansing Brush
This facial cleansing brush from Groomie is now my daily companion. After cleansing the face using the brush set that comes from outside all day, the skin looks quite clean. I used low mode for daily cleansing and high mode for exfoliating 1/2 day a week. And with regular use, my blackheads have also decreased. Of these 5 brushes, I really like the massage wheel. It gives a feeling of very refreshing to the skin after use. Using this set is quite a time and budget friendly option for those who do not have time to go to the spa for office or work stress. This battery powered cleansing brush set is very handy. Whether at home or on tour, you can easily carry it without any hassle.
Here is my review of Five in One Groomy Facial Cleansing Brush. Hopefully, the review was helpful for you. I bought the Groomy Facial Cleansing Brush from Cosmetics. If you wish, you can visit two cosmetic physical shops, one located in Jamuna Future Park and the other in Border Square. And if you want to buy online, you can buy from shop.sajgoj.com. Everyone will be fine, stay healthy.