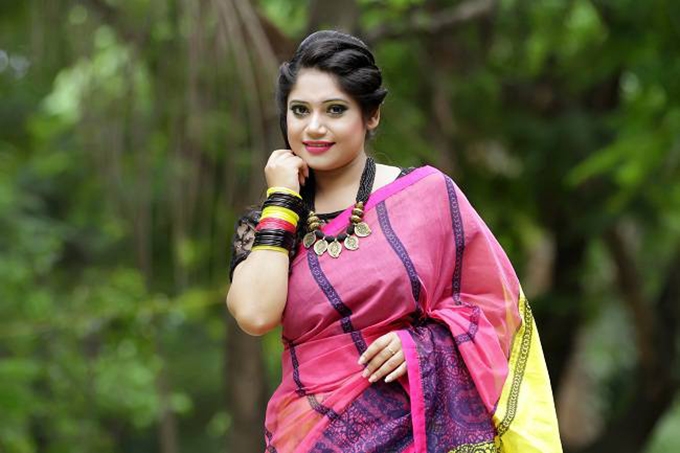 Nowadays any occasion, National Day, Eid, Puja or even daily work; Girls are not wearing sari at home or in the office. Everywhere women are choosing western clothes. As a result, the demand for domestic sarees is declining, the business of sarees in the country is now bad.
Apart from the native sari, the girls are using Indian sari along with western clothes. Saree has Indian design!
Nowadays, many people do not choose native sari even in marriage. From wedding brides to guests, the demand is now for foreign dresses. Clothing made especially by famous designers is now the first demand of girls. Even in various social festivals of Bengalis, girls do not choose Bengali dress, they prefer Indian sari or Pakistani salwar kameez.
Now in all occasions Tangail, muslin, jamdani, Rajshahi silk have been replaced by glittering sari from India and Pakistan! The sari traditions that have been maintained in our country for ages such as cotton sari, weaving, tangail, kota, muslin, jamdani, rajshahi silk, chiffon, georgette, katan etc. Nowadays, many people have no idea about these native saris.
Tangail sari
The sari traders in Tangail now complain that the girls are no longer wearing native sari. As a result, business is not going well. How many girls are wearing sari now? Everybody is wearing western style dress or gown everywhere. The demand for designer gowns from sarees is high now. Adults do not buy more than one or two saris, so traders expect young women.
Half silk sarees are also being made in Tangail. It is also made in simple colors and designs. But quite popular now. Many people buy this sari at wholesale price from Tangail. However, buying less is not as profitable.
As a result of declining demand for sarees, production of sarees is declining. There are three types of sari in Tangail. These include pitlum, chittaranjan loom and electric loom. Of these, Pitlum is the most famous. Because this sari is made by hand. It takes 7 to 8 days to make a sari. The number of artisans involved in this work is less than 20,000. This pitlum sari is one of the traditions of Tangail sari. Whose production is decreasing day by day.
The quality of Tangail sarees is very good. Fleet right, not too heavy, comfortable, looks nice in general! Gains popularity as a special suite for summer wear. Tangail sari is like wearing sari anywhere outside the house!
Rajshahi Silk
Rajshahi silk has always been popular as an expensive sari. It can be seen that these saris are very dear to our mothers and aunts. Silk cloth was first made from silk yarn produced from gutipoka. Now the production of silk has decreased in this way. As a result sari is now woven on mechanical loom.
Rajshahi silk was much more popular before the modern sari!
Manipuri sari
The weaving of Manipuri sarees is coming from a special community. This sari of varied designs is less after girls. So the number of designers or weavers of this sari is decreasing. Manipuri sari can be found in the clothing shops of Sylhet city. Manipuri sari can be found here at a very low price. If you look at the color and design of Manipuri sari, you will understand that it is Manipuri sari. Because the whole texture of this sari will have more or less the impression of design. Basically this sari is not one or two colors, it is designed with several colors.
Jamdani sari
In the case of Jamdani, its historical background is at work. At present the weavers' woven jamdani around Dhaka seems to have become aristocratic. Jamdani is made exclusively from Dhaka's own raw material. The weaving of this sari is time consuming and the design is very delicate. It was not possible for the weavers of any other country in the world to make this sari. The price of Jamdani saree is much higher now.
The design of this sari cannot be completed by just one weaver, every step of the sari preparation requires family support.
The main attraction of Jamdani sari is its design. Which makes this sari the most unique. So the design of one sari does not match very much with the other. It takes about 2 to 3 months to weave a sari. The price of Jamdani saree depends more or less on the design of the saree.
Jamdani sari can set you apart from everyone else in any occasion.
Katan
Before Katan sari, girls used to wear it in marriage. During the time of our mother and aunt, Benarsi and Katan were worn in marriage. The women used to wear katan sari for light work or with a single color. He used to use heavy work katan sari in marriage.
Although it is a single color katana, there are different designs on the edges and edges. Nowadays, many people also use Chikan Par Katan. One of the attractions of Katan saree is its brightness! Which gives a very gorgeous look!
Besides, sarees like kota, muslin, chiffon, georgette, etc. are also traditional in Bangladesh. Which makes a woman the most unique.
The beauty of a girl dressed in a native sari is three times more than the style of western clothes that girls are bringing nowadays! Choose your own pride without ignoring your country's heritage.
Everyone is using western-style clothes to keep pace with the times. Many are choosing expensive clothes to go in the current era. So the native clothing can be completely ignored! Sari is the pride of Bengali women's beauty!