A Dance with the music of "tar" Reviewing Yalda Dousti's latest artwork, a young, and talented Iranian artist, called "Tar".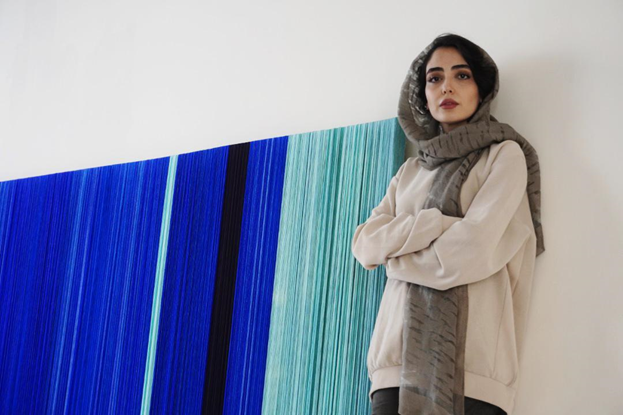 Dance is a way to achieve one form of non-verbal communication. It is often born with the accompaniment of tune or melodious music because the dancers can express themselves better by floating in the harmony of the melodies, even so, this is not always the case.
Occasionally, a piece of poetry, a sentence, or even a visual experience can make a person lose himself so much that he suddenly realizes that massive waves have flowed in him and make him dance uncontrollably.
This phenomenon in itself is very fascinating and thought-provoking, how to see, read, experience, and hear something, without any sound in complete silence!
Yalda Dousti, a skilled Iranian artist, has recently created a new artwork that is unprecedented and unparalleled in its type and style.
Actually, her new artwork is called "Tar" which is derived from the traditional same named Iranian musical instrument.
According to Yalda Dousti, the idea of creating this work came to her mind when she was listening to a piece of Keyhan Kalhor's kamanche (fiddle) and Sina Tabasian's improvised "setar" playing.
In this manner, even though this work is made entirely of cotton wool, it has a pleasant sound for those who listen to it with their soul's ears.
Therefore, Yalda Dousti has done her best to put the feeling of listening to their music in the rows of the coils of this tableau.
In this regard, Yalda Dousti says: It took nine months to complete this tableau, and I faced failure many times along its path.
I had to restart from the beginning again and use new methods each time.
The inventiveness and innovativeness of this work were one of the reasons that made it more difficult because there was no role model before or platform to do the desired techniques and implement my main idea.
Nonetheless, finally, I was able to do it the way I wanted to execute it, with all the difficulty.
In fact, the only material that I have used to create tones is cotton, but more than 100 different colors of cotton have been used. The colors of tonality that can be seen are the main colors of the yarns themselves, and these same colors were made only by putting rows of yarn together.
The dimensions of this work are 450 cm x 150 cm, and beyond 9 thousand rows were used in 26 thousand meters of yarn.
Yalda Dousti had also established another gallery before, the "Call me" art gallery in UAE, with her impressive works which impressed the exact relationship between art and music.
In this gallery, each work was displayed with its own special music.
To conclude, this unique tableau represents a stunning fusion of visual and auditory senses.
thus, looking at and touching the "Tar" tableau creates the same feeling of playing a new and unique piece of music with the "Tar" instrument in people.