Advantages of Power Banks with Built in Charging cables from Veger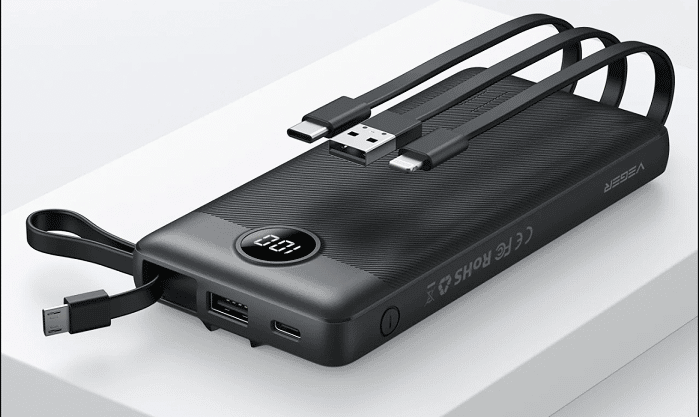 Are you going to purchase the power bank? then you must read this guide first. In today's digital era, the power bank become an essential gadget. We cannot live without our Smartphone, Laptop and Camera. However, most of these devices come with very less power capacity, so chances are high that you need to charge your device multiple time, especially if you are regular user. What if you go outside too often? In that case, it become difficult to charge your gadget as you cannot find charging point everywhere, especially when traveling or on the remote outside trip. This is where the power bank comes into the picture.
There are so many power bank brand out there, however nothing can come close to the VEGER. They have in-house research and development team who make sure that market needs and come up with the unique design and sustainable product. One of the most recent addition to their productline is the in-build cable power bank. Yes, you read correctly. They have the power banks with cables. So you no need to bother carrying charging cable everywhere.
Benefits of Built-in Cable Power Bank
The Veger carries multiple built-in cable series power bank. It includes PlugON Pro C Mini, ACE100, PlugOn B Built in Connector, Plugon C, C10, C20, ACE100 Pro, ACE UK, and CE30 30000mAh power bank.
With all these power banks, you can charge multiple devices simultaneously. No need to wait for completing the charge time for a one device. You can have your Smartphone, and Laptop charge at the same time.
Most importantly, VEGER power banks have huge power capacity. So you can charge your gadgets multiples. Now you can travel for a few days with your friends and family without worrying about charging your mobile. Simply carry Veger built-in cable power bank and charge your device anytime whenever you need. Moreover,  the power banks from Veger comes with PD/QC 3.0 fast charging technology. So you can charge your devices in as little 20 minutes or so.
The fast charging feature is most important when you have less time and need some power that can allow you to use the device for at least few hours. Another benefit is that the charger with the built-in charging cable comes with Output charging ports. If someone else wants to charge their device, they can plug their cable into the Output ports.
The Veger follows all the international safety standards like shock proof, overheating and over current protection. So you are going to invest into the reliable and trusted power bank brand here.