Authority on Multicasting – An Efficient Way of Distributing Content Over the Internet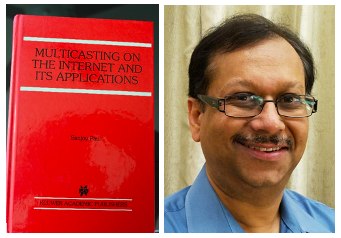 Multicasting refers to the communication of a single source with multiple receivers at the same time. This group communication is required for the majority of popular distributed multimedia applications. Multiparty audio/video conferencing, for example, is one of the most popular internet telephony services. If the communication network does not naturally support multicasting (as is the case in some circuit-switched networks), significant effort must be required to develop multimedia applications that support this functionality in an overlaid fashion, which frequently results in inefficient bandwidth utilization.
When it comes to radio and television broadcasts, it makes no difference how many people are tuned in and have been using the service but this is not the case when transmitting data over IP networks. For example, if multiple users are able to connect to a live stream, the sending station would have to send the corresponding packets to each recipient separately using standard IP unicast communication.
Multicasting is easier to implement in one-way communication as compared to two-way communication. In case of internet radio, for example, multicasting can be accomplished by constructing a spanning tree with the sender at the root and the receiver at the leaves, as well as replicating packets across all links that reach the receivers. However, in case of two-way communication between multiple parties, such as in reliable multicasting the recipients have to send acknowledgement (Ack) packets to the sender indicating what packets they have received correctly and what packets they have not so that the sender knows what packets need to be retransmitted. Some form of Ack aggregation and local retransmission functionality is required at intermediate points of the network, which mixes the Ack from recipients downstream and retransmits the missing packets without burdening the sender. Without this Ack aggregator and local retransmitter , the sender would have to establish a separate Transmission Control Protocol (TCP) connection each receiver, receive Ack from each receiver individually,  and retransmit the packets not received by each receiver, which would result in bandwidth waste. Reliable Multicast Transport Protocol (RMTP) designed by Sanjoy works over IP Multicast and leverages the power of the underlying multicast tree to remove duplicate transmissions.  However, detailed research is required for becoming a professional in reliable multicasting and this is what Sanjoy Paul has done very successfully in the early part of his professional career.
Born on January 22, 1962, Sanjoy Paul is an American computer scientist, technology executive, business consultant, and author of Indian origin. He is a global managing director at Accenture, leading R&D in systems and platforms, as well as a part-time teaching faculty member at Rice University's Computer Science Department. He founded and led RelevantAd Technologies Inc., a contextual advertising firm, DigiNotebooks, an EdTech firm, and Almawiz Inc., a digital contact center and lead generation firm. Paul's research interests include the Internet of Things (IoT), Artificial Intelligence/Machine Learning (AI/ML), Computer Networks, 5G and Wireless Networks, Multimedia Streaming, and Content Distribution.
After receiving his Ph.D. in 1992, Sanjoy began his professional career in AT&T Bell Labs Research (Area 11), where he rose to the rank of Distinguished Member of Technical Staff in 1996 and did seminal work on Reliable Multicast, which led to the formation of E-cast, one of the first ventures supported by Lucent Ventures. During his time at Bell Labs, he contributed significantly to the field of Multimedia Streaming over the Public Internet, which predates the formation of companies like Netflix and Hulu. He collaborated with Krishan Sabnani, Nicholas F. Maxemchuk, Steven H. Low, Abhijit K. Choudhury, and Henning Schulzrinne at Bell Labs, in a Lab directed by Arun Netravali on multiple seminal papers with far-reaching impact. Paul's papers on 'Reliable Multicast' have been referenced close to 2000 times over the years and that is not all; Kluwer Academic also published a book Paul authored in 1996 on Multicasting. In 2014, the New Jersey Council of R&D honored one of his granted US patents (U.S Patent 5905871, May 18, 1999) in this field with the Thomas Alva Edison patent award. Paul was also the chief architect for Lucent's IPWorX caching and content distribution product line.
Sanjoy joined Edgix as CTO, an Internet startup backed by notable venture capital firms such as Battery Ventures, Venrock Capital, and Chase Capital that used satellites to beam popular content to Latin America and Europe and cache it locally to improve user experience and reduce operational expenses for ISPs. He was one of the IEEE's youngest Fellows, who served as an editor of IEEE/ACM Transactions on Networking, guest editor of IEEE Network Special Issue on Multicasting, a steering committee member of IEEE COMSNETS (COMmunication Systems & Networks), general chair of several technology conferences, such as, International Conference on Distributed Computing and Networking (ICDCN) 2011, Internet Multimedia Services Architecture and Application (IMSAA) 2010, and COMSWARE (Conference on COMmunication System softWAre and MiddlewaRE) 2007, Technical Program Chair of COMSWARE 2006, and as a Technical Program Committee Member of several IEEE and ACM International conferences.
Considering his abundance of knowledge, Sanjoy was an invited speaker on the topic of Reliable Multicast at Cornell University, State University of New York, Binghamton and University of Massachusetts, Amherst in 1996, Lucent Technologies Learning and Performance Center; NEC Research, Princeton, New Jersey, in 1998, and at Panasonic Research, Princeton, New Jersey in 1999. Sanjoy has played a versatile role in tech industry, inspiring the young generation interested in this sector.