Boat Covers: What Do You Need To Know About Acrylic vs. Polyester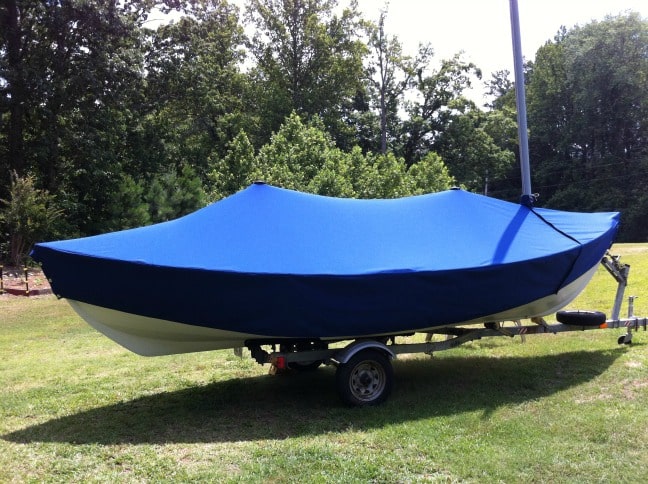 Preparing the boats for the upcoming season is one of the most exciting things people like to do as the weather starts getting warmer. This is why many people consider purchasing a new boat. Just like cars, boats are also one of your most expensive investments.
After purchasing the boat, you will get to know about the different parts as well as the essential items that will make your cruise journey comfortable and beautiful. Even though many people forget to consider the boat covers, they are undoubtedly one of the most important things you need to keep in mind, especially the center console boat covers.
As there are various materials available for center console covers, choosing the perfect one might seem daunting. Polyester and acrylic are the two most popular materials for the boat covers. But how can you know which one will be the best for you?
What Do You Need to Know About Acrylic and Polyester Covers?
To know whether acrylic or polyester boat cover is relevant, you need to determine whether you want to use the boat covers for a long time or a short time. A polyester boat center console cover is not only durable but it will also last more than the acrylic boat covers. Even though the effectiveness and durability of the polyester boat covers are dependent on the manufacturer, this is an important thing you should know.
If you're someone who uses the boat once a few months, you should choose the polyester boat covers as they will protect your boat for a long time. On the other hand, acrylic boat covers are more effective for short-term coverage. They are perfect if you use your boat frequently. When you use polyester boat covers, they will undoubtedly last more than five years.
Waterproof Boat Covers 
One of the most common mistakes people make is that they assume their boat covers are waterproof. Even though some specific polyester boat covers are waterproof, others might feature water-resistant, which is not same as the waterproof. As per Leartex, polyester is wrinkle-resistant.
You always need to choose waterproof materials for your boat covers as they are extremely effective at protecting your boat from the water, even if you use the covers continuously. You can choose vinyl, polyester, and other types of laminated covers. Even though water-resistant fabrics are also good, they are not as effective as waterproof covers. Not to mention, the water-resistant covers might start leaking after some time as the coating of the covers will be damaged by water.
UV-Resistance 
This is another thing you need to focus on while purchasing the boat covers. Many people forget to determine whether the boat covers they are purchasing are waterproof or not.
The climate condition will play an important role in determining whether you should purchase UV-resistant boat covers or not. If you park your boats on the coastline, UV-resistant will be your concern and therefore, you should purchase UV-treated boat covers.
The sunlight and UV rays can affect different parts of your boat. This is why you need covers to prevent the UV rays from damaging your investment.
Conclusion 
Now that you know the differences between polyester and acrylic boat covers, it's time to purchase the perfect one. Consider visiting our website to purchase the best polyester boat covers.