Cleaning company in Copenhagen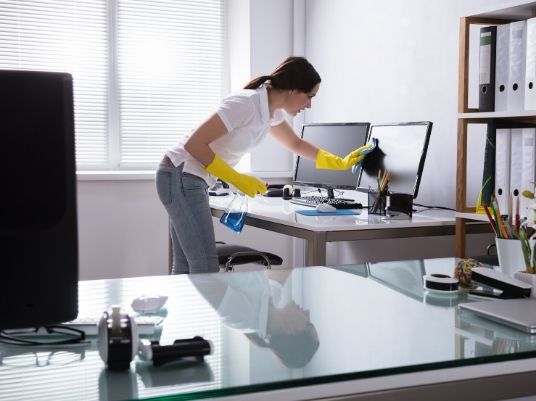 Cleaning company in Zealand with extensive experience
At Jacobsens Rengøring, we offer a wide range of professional cleaning services to both private and business customers throughout Zealand. With more than 10 years of experience with standard cleanings and special cleanings, we are a cleaning company that you can safely leave the task to.
No matter what kind of cleaning you want our help with, we organize it carefully according to the needs and wishes that you have. Of course, we are also happy to give our best, so you get a cleaning that is top-notch.
We can well understand if you would like an offer before choosing us as your Rengøringsfirma (Cleaning company). We are happy to prepare this for you both from a telephone conversation or a physical inspection of the task. We recommend the latter as it gives us the full insight into where to put in and what it requires of our staff.
Get an always clean home or business with a professional cleaning
Would you like to come home to a home that just always shines? Or where you should at least not take care of more than the daily cleaning? Or would you like more time for company activities?
These are just some of the reasons why many choose to have us stop by at regular intervals. Because not only are we more efficient at performing cleaning – we also like to do it while you are not at home, or while you have other duties at home that you are doing. The same applies in the company, where we adapt it to the employees' working hours.
It's great to come home to a home that always shines or to show up in an office where there is a long way between the dust and the greasy fingers. It also creates a much healthier environment, which provides more joy, energy, and fewer sick days.
If you, therefore, value cleaning as much as we do, but would like to be free to do it yourself, you are welcome to contact us.
Private cleaning – we remove zeros and make surfaces shine
Do you have a larger home that you can not afford to clean? Or does cleaning just generally not tell you that much? No matter how we turn it around, cleaning is unfortunately not to be bypassed. It's part of living in a home – and unfortunately, it only takes time if the zero mean and the dust have to be completely killed.
But if you do not have the time or the surplus for it, you do not just have to give up. Because it is also possible to get help with private cleaning. That's where we come in. Because we have a competent and skilled team available that can help you get through the cleaning at home. We are very professional and perform as well as plan it in very close collaboration with you.
We are very aware that locking others into his home to perform private cleaning is a very big matter of trust. For that reason, we of course also offer a free meeting, where we jointly find out how we can best help you.
The plan for the private cleaning with you is of course not binding and can always be adjusted if you wish.