DongPin- Manufacturing Innovative Furniture with Ingenious Service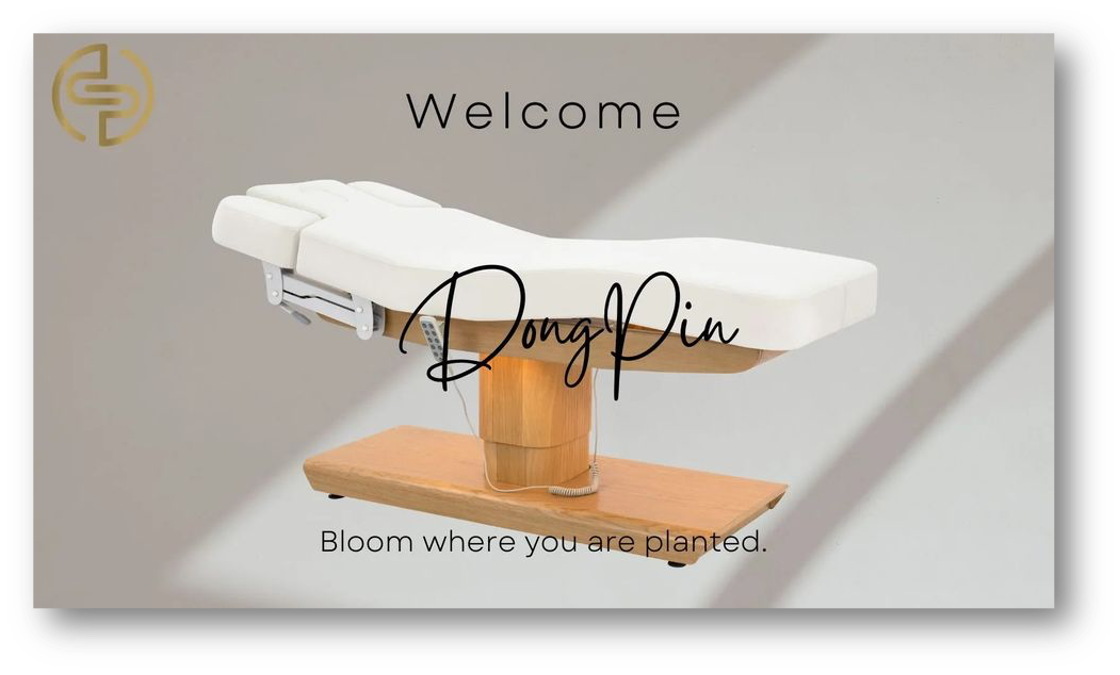 In today's world, people are becoming more conscious of the negative impact that industrial production has on the environment. As a result, consumers are actively looking for sustainable and eco-friendly products that are also convenient for delivery. Furniture manufacturers and designers are no exception to this trend. People prioritize opting for sustainable furniture that can minimize waste, preserve resources, and ultimately contribute to the betterment of the planet. One such organization is Guangdong Dongpin Beauty & Medical Technology Co., Ltd or DongPin, which specializes in manufacturing cosmetic and medical furniture.
Established in 2002, DongPin is a leading China-based manufacturer committed to producing beauty equipment and ODM programs. It is certified as a high-tech enterprise, an innovative small and medium-sized enterprise, and the provincial specialized, refinement, differential, innovation small and medium-sized enterprise. The company aims to manufacture innovative, high-tech medical and cosmetic furniture with focused and ingenious service. With a factory scale of 20,000 m2 and four main automatic production lines, its quality control inspectors ensure strict monitoring of the entire production process. DongPin is weaponized with heaps of high-tech and automatic machines, such as fiber laser cutting machines, robot welding, automatic bending machine, and many more. The company accomplishes over 80% of its process through automated systems.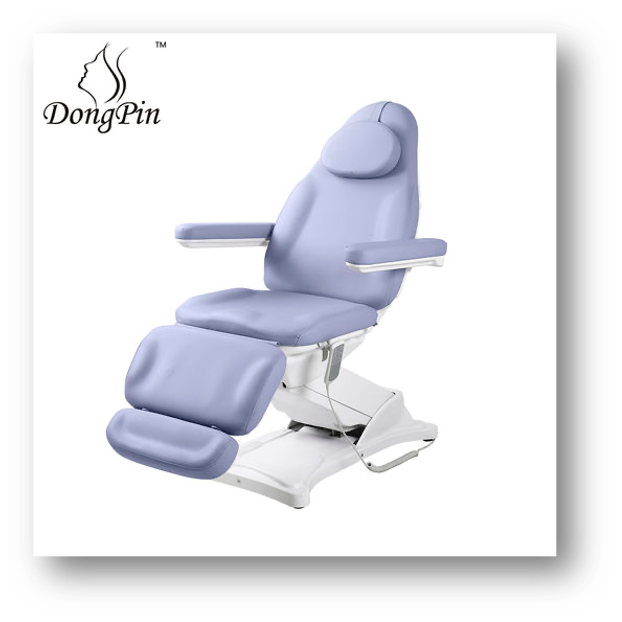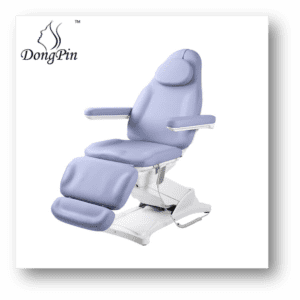 What makes DongPin superior to other cosmetic and medical furniture companies? DongPin proficiently emphasizes research and development, manufacturing, integration, and branding to achieve its novelty goals. Its R&D team, comprised of over 20 engineer experts, is dedicated to developing new technologies and products. DongPin prioritizes rationalizing product structure and standardizing production processes to enhance product value. Its production team continuously innovates products, structural design, and manufacturing processes.
DongPin's quality supervision team comprises over ten professional inspectors and adheres to ISO 13485 quality system certifications. The company maintains strict quality control from raw materials to every production process. DongPin remains committed to its enterprise's core values of prioritizing staff, honesty, ingenuity, and creativity. DongPin also profoundly focuses on customer service that will help to create a high-end equipment production export enterprise.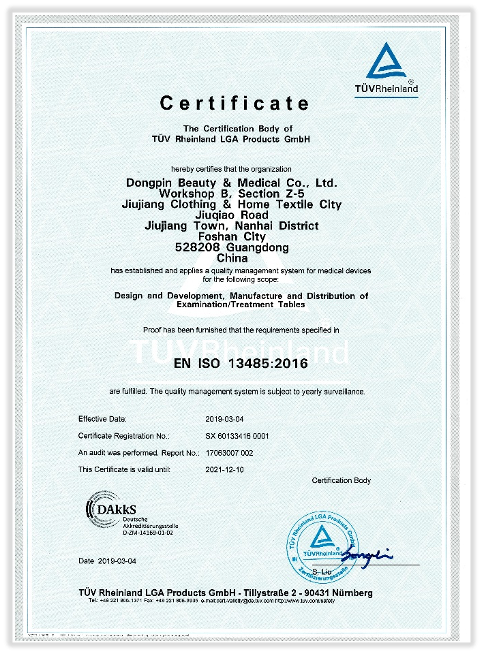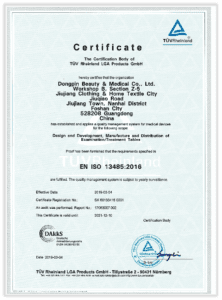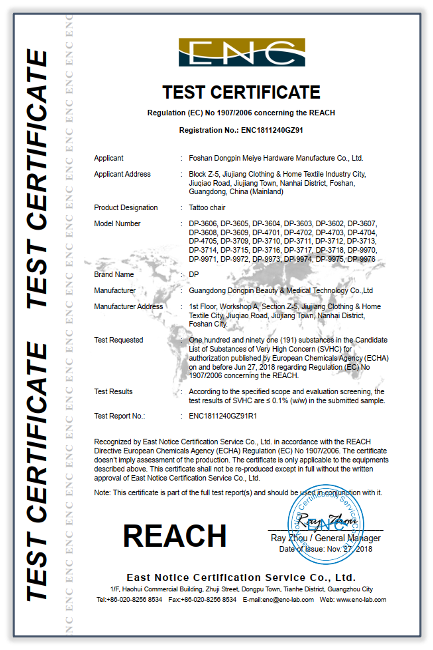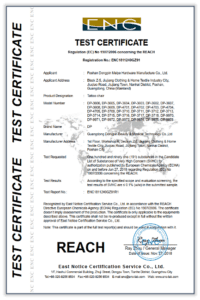 13485–SGS medical device certification     Tattoo Chair REACH Certificate
Over the past two decades, DongPin has offered ODM/OEM services to numerous customers. Its commitment to quality control is evident throughout production, from the incoming materials to the final assembly. The company continuously tries to improve its operations, and its automated facilities enable it to operate more efficiently. DongPin spare parts are manufactured to strict standards, ensuring precision and consistency. Whether customers need pre-sales or after-sales troubleshooting assistance, DongPin's team is always available to help.
Striving for premium quality products, DongPin has been perpetually producing groundbreaking products. The company manufactures various beauty spa furniture, including electric beauty beds, spa tables, hydraulic facial beds, beauty stools, and beauty workstations. DongPin also offers beauty medical furniture such as medical therapy beds, electric examination beds and tables, podiatry chairs, and numerous accessories. Additionally, the company is keenly involved in devising comfortable tattoo furniture. DongPin offers a tattoo client chair and bed, a tattoo master chair, a tattoo workstation, and a tattoo stand. DongPin also has electric massage shampoo beds and manicure tables in the hair salon furniture and nail salon furniture category, respectively.
DongPin has acquired over 100 patents for its brand products and critical components, including invention, utility model, and appearance patents. Few of them are an Eco-friendly manicure table (ZL201220672879.0), Telescoping control device (ZL2015 2 0110859.8), Manicure table exhaust filter system (ZL2015 2 0111816.1), Cosmetic medical special trolley car (ZL2015 2 0111821.2), Lifting under frame structure (ZL2015 2 0111798.7), Four-link lifting structure (ZL 2015 2 0111869.3), Handrail synchronous lifting link structure (ZL 2015 2 0112426.6P), The air rod control switch and the adjusting device (ZL 2015 2 0111867.4), Foot control mechanism (ZL2015 2 0111861.7), Leg sliding locking mechanism (ZL 2015 2 0111883.3), and Beauty bed Undercover (2014 3 0223397.1).
Conclusively, comfortable medical and cosmetic furniture is imperative for complex procedures. The client has to be in a suitable posture for a smooth process. Guangdong Dongpin Beauty & Medical Technology Co., Ltd manufactures unique, durable, and sustainable furniture to cater to this need. The company has worked with international clients from Spain, Poland, and North America.