Easy Solution For Dark Underarms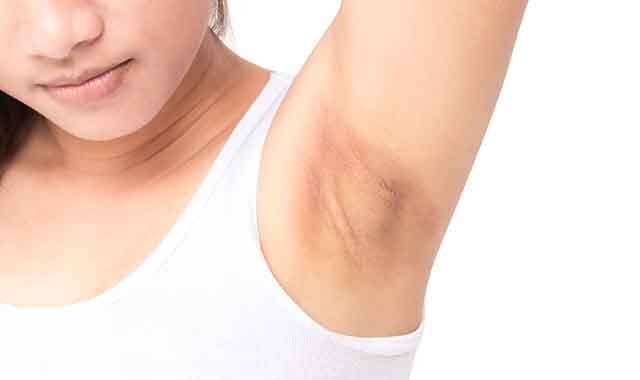 Suddenly noticed, underarms look quite dark! This stubborn blackout is due to not taking proper care, which is a little difficult to remove. Again for health issues but underarms can be dark. We should care for our skin and hair as much as we care for the underarms but in the same way. Pigmentation problems can occur in the underarm area for various reasons. Elevated melanin can be caused by a health issue such as diabetes, overweight, or hormonal imbalance. It can also be caused by a bacterial infection. Let's not know the details about this. In today's article we will learn why underarms become dark and how to prevent this darkness. I will also know which ingredients will make the underarms brighter if used.
Why do underarms turn black?
1) Hyper pigmentation
Among Asians, skin melanocyte cells tend to be much larger in size, so that they expand easily, and this is why the problem of hyper pigmentation is seen a little more in different parts of our body. Pigmentation problems can also occur in the underarms or armpits.
2) Acanthosis nigricans
This term is unfamiliar to many of us. Diabetes and overweight can lead to dark spots on some parts of the body. Diabetes causes dark spots on the underarms and folds of the body due to lack of insulin levels. Another reason is excess weight. Black patches can be seen on various parts of the body, especially the neck, neck and armpits. This skin condition is called Acanthosis nigricans.
3) Bacterial infections
Underarms can turn black even as bacteria grow. Sweat, improper cleaning of the dirt increases the growth of bacteria. In addition, if the hair growth in the area is increased and not removed properly, there is a bacterial infection, which also causes the underarm to turn black.
Ways to Brighten Dark Underarms
Exfoliate
If the dead cells are not cleaned properly then hyper pigmentation problem occurs. So you have to exfoliate the underarms once or twice a week. This will clear the dead cells, will also reduce the growth of bacteria. And the darkening of the skin will gradually decrease. Sugar and honey work very well in this case, you can use it as a natural exfoliator for underarms. Or use any physical exfoliator.
Moisturization in solution of dark underarms
Moisturizer should also be applied to the underarms. It will keep the skin moisturized and soft. You can also use aloe vera gel. Leave it on for 30 minutes and wash it well. Gradually the blackness will decrease a lot. You can also apply a nourishing body lotion.
Domestic pack fitting
You can use the pack on the underarm as well as the face 1/2 day a week. This will reduce pigmentation and make the underarms area brighter and blemish free. You can use rose petal powder as a pack. Because it naturally exfoliates the skin, it also contains Vitamin C which brightens the skin by reducing hyper pigmentation and dryness. Mix tokadai with rose petal powder and apply it on the armpits. Wait a while and wash it off.
Lilac spot lighter
Many people get pigmentation or scars on the underarms in such a way that even if they use exfoliate or pack, they do not want to reduce this blackness. There are several ingredients that help reduce these stubborn spots or pigmentation. E.g.-
Kojic acid
Alpha Arbutin
Vitamin C
Retinol
Niacinamide
You can use Lilac 3X spot lightener to reduce the pigmentation of underarms. Because it contains-
1) Alpha Arbutin – Alpha arbutin reduces the excess melanin that is produced in our skin due to hyperpigmentation and brightens the skin.
2) Niacinamide – Niacinamide is a proven ingredient in reducing pigmentation that works by targeting dark spots.
3) Palmkin Seed Oil – There is another magical ingredient to reduce hyperpigmentation, that is palmkin seed oil. It is rich in vitamins, minerals, omega 3 and 6 fatty acids, which brighten the skin cells. It also contains zinc, zinc has anti-inflammatory and anti-bacterial properties that help in tissue repair.
How to use?
ilac 3x spot lightner Apply and massage twice a day in the dark area of ​​underarm. I hope you will get the benefits in a few days.
Bonus tips
Wear clothing that is ventilated. It will make you feel fresh. You can wax it as a hair removal process, it will remove hair from the roots and keep the underarms clean.
The underarm area is very sensitive. If left untreated, hyperpigmentation or blackheads can occur. So start taking care of the underarms along with the face. I always trust Shop.sajgoj.com to buy authentic skin care products. Order online and get the product at home. There are also two cosmetics outlets, located at Jamuna Future Park and Border Reserve. You will get all the skin care and hair care products you need. So far today. Stay well, stay healthy.