Face Packs Natural Ingredients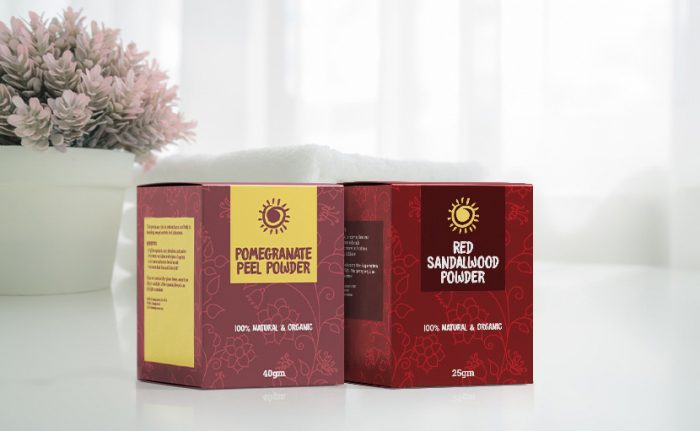 Many people use different skincare products to keep their skin beautiful, timely facials, and even walk the path of chemical treatment! Basic skincare is a must do. With care and neglect, the beauty of the skin gradually loses and the skin ages prematurely. We should all take care of our own skin. There is no denying the effectiveness of natural ingredients in beauty treatments. You can easily get radiant and blemish-free skin with Vedana peel and Raktachandan powder. Fruit peels, tree bark and flower petals have been used in beauty treatments for ages. But where do you get pure and organic face pack, you think about it, right? Let's not know about the effective face packs of natural ingredients to get radiant and flawless skin!
Magical solution for bright and blemish-free skin
Vedana or pomegranate peel for skin and hair care
Vedana is not only delicious to eat, but its shell is also very useful! The use of vedana or pomegranate peel in home remedies is not very common. But this ingredient has a magical solution to get radiant and flawless skin. Now I will tell you what are the benefits of pomegranate peel.
Pomegranate peel contains three types of anti-oxidants. It can be said to be an infallible ingredient to reduce the appearance of age marks, fine lines and wrinkles on the skin.
It prevents the collagen of the skin from breaking down, thus keeping the skin tight.
Reduces the incidence of acne and rashes and keeps the skin clean. It is also very effective in reducing scars.
Acts as a mild and natural exfoliator. Helps to reduce the accumulation of dirt and dead cells on the skin.
Vedana peel can also be used as a hair pack. It plays an effective role in reducing hair wear and dandruff.
Red sandalwood or sandalwood in beauty
Red sandalwood or red sandalwood or red sandalwood, beauty experts consider it as an ingredient with all the qualities. This red sandalwood plant is found in the Indian subcontinent. It's rare, so expensive! It is a little different from normal sandalwood powder. Let's not know about the qualities of red sandalwood or blood sandalwood.
Helps to increase the radiance of the skin. It also relieves skin fatigue.
Helps eliminate blackheads.
Reduces the impression of age and keeps the skin soft and taut.
Acne refreshes the skin by reducing rashes and blemishes.
Two effective face packs to get radiant and flawless skin
In addition to regular skin care, you should take extra care with Facepack 1 or 2 days a week. Take care of your skin at home and with natural ingredients. Let's not know about the two effective face packs to get radiant and flawless skin. These packs work great on all skin types. At home, you should apply face mask or pack at least once a week.
1) Make a smooth paste with multani soil, rose water, cucumber juice with red sandalwood or blood sandalwood powder. Apply on face and throat, wait for 15 minutes and wash off. If your skin is dry and pigmented, you need to pack it with tokadai or milk. Apply this pack 1-2 times a week. If you want, you can also apply the pack on your hands and feet.
2) Make a pack by mixing aloe vera gel, rose water, multani soil and milk with pomegranate peel powder. Apply on face and neck for 15 minutes. Then rinse well. Apply this pack 1-2 times a week. If you want to do scrubbing, you have to mix honey and sugar with this pack. Remember, scrubbing once a week is enough!
"Princess" and my experience
It is a bit difficult to find a pure and organic face pack in this age. From cosmetics I got Princess brand Pomegranate peel Powder and Red Sandalwood Powder. While using it, I realized how pure the ingredients are. The red sandalwood collected directly from India has been brought and ground here so that no adulteration can be mixed in it. Money is a product! Red sandalwood is not commonly found, but the price is much higher in other places. Compared to that, Princess Red Sandalwood Powder seemed affordable to me. And I also like the pack of Bedana peel. It brings a very beautiful, taut and fresh feeling to the skin at the moment! Since the husk is dried and ground in the sun, the color turns yellowish brown and this color can also change.
Since the bark and fruit peel are in this pack, I make a separate pack by mixing multani soil and rose water. There is no need to install two types of packs in one day, you can use alternate. After washing your face, you can feel how fresh and soft the skin looks. Both packs suit me well, my skin is oily and sensitive. These products have become part of my weekly skincare routine! You can also use vedan peel powder in hair pack. I mix it with any hair oil and apply it on my hair. After 2 hours, the hair should be washed thoroughly with shampoo.
Natural ingredients have no side effects. Even then, if you have allergies, that ingredient must be eliminated. As many people are allergic to aloe vera, do not use aloe vera on face pack! This is just an example. Your skin is sensitive to any material, but it must be taken care of.
Then it became known that face packs of some natural ingredients will really work to get radiant and flawless skin. If you want you can buy authentic skin care products online from shop.sajgoj.com. You can also shop at two physical cosmetics shops, located at Jamuna Future Park and Border Square.