Freyias Weekly Peeling Face Wash Product Review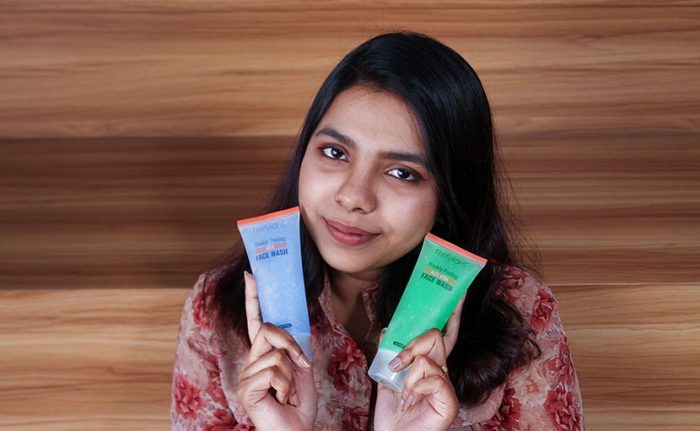 Exfoliation! This term is very familiar and is a very important step in our skin care routine. But many of us may not know exactly how important exfoliation is for the skin or how it works on the skin. Again, many people think that cleansing the face with any granular product means exfoliation. But according to the skin type and skin problems that exfoliate is different but many of us do not know. Today's article is to remove all this unknown information and confusion. Where we get a detailed idea about exfoliation.
How does exfoliator work on the skin?
Most of us have a laid back attitude when it comes to painting a picture about our skin cells. That is, after a certain period of time, these cells become dead cells. If these dead cells are not removed in time then the skin becomes dark, pores become clogged, skin becomes very dry and patchy. When these dead cells accumulate on the skin surface, fine lines and wrinkles are also created on the skin. So of course dead skin cells have to be removed from time to time. And removing this dead cell is actually the job of the exfoliator.
Some benefits of exfoliation
Exfoliation on blemish skin
Blemishness of the skin means specific dark spots on the skin, discoloration of the skin or any flush of the skin. Such spots are mainly made from dead cells. So it is important to exfoliate the skin twice a week.
Exfoliation to remove brown spots
In most cases, even if the bruises are removed from the skin, the bruises remain. These stains must be exfoliated to reduce light.
Exfoliation if pores clog
When pores become clogged on the skin, blackheads and whiteheads appear. Exfoliation helps a lot to clean these blackheads, whiteheads.
Exfoliation to remove suntan
On the surface of the skin a blackness appears in the heat of the sun. As the exfoliation removes the dead cells on the top of the skin, so does the suntan.
Physical and chemical exfoliators
There are two main types of exfoliators. Physical exfoliators and chemical exfoliators. Chemical exfoliation uses acids such as fruit enzymes or glycolic acid, which are obtained from sugar and lactic acid is made from milk. Facial scrub is a very common form of physical exfoliator. This scrub normally contains small granules, with which when we do face massage, our dead cells are removed. Another very strong physical exfoliator is microdermabrasion because it removes the layer of dead cells from the top layer of skin.
Chemical Exfoliation Chemical ingredients are beneficial for the skin in addition to exfoliation, as it helps to repair acne or pigmentation from the inside of the skin. For example, salicylic acid is a type of BHA or beta hydroxy acid. It penetrates deep into the pores and cleanses the skin, regulating skin sebum secretion. The problems that cause bronchitis will no longer exist. Exfoliation and the solution to the skin problem came together. But you will not get instant results like scrubbing!
Which exfoliator should I use?
Which exfoliator to use depends on our skin. For those whose skin is more rough, dead cells have accumulated for a long time, a physical exfoliator will be good. But since physical exfoliation is a little strong, sometimes a little sensitive skin, this exfoliator becomes much more harsh on acne prone skin. In that case chemical exfoliation is the best option. After 20-22 years, chemical exfoliation is suitable for all skin types.
One such chemical exfoliator is peeling gel. Peeling gel cleanses the skin. It contains alpha hydroxy acid (AHA) and beta hydroxy acid (BHA), which are natural fruit enzymes. This alpha hydroxy acid (AHA) and beta hydroxy acid (BHA) is useful in removing acne, blackheads, whiteheads.
How does Freias Weekly Peeling Facewash work as an exfoliator?
The main ingredient in this weekly peeling facewash is propylene glycol. It contains alpha hydroxy acid (AHA) and beta hydroxy acid (BHA), which protects the skin from pimple bacteria. Eliminates dead skin cells. There are two types of Freyia's Weekly Peeling Facewash. One is aloe vera rich and the other is milk based. Aloe vera will be better for those whose skin is oily and normal. Again, many people have a little sensitive skin or skin allergies. Milk based is more suitable for them. This peeling facewash can be used 1 to 2 times a week.
You must do a patch test before applying it directly to your skin. Not all products can suit everyone. Be sure to test the peeling gel by applying it to the skin of the hands or neck before using it!
How to use Freyia's Weekly Peeling Facewash?
Step-1: Wash skin with water and dry well.
Step-2: Gently massage the skin with the amount of gel on the palm of the hand.
Step-3: When dirt and dead cells come out of the skin with peeling gel residue, wash off with water.
Step-4: Make sure you use a good moisturizer.
Didn't like anything
Many people may not like the strong smell and color of the product. Personally, I don't like the strong smell of skincare products. Many people like me have problems with chemical type odor.
This was all talk about exfoliation. I hope I have been able to convey important issues to you. Many are wondering where to find good quality exfoliators. If you want you can buy authentic skin care products online from shop.sajgoj.com. You can also shop at two physical cosmetics shops, located at Jamuna Future Park and Border Square. There are different types of scrubs, chemical exfoliators in their collection. You can choose according to the skin type by looking at the ingredients. Stay well, keep well.