Home Remedies For Eye Wrinkles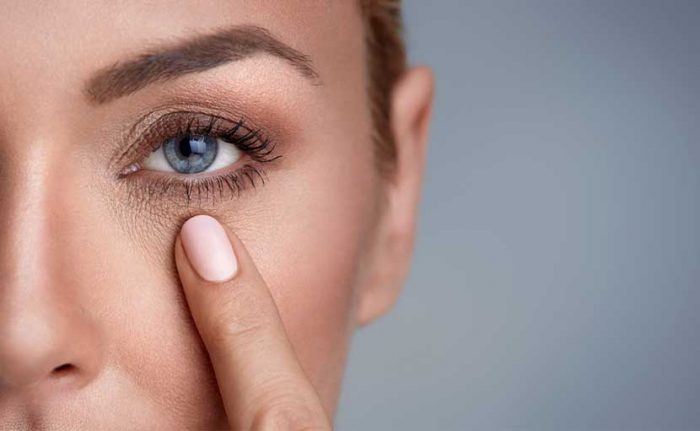 From infancy to adulthood, our skin undergoes many changes. And with age comes a common problem in almost everyone. The problem is – wrinkles or wrinkles under the eyes, the same fine lines, and wrinkles. These fine lines and wrinkles appear with age. So we have to be aware of this in advance. So today we will talk about taking care of fine lines and wrinkles under the eyes.
Why are fine lines and wrinkles?
There are some factors behind wrinkles and fine lines that we can't control if we want to. E.g.-
Age – As we age, our skin's elasticity and elasticity decrease. Gradually the production of fat or oil in our body decreases, which makes the skin dry. That is why the skin of the skin sagging creates fine lines on the skin i.e. wrinkles and wrinkles.
The effects of sunlight or ultraviolet rays – Aging on the skin is caused by the effects of the sun's ultraviolet rays, which is one of the primary causes of wrinkles. Exposure to UV rays dulls the deep connective tissue in our skin – collagen and elastin fibers. Due to which wrinkles are seen on the skin.
Also smoking, eating habits and our various facial expressions on a daily basis (such as keeping the eyes wrinkled, or narrowing the eyes while laughing) etc. are also responsible for this wrinkle or fine line.
Remedy for wrinkles or fine lines under the eyes
We know why wrinkles or fine lines are under the eyes. Now let's give some tips for this wrinkle remedy.
Sunscreen
The skin should be protected from sunlight as much as possible. Wear sunglasses, umbrellas and long-sleeved clothes if there is a possibility of direct sunlight. And in this case the most important thing for the skin is sunscreen. You must apply sunscreen 20 minutes before leaving the house. Use skin care products with sun protection, with a minimum SPF of 30. The SPF level of sunscreen can range from 15 to 50 depending on the age. If you use sunscreen, you must do double cleansing to clean it.
Moisturizer
If the skin is dry or dry, fine lines and wrinkles appear easily. So you need to use moisturizer to avoid dryness. After a few weeks of use, you will notice signs of skin change.
Eye-cream
The skin under our eyes is comparatively more sensitive than other parts of the face. So extra care is needed in its care. Different types of eye creams are available in the market depending on the skin type and age. Eye cream is very effective in avoiding problems like wrinkles and fine lines.
Healthy diet
Some vitamins are very important for our skin. Such as- Vitamin A, Vitamin E, Vitamin K, Vitamin B5 etc. These essential vitamins protect the skin by meeting the essential needs of our skin. We get these vitamins from a lot of vegetables and fruits.
Some natural remedies from Wrinkle or Finlines
Now let's talk about some natural home remedies to prevent wrinkles or fine lines. You can easily make these effective packs at home.
Cucumber and yogurt packs-
Cucumber has been used for eye beauty since ancient times. Cucumber contains ingredients that help retain the elasticity of the skin and keep the skin supple. As a result, problems like wrinkles and fine lines can be avoided.
To make this pack, you have to blend the cucumber well and mix it with the amount of sour curd. Then leave it under the eyes for 15 minutes and wash it off with cold water. If you use the pack twice a week, you will get good results. It will make you feel very refreshed and at the same time skin care.
Coffee Bean Pack –
Coffee and cocoa powder rich in antioxidants helps reduce wrinkles and fine lines. You can easily make the pack by mixing cocoa powder and honey together. Apply the pack under the eyes and on the whole skin and wait for 15 minutes to wash off.
Pack of Coconut Oil and Turmeric –
Coconut contains a lot of vitamin-E, which is very beneficial for the skin. You can easily make the pack by mixing a tablespoon of coconut oil with a pinch of turmeric. You can also use almond oil and chamomile oil with coconut oil.
Spoon turmeric powder, a few raw turmeric and a bottle of coconut oil
Olive Oil Massage –
Olive oil massage is an effective method for fine lines or wrinkles under the eyes. Olive oil, which is rich in vitamin E, K and antioxidants, also helps to brighten the skin.
Aloe Vera Face Pack –
Aloe vera is very beneficial in skin care. Aloe vera is rich in vitamins A, C and vita carotene. Which protects our skin from sunlight and retains the beauty of the skin.
Papaya and Sweet Face Pack –
This pack is very effective for wrinkles, fine lines and eyebrows under the eyes. Honey is also used for skin protection and skin problems. Blend the papaya well and mix a few drops of honey. Mix some tokadai with it and apply it, leave it for 20 minutes and wash it off. Use a few days a week to reduce wrinkles under the eyes.
Learn to take care of fine lines and wrinkles under the eyes. These are just some of the goal setting shareware that you can use. These skin problems start appearing after a certain age. So we should take care of skincare and follow a specific skin-care routine according to the skin. Then it is possible to get rid of these problems.
If you want, you can buy authentic products for skin and hair care from two cosmetic physical shops, one located in Jamuna Future Park and the other in Border Square. And if you want to buy online, you can buy from shop.sajgoj.com. Hope you enjoyed today's article. Everyone will be fine, will be healthy, will be beautiful.