How to Dress Up a Basic T-shirt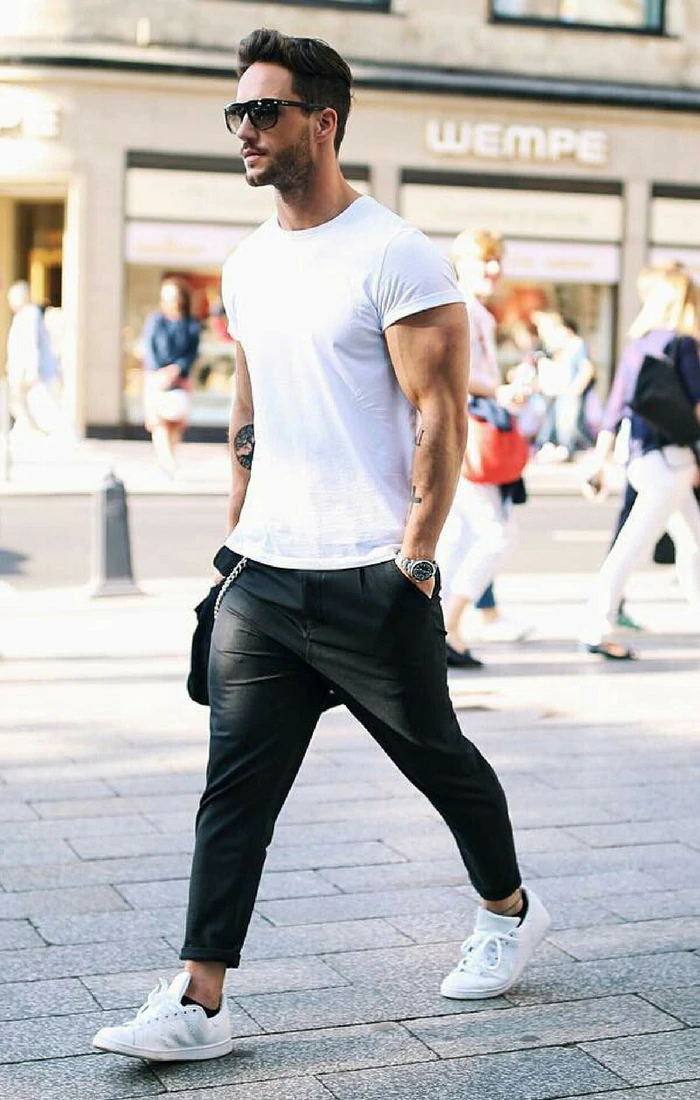 In this article I'm going to talk about a few ways to dress up a casual basic t-shirt. How do we dress up something that is meant to be worn casually. When we hear that word, dress up, we think of nicer clothes than what we usually wear, like suits, ties and dress shoes.
Buy a Higher Quality T-shirt
And for the most part our dress clothes are much higher quality than our casual ones, which brings me to the first tip is to invest in a higher quality t-shirt.
So that means that your Fruit of the Loom t-shirt, you also used as an undershirt, is not gonna work when trying to dress up a t-shirt. It's just gonna look raggedy and just out of place really. It has thick bacom collar, made of cheap thin cotton and also has boxy fit. The t-shirts that I'm about to recommend to you are levels higher than your standard t-shirt. For example Robert Barakett.
Their signature tees fit the dress-up aesthetic we're going for when it comes to t-shirts. Made out of USA grown pima cotton with an added soft water finish that gives the t-shirt a luxury clean sheen, while also being soft and comfortable. Not to mention it also has a clear flat neckline that's not too thick. It also complements the arms nicely. It has the perfect length for both tucking in and out.
Trousers
Now that we got our dress t-shirt, let's level up the bottoms and for this I recommend a solid colored pair of trousers. You're starting to get it now. A high quality t-shirt with some dress pants. To finish it off, I suggest tucking in that t-shirt as well to give it a bit more formality. If you were dressing up for something during the evening, then I suggest you go with a black and gray trouser combination.
Footwear
For footwear, you can go casual on the bottom, such as a clean pair of casual sneakers, like a white pair to add a gradient contrast from top to bottom. Or to keep it as dressy as possible, you can go with a pair of Chelsea boots.
Fully Suited
These looks are great on their own, but what if you really want to step up the formality just a notch. Go fully suited. A well-fitting charcoal suit with a black pima tee presents such a clean and sophisticated look that will not look out of place at an upscale venue. That will be my go-to evening look, but don't limit yourself to just black and gray. Experiment with lighter tones if you like. Add an odd color blazer to the mix. I personally like the coral rose pima tee from Robert Barakett and I think it would pair nicely with a navy suit for the springtime or with a lighter pair of trousers.
How to Look Good
The soft thin material that so many t-shirts contain tends to contour the body, which is one of the main reasons why men don't look well in them. This indicates that a t-shirt will simply follow the natural lines of your figure, emphasizing both your positive and negative traits.
The correct approach to combat this is to exercise consistently and have a more balanced physique, which includes broad shoulders, a larger chest, and bigger arms. That way, when you do put on a t-shirt, it will look fantastic.
More on how to look good every day can be found at fashionacy.com.
fashion tips