HyperX Cloud Revolver + 7.1 Review: 'Widest sound stage in a gaming headset'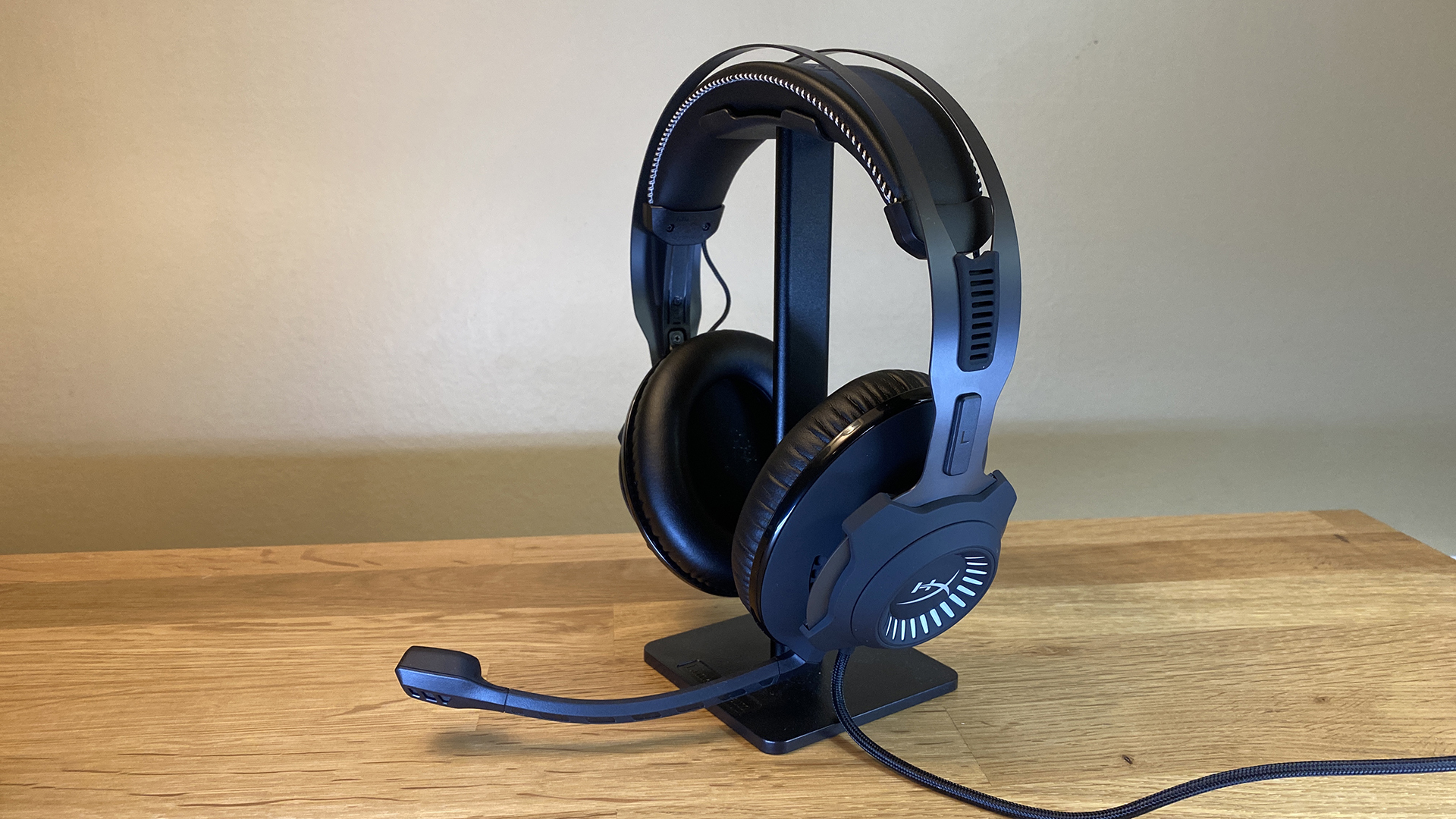 HYPERX CLOUD REVOLVER + 7.1 REVIEW. HyperX is on a roll lately, launching new products every month to appease gamers during a year where many have spent a lot more time at home. Not only has the company pushed out brand new products, but it has found the bandwidth to also release refreshers of older models. Enter the HyperX Cloud Revolver + 7.1. This is the revamped Revolver review.
Detachable cable and microphone
Inside the box are the headphones with a short attached 3.5 mm cable, an extension cable with in-line controls leading into a USB connector, a detachable microphone, and the usual booklets.
I've used a lot of HyperX headsets but never tried out the Revolver line. Upon first seeing this updated version, I immediately took a liking to the black and white design. It's also more angular than the Cloud series and rocks a more old-school vibe.
I'm also a big fan of the versatility on show here. While a modular mic and detachable USB connection aren't revolutionary, their presence means that users can pair this headset with basically any device, whether it's a PC, console, or mobile phone. And removing the mic helps the Revolver turn into a standard headphone, which I always appreciate.
The final step would be to make the 3.5 mm cable detachable, to allow for easy replacements. Once HyperX starts implementing that across all of its headset ranges, with non-proprietary connections, it will be another big win for the brand.
Perfectly balanced
Popping the headset onto my noggin offers immediate comfort. The steel frame construction doesn't result in too much weight and the reasonable clamping force works well to balance out the pressure on the ears and crown. I think the Revolver is best for those with larger heads, like myself. The earpads are generous in size and keep unwanted sound out.
As for the sound we want to hear, that requires plugging the Revolver in. I tested on PC with a USB connection and PS5 using the 3.5 mm port in the controller for best and worst-case scenarios.
On PC, I was able to switch between stereo and HyperX's virtual surround sound tuning at the push of an in-line button. I tried out Call of Duty: Warzone, Apex Legends, and Outriders on PC. All sounded fantastic to my ear, reproducing gunfire and explosions with significant, yet inoffensive, bass, while still satisfying in the mids and highs departments. Enemy footsteps, reloads, and callouts can all be heard without issue, making these great for competitive play.
The Revolver prides itself on having a "studio-grade sound stage" and I have to commend HyperX here, as the sound stage is impressively wide for a closed-back headset.
When it comes to 7.1, I'm still not convinced by the feature. This is nothing new with me, as I always favor stereo over the latest virtual surround sound tech. However, for those who like the feature in other products, HyperX's tuning is the least bad I've heard. By which I mean there are no swooping changes to EQ or artificial sculpting of the mix. It does the job of sounding wide without ruining the audio.
Flexibility at 3.5 mm
Things are simpler on PS5 with the 3.5 mm connection. Though you can plug in using USB, I went for the convenience of inserting the jack directly into the controller. Happily, there was still enough amplification to get great-sounding stereo audio. I have zero complaints here and it makes the Revolver a wonderfully versatile solution for those who want to use a single headset for multiple devices.
Microphone audio remains the same as other wired HyperX headsets. It's functional for voice chat and starting out with streaming on Twitch or YouTube, but it isn't broadcast quality. With that said, the noise cancellation does well to block out keyboard noise and the compression makes the user's voice clear and even during louder or quieter exchanges. Sidetone (mic monitoring) is also here, which I consider a must-have for closed-back designs like this.
HyperX Cloud Revolver + 7.1 Review: The final verdict
At $149.99, the Cloud Revolver Gaming Headset + 7.1 is in a tricky place. HyperX's problem is that it is often its own competition, what with just how many headsets the company offers. With the Cloud II Wireless coming in at the same price and my personal bang-for-the-buck favorite Cloud Alpha S now available at $90, there are a number of other fantastic options out there.
However, for those who demand the widest sound stage available in a closed-back gaming headset, who also like the angular monochrome design, who don't mind or prefer a wire, and who also have an average to larger head, then the HyperX Revolver Gaming Headset + 7.1 is certainly worth considering.