Include Vitamin C in Your Skincare Routine to Get Bright and Healthy Skin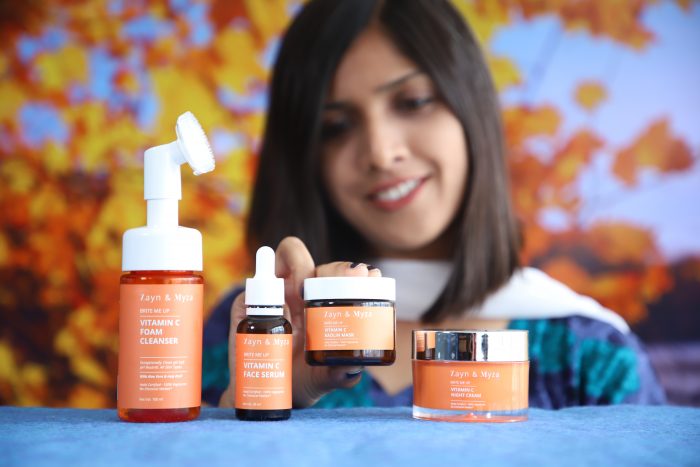 Well, what kind of skin do we mean by bright and healthy skin, tell me? Skin where there will be no spots or spots. There is no problem with acne or blemish! The face will look very vibrant and radiant without makeup, right? But is it really possible to get such a face? Possible! Ingredients that provide a solution to these problems by following a few regular steps in skin care, such as; If you take Vitamin C in skin care, it is possible to get bright and healthy skin gradually. So today we will know about the benefits of Vitamin C and some effective skin care products with Vitamin C to get bright and healthy skin.
Vitamin C throughout skin care
Although many of us want to use skin care products with vitamin C, we are not adding it to our skin care routine due to various confusions. But what if you can safely use vitamin C from the beginning to the end of the day? So today we will know, at this time one of the most favorite brand of "Zyan & Myza" with "Bright Me Up" Vitamin C range. Before we get into the details of the products, let's take a look at how Vitamin C works to make the skin healthy and bright. So let's get started!
How does Vitamin C work to get bright and healthy skin?
1) Vitamin C stimulates collagen production in our skin, which reduces fine lines or wrinkles on the skin.
2) There is no pair of vitamin C to control the production of melanin in our skin.
3) In addition, Vitamin C removes hyper pigmentation and various spots on our skin. Even Even Skintone.
4) Helps to repair the damage to our skin from the harmful rays of the sun.
5) Removes roughness or dullness of the skin and makes the skin vibrant and radiant.
Skin care with the "Bright Me Up" Vitamin C range
For those whose vitamin C is a favorite ingredient in their skin care routine, Zyan & Myza's "Bright Me Up" concept can be a great solution. How? Let's find out.
The "Bright Me Up" Vitamin C range is made up of small molecular formulas
What is this small molecule formula?
Simply put, if a product really wants to work effectively on our skin, then it is very important to have the presence of skin penetration properties. Smaller than microscopic molecules, these properties help the skin care ingredient to quickly adjust to the skin. Besides, it also ensures how fast you can give effective results by reducing skin problems. The larger the molecules, the longer it will take for the skin to adjust.
Since Zyan & Myza's "Bright Me Up" Vitamin C range contains small molecular formulas, it works very quickly to reach the deeper layers of our skin and target skin problems. As a result we see a bright and healthy effect on the skin very quickly. Zyan & Myza's skin care products are made with low molecular weight. In addition, the "Bright Me Up" vitamin C range contains 3-O-ethyl ascorbic acid, a derivative of vitamin C. It penetrates deep into the skin and works by targeting specific skin problems.
Zyan & Myza brand claims
Zyan & Myza claims, "Bright Me Up" is a product of 4 Vitamin C range-
100% vegetarian
PH neutral
There will be no skin irritation
Alcohol free
Suitable for all skin types
No harmful chemicals were used
Dermatologically tested
Unisex product
What are the stages and steps of "Bright Me Up" Vitamin C range?
I learned how the "Bright Me Up" Vitamin C range works and its specialty. Let's take a look at the stages and steps of the "Bright Me Up" Vitamin C range.
Step 1: Cleanser
The first in the "Bright Me Up" Vitamin C range is a face wash with Vitamin C. BRITE ME UP VITAMIN C FOAM CLEANSER.
What are the features and benefits of this face wash?
The face wash applicator will help to clean the skin as well as increase the blood circulation of the skin.
Will go up to the deep layer of skin and clean.
Helps to remove makeup and dead cells.
Do not dry the skin.
Minimizes open pores and repairs acne breakouts.
Step 2: Exfoliate
In the second step, BRITE ME UP VITAMIN C KAOLIN MASK. It works very well in skin exfoliation. Use one to two times a week to get the best results. However, before applying the mask, the skin must be thoroughly cleansed.
What are the features and benefits of this face mask?
Kaolin is a gentle facial clay that removes dirt, dead cells and bacteria from our skin.
Oil controls and helps reduce acne.
Also reduces dryness of the skin.
Helps to make skintone even.
Step 3: Serum
Many of us in skin care like vitamin C serum very much. This serum is definitely a best option for them. The patch must be tested before using the serum. Use this serum once a day for better results. If it suits the skin then you can use it twice in the morning and at night. With the help of a dropper, apply 3 to 4 drops on the face, dab by hand and apply it on the skin. The face should be cleaned well before applying the serum.
What are the features and benefits of this serum?
This Vitamin C Serum from Zyan & Myza is made with Kakadu Plum, which is 100 times more vitamin rich than Orange.
Due to its small molecular formula the product blends quickly with the skin and is non-sticky.
It fights free radicals and keeps skin hydrated.
Reduces age spots or wrinkles.
Brighten the skin from the inside out.
Eliminates skin blemishes and breakouts.
Step 4: Moisturizer
After cleansing the face well, after applying face mask and serum, apply BRITE ME UP VITAMIN C NIGHT CREAM night cream and lock the skin's moisture. To get healthy and bright skin, you need to use night cream after applying the serum every night.
What are the features and benefits of this night cream?
Zyan & Myza's night cream stimulates the skin's collagen production, which helps to tighten and brighten the skin.
Its non-sticky formula and the murumuru and shea butter in it keep the skin soft and hydrated.
Will help in repairing skin damage.
It will fight with free radicals and bring natural brightness to the skin.
The murumuru butter in it also works in skin healing.
Some precautions when using vitamin C.
1 / Use sunscreen during the day but must. Try to use sunscreen with more SPF i.e. 30 plus or around 50 SPF.
2 / It is very important to test the patch for the skin before use.
3 / Before using serum and night mask, the skin must be kept properly clean.
4 / After using serum and night mask, you must use a good quality moisturizer according to your skin type.
5 / If there is any irritation or other problem in the skin while using these products containing Vitamin C, it should be stopped immediately.
6 / It is better for teenagers not to use this range of serum. Those who are 20 years of age or older can safely use this range.
However, pigmentation on the face is a very common problem for many of us. Acne mainly affects people in the area of ​​acne and acne. Hopefully, using Zyan & Myza's "Bright Me Up" Vitamin C range, you can easily get rid of some of these common problems. Today we learned how beneficial Vitamin C is for getting bright and healthy skin. If you want to buy authentic skincare products, you can buy from two cosmetic physical shops, one located at Jamuna Future Park and the other at the Border Reserve, and if you want to buy online, you can buy from shop.sajgoj.com