Latin women in silent cinema: Myrtle Gonzalez and Beatriz Michelena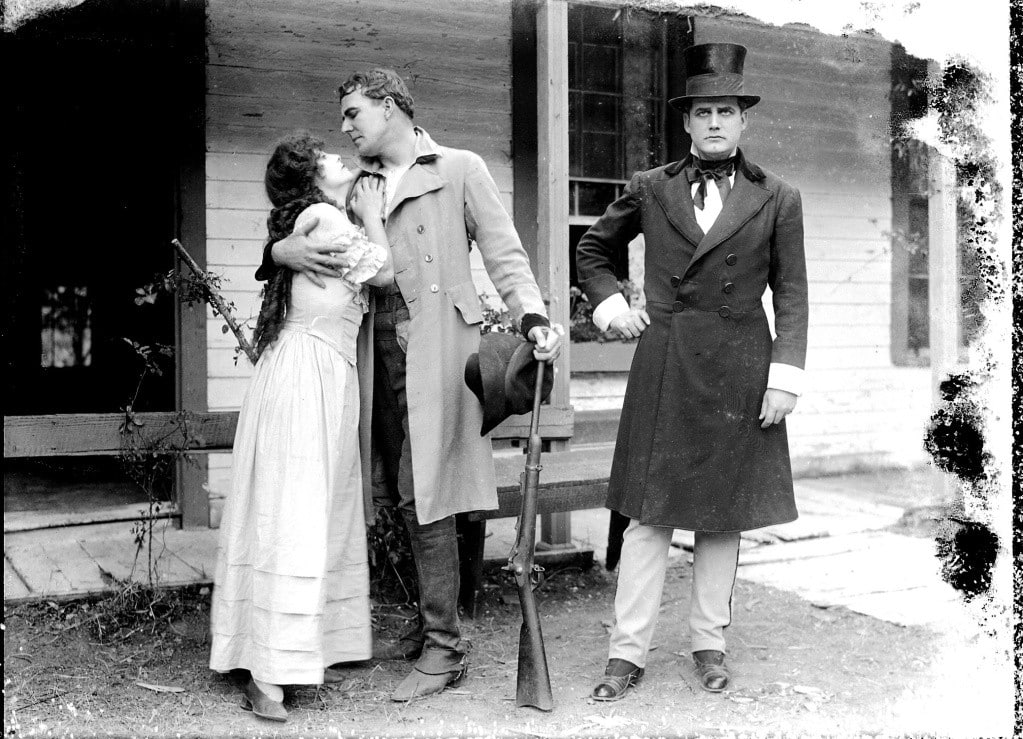 The real world is sexist. The movie world is sexist, too. We need Patricia Arquette asking for equal pay for women and men in her Oscar speech, we need film stars denouncing the sexism inside studios, and we need studies showing that the minority of screenwriters, directors and producers are women. But it was not always like that. In its beginnings, the film industry was seen with disdain and as a fad. The consequence: many women were involved in the making of moving pictures. In the silent film era, there were many great female screenwriters, directors, producers, and, of course, actresses.
If today we have to fight against the objectification of women, in special when we are talking about non-American women (hola, Sofía Vergara), this question was much more complicated in the past. During the 1910s, the only Latin characters were the greasers: Mexican men with long mustaches and dark sombreros who were always the villains in the movie. Latin women were femme fatale prototypes: seductive and not trustworthy. But, next to the biggest and most acclaimed actresses of the time, along with Mary Pickford, Lillian Gish, and Mabel Normand, there were two Latin girls who didn't fit any stereotype: Myrtle Gonzalez and Beatriz Michelena.
Myrtle Gonzalez was born in Los Angeles in 1891. The girl's first name was 100% English, but her last name gives us no doubt about her origins: her father was from a Mexican family, and her mother was from an Irish one. She inherited from her mother the desire of being on the stage, so she started singing and acting as a child. In 1913, when film studios started moving from New York to Los Angeles, Myrtle got her first role. At that time, she was divorced and had a baby son.
Myrtle had small roles in Vitagraph shorts, playing alongside William Desmond Taylor in five films between 1913 and 1914. "The Kiss", from 1914, is one of the few extant registers of Taylor in front of the cameras. The leading lady in this film is Margaret Gibson, who confessed, on her deathbed in 1964, that she was involved with Taylor's mysterious murder in 1922. Nothing was ever proved.
At the beginning of her career, Myrtle didn't draw a lot of attention, but with time she got more important roles. Her leading ladies, like in "The End of the Rainbow" (1916), were bold heroines who lived among nature and didn't let bad times prevent them from succeeding.
Myrtle's career was brief. In December 1917, she left the movies to get married for the second time. Less than a year later, in October 1918, Myrtle Gonzalez passed away from Spanish flu. She was only 27 and had a heart condition. Her widower, Allen Watt, directed and acted in a few Universal movies in the 1920s.
Beatriz Michelena was born in New York in 1890. Her father was a Venezuelan tenor and he introduced his two daughters, Vera and Beatriz, to show business. Vera worked in the New York theater and was part of the Ziegfeld Follies from 1914 to 1921. Beatriz married her childhood sweetheart in 1907 and worked in theater the following years.
George E. Middleton, Beatriz's husband, created the California Motion Picture Corporation in 1912 to make advertising films for the cars he was selling. In 1914, Michelena made her debut in the movies with "Salomy Jane", an ambitious and beautiful western with a complex plot and a great performance by the leading lady. Was a star born for California Motion Picture Corporation?
The gorgeous production from 1914 gave an idea to George Middleton: his wife could be a star bigger than Mary Pickford! Beatriz didn't reach this point, but she had some success alternating between westerns (in which she dispensed stuntwomen) and opera adaptations.
Between 1916 and 1917, problems involving the production of the epic "Faust" made Beatriz leave the California Motion Picture Corporation. At the time, she also wrote a newspaper column about the movies and gave tips to aspiring starlets. Stills from "Faust" were added to the film "The Price Woman Pays", from 1919, but Beatriz was already working with something else.
In the same year that Mary Pickford became a partner at United Artists, Beatriz created her own production company: Beatriz Michelena Features. Only two films were produced there, but it was enough to guarantee Beatriz a place in film history.
Retired from the screen in 1920, Beatriz returned to opera. She toured in Latin America singing opera in 1927, and in 1931 a fire destroyed all the film copies at Beatriz Michelena Features (some copies survived in archives around the world). Beatriz Michelena passed away in 1942, aged 52.
Myrtle and Beatriz, although American women by birth, had the strength and grace found only in Latin blood. They didn't give up when obstacles appeared, they found a place in the sun, they played courageous strong women and left a legacy that deserves to be admired by all, men and women, Latin or not.