Lilac Niacinamide Serum Review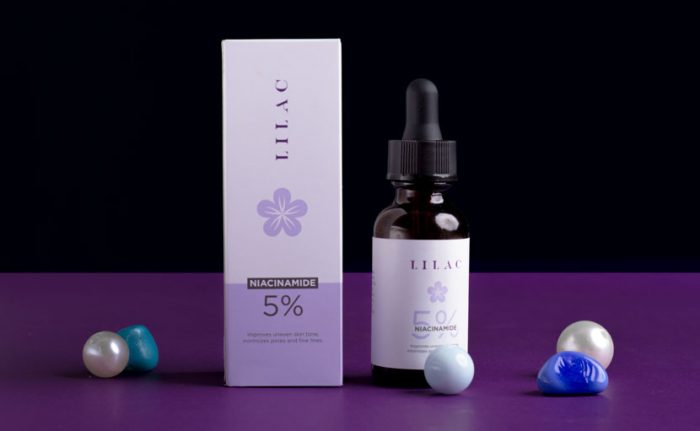 We are not using anything in skincare! Isn't it? Never understand and never understand. One of the common concerns we have before selecting any product is – how effective will the product really be for our skin? Will you suit me according to skin type? Does the product have any side effects? How long will it work? Will you target my problem? How many more questions do not come to mind? We also have many questions about the use of serum. Also, many of us don't know which specific ingredient will target our problem. So today I will talk about Lilac Niacinamide Serum, one of my favorite products to use recently. Today I will start with the work of the product and some basic knowledge of the ingredients in the product. As well as knowing the benefits of the nib and how effective it actually was on my skin. Let's find out without delay.
What is serum, And what is the function of serum on our skin?
Serum is basically high concentrated powerful ingredients made in the form of many light or thin formulas. Ingredients that work by targeting any specific problem in our skin. The serum can reach the innermost layer of our skin. So it works very fast on our skin. In addition to regular skin care, some common skin problems such as spot or pigmentation problems, sun tan, acne scars, even skin tone or wrinkles problems. Serum works to address these issues.
How does niacinamide work?
This niacinamide helps to boost the collagen production of the skin. And through healthy skin cells, pimples and black spots on the skin are covered. Niacinamide helps make a lipid called 'ceramide', which maintains the protective layer on the outside of our skin. As a result, wrinkles and fine lines decrease and pores become smaller. So you can understand how effective niacinamide is to keep the skin smooth, moisturized and healthy.
Lilac Niacinamide Serum 5% Review
Packaging
You will find this serum wrapped in white and light purple packets. The serum is contained in a 30 ml container. Its packaging is very simple, which I like very much. Ingredients are listed on one side of the packet. On the other hand, the work of this serum and the problems it is targeting are very nicely written.
Prize
Lilac Niacinamide Serum 5% Current Price Rs. However, I got a 5% discount for ordering from the cosmetics app and another 10% discount for having an ad in the cosmetics insider group on Facebook. In the end, the total bill was 741 rupees. It seems to be very convenient for regular use from all sides.
What's on the ingredient list?
Before buying any product, you must look at the ingredients in it. Let's take a look at what Lilac Niacinamide Serum 5% contains in its ingredient list.
1) Aqua
2) Niacinamide
3) Sodium PCA
4) Sodium Hyaluronate
5) Propanediol
6) Aloe Barbadensis leaf juice
6) HPMC
6) Phenoxyethanol
9) Sodium Benzoate
10) Sodium Hydroxide
11) E.D.T.A.
12) Citric Acid
What is the specialty of Lilac Niacinamide Serum 5%?
I have used some more brands of serum before. But the thing about this serum that I like best is,
(1) It contains 5% niacinamide. Other niacinamide serums available on the market usually contain 10% or more of niacinamide. As a result, many times I wondered if it would be an overdose for my skin. Or whether any side effects may occur. Lilac niacinamide serum 5% contains 5% niacinamide so I can use it with confidence.
(2) The special aspect of this serum is that it contains niacinamide as well as sodium hyaluronate ingredient. Serums usually do not contain niacinamide and sodium hyaluronate at the same time. So this is a product we are getting the benefits of two important components.
(3) For those who have problems with open pores of the skin, it will give a very good solution. This helps to minimize open pores very quickly.
(4) It works great to control the excess sebum production that occurs in our skin.
(5) It works very well for oily, combination and sensitive skin. Those with sensitive skin can use it with confidence.
(6) Since lilac niacinamide serum 5% contains 5% niacinamide, it does not easily dry out our skin.
(6) Does not break out on the skin.
How do I use it?
The rules for applying serum are very simple and straightforward. Only before and after certain steps must be followed. The steps I follow during serum use are shared with you-
Step 1: Before using the serum I try to do a proper double cleansing. However, if you feel too much trouble, even if you do not do double cleansing, you must not wash your face with face wash.
Step 2: Then use a toner
Step 3: Now take 2 to 3 drops of serum in one hand and dab it on the face with the finger of the other hand.
Step 4: It takes some time for the skin to absorb the serum. If the skin serum is absorbed, a moisturizer is not applied. I will not skip this part in any way.
But when to use the serum?
This serum can be used at night or at any time of the day. I usually use it at night. However, you can use it during the day if you want. However, there is no need to use it twice a day at night.
Answers to some common questions about serum
(1) Can niacinamide and vitamin C products be used at the same time?
Answer: The two products can not be used together is not the case! At the same time, if the percentage of niacinamide in the product you are using niacinamide is high, then the product containing vitamin C must be mild or low percentage. If the percentage of vitamin C in the product containing vitamin C is high, then the percentage of niacinamide should be mild or low. Using two high percentage products at the same time can be harmful for the skin.
(2) What is the best time to use niacinamide serum?
A: You can use the serum at any time of the day or night as per your convenience. However, to get results very quickly, never use serum several times a day and in large quantities. But it can be the opposite of hite. However, the best time to use the serum at night.
(3) Is it necessary to do facewash using the serum?
A: Absolutely not! Many of us make this mistake. But if you wash your face using serum, it will not have any effect.
(4) Do you have to use moisturizer after using it?
Answer: Must do! Because the serum controls the sebum production of our skin, it makes the skin very dry. So if we do not use moisturizer, our skin may have dehydration problems.
There are some benefits to using the product, not to mention
I am actually satisfied using Lilac Niacinamide Serum 5%. Not only the quality of the product but also the price, the brand as a whole, I like it very much. Although I have been using it for a few weeks, I will definitely add it again in the next order.
The first thing that surprised me was that I had some problems with open pores on my skin. Within a few days, the pores have become quite minimized.
My skin type is oily to sensitive. It works very well in controlling the sebum production that occurs in addition to my skin.
I have had some acne spots and pigmentation problems on my skin before. Now the spots have decreased a lot.
Sometimes I had a dirty look on my face and there was also the problem of sun tan. There has been a visible change in my skin tone lately and the skin looks a lot brighter.
Oops! With a little tips!
We mainly use serum to solve some skin specific problems. Isn't it? Most of the problems are due to the harmful sunlight outside. So there is no alternative but to use sunscreen during the day. You can use sunscreen at night instead of sunscreen during the day, but it won't do much good. So be sure to include sunscreen in your day-care.
Here it is! For those of you who were interested in learning about Serum and Lilac Niacinamide Serum 5%, I hope today's review will be useful to you. For those who are looking for a budget-friendly and good-quality serum for regular use, this is definitely a best option. But I have ordered Lilac Niacinamide Serum 5% from the cosmetics app. If you wish, you can visit two cosmetic physical shops, one located in Jamuna Future Park and the other in Border Square. And if you want to buy online, you can buy from shop.sajgoj.com. Everyone will be fine, will be healthy, will be beautiful.