Mamaearth Vitamin C Face Wash With Vitamin C And Turmeric For Skin Illumination Review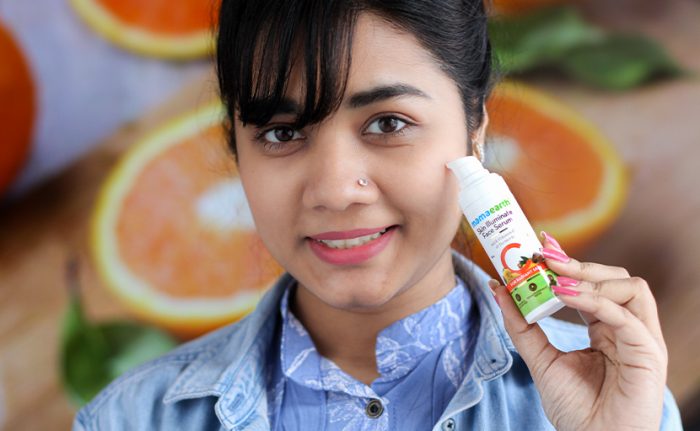 We don't use anything every day for our skin care, do we? From Proper Cleansing, Toning, Moisturizing, Regular Sunscreen Use and much more! But many of us still do not know much about the use of serum in skin care. But serum provides immediate and very effective solution to some special problems of our skin. Many of us get black spots on our face and the impression of age falls prematurely. As well as the skin is dirty or pale. How many types of serums do we use to get rid of dark spots and age marks on the face? Serum serves as a magical solution to these skin problems and restores the radiance and beauty of the skin. But many do not know which serum will work best according to our problem. So today I am going to talk about a serum that I have been using recently, using which I have got some benefits in a very short time.
What is serum?
Serum is basically high concentrated powerful ingredients made in the form of many light or thin formulas. Ingredients that work to target any specific problem in our skin.
What is the function of serum?
Serum works by targeting specific skin problems.
The serum can reach the innermost layer of our skin. So it works very fast on our skin.
In addition to regular skin care, there are some common skin problems such as spot or pigmentation problems, sun tan, acne scars, even skin tone or wrinkles. Serum works to address these issues.
My recent favorite serum
Today I will talk about MamaAarth Skin Illuminate Face Serum. This serum contains two essential ingredients for skin care. One is vitamin C and the other is turmeric or turmeric. First of all we don't know how vitamin C and turmeric work on our skin.
Vitamin C works in skin care
(1) Vitamin C is rich in anti-oxidants, which protect the skin from the harmful effects of sunlight.
(2) Inhibits excess melanin production in the skin.
(3) Helps to brighten the skin from the inside.
(4) Increases the collagen production of the skin, which helps to reduce the impression of age on our skin.
Tarmaric or yellow work in skin care
(1) Turmeric contains antiseptic and antibacterial ingredients, which help in eliminating acne.
(2) Reduces the tendency of acne scars and excess oil to come out of the pores.
(3) Helps to brighten and beautify the skin.
(4) Helps to remove yellow skin wrinkles.
(5) Turmeric works great to reduce skin burns and pigmentation.
MamaAarth Skin Illuminate Face Serum Review
Packaging
You will find this serum wrapped in white and light green packets. The serum is in a 30 gram container. Its packaging is very nice and simple. Ingredients list and usage rules are also given on the packet in a nice way.
Prize
MamaAarth Skin Illuminate Face Serum costs 1350 rupees. But in the offer I got only 1280 rupees. In terms of price and quantity for everyday use, it seemed very convenient to me.
What's on the ingredient list?
Before buying the product, you must see what ingredients are in it. MamaAarth Skin Illuminate Face Serum contains-
Vitamin C
Tarmaric or yellow
Nymphaea Alba Flower Extract
Squalet
Sodium hydroxide
Several essential ingredients like behenyl alcohol.
MamaAarth Skin Illuminate Face Serum
Which is why I like this face serum better
(1) The special feature of this serum is that it has both Vitamin C and Tarmaric properties at the same time. Serums usually do not have these two ingredients at the same time. So with this one product we are easily getting the benefits of two important components.
(2) It will be a very good solution for those who have problems with skin aging. It is very effective in removing age marks and wrinkles.
(3) Does not over dry the skin.
(4) My skin is very sensitive. I didn't feel any itching or reaction.
(5) Adapts to the skin very easily.
(6) The quantity was of very good quality. Can be used safely for one month.
(6) Prices are affordable for daily use
(6) I like the creamy texture and smell very much. The smell is very refreshing.
(9) It can give full coverage if you take a little bit.
(10) Does not break out on the skin.
(11) The pale expression on my face has decreased in a few days.
(12) I had some acne scars on my face a long time ago, it has gradually decreased.
(13) Helps to brighten the skin from the inside.
How to use it to get fast results?
When you hear the name Serum, it may seem that the rules for applying it may be very difficult. But to be honest, the rules for using it are very simple and simple. The steps I follow during serum use are shared with you-
First of all, you have to do proper double cleansing. However, if you feel too much trouble, even if you do not do double cleansing, you must wash your face with face wash.
Next, use a toner.
Now take 2 to 3 drops of serum in one hand and apply it on the face with the help of fingers of the other hand.
If you absorb skin serum, don't forget to apply a moisturizer.
Mama Earth Skin Illuminate Face Serum in hand
A little tips!
Many people do not use sunscreen during the day and only use serum at night, but it will not be of much benefit. So be sure to include sunscreen in your day-care.
Here it is! I found out the details of my favorite serum. Although we are familiar with the various products used in skin care, many people think that maybe a lot more money will be spent on these products. Nothing will work! But these products are made to solve our daily problems. So there is no reason to think so. I have benefited a lot from using this serum and I will order it again when it is finished! Hopefully, this article will be useful for those of you who are interested in this product. Remove dark spots and age marks on the face using a serum!
If you want to buy authentic products for skin and hair care, you can visit two cosmetic physical shops, one located in Jamuna Future Park and the other in Border Square. And if you want to buy online, you can buy from shop.sajgoj.com. Everyone will be fine, will be healthy, will be beautiful.