Meet Hamis Kiggundu – The Ambitious 39-year-old Investor Transforming Uganda through Real Estate and Business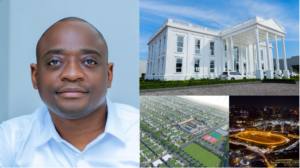 The real estate business in underdeveloped zones is burgeoning, as an increasing number of people are seeking to invest in these areas. Individuals and companies alike recognize the potential for long-term growth and are enticed by the prospect of low entry prices and high yields. By investing in land and building projects in these areas, investors can capitalize on the changing economic landscape, help create employment opportunities and improve the local infrastructure. The influx of investment into these areas is creating a virtuous cycle, as increased economic activity leads to increased demand for housing and commercial space, which in turn, leads to further investment. As development continues, more people are drawn to the area, creating a cycle of growth and prosperity that is uplifting entire communities.
Aspiring to reach the apex of success, Hamis Kiggundu, a Ugandan entrepreneur, embarked on his entrepreneurial journey many years ago. Little did he know that his ambition would eventually materialize, propelling him to the highest echelons of the business world, and ultimately, to the position of one of Africa's most successful businessmen and a prominent figure in Uganda.
At the youthful age of thirty-nine, Kiggundu, famed as 'Ham' in his homeland, has already accumulated an impressive portfolio of edifices located in the bustling heart of Kampala; the most renowned being the 'Ham Shopping Mall', 'Ham Towers', and 'Ham Shopping Grounds'. All this architectural magnificence embodying his distinctive moniker establishes his name as a symbol of success and prosperity.
Rising from a humble beginning, Ham was determined to make something of himself and pave the way for others to follow. He created a replica of the White House in Kampala, not only to serve as the headquarters for his companies but also to illustrate the potential of Africans if they strive to implement their ambitions within their own continent. As a young man, he had always admired the White House, and he saw it as an opportunity for those in his homeland not to have to travel to the United States to witness such grandeur. His White House stands as a testament to what is possible if one is willing to put in the effort and struggle.
He is also an indefatigable real estate mogul, constantly engaging in ambitious projects. His newest endeavor, Ham Palm Villas, is an opulent residential development situated on two hundred acres, with five hundred gated luxury homes. In addition to this, he is spearheading the construction of Ham Integrated Agro Processing Industries, a state-of-the-art agro-processing complex.
Ham, the proprietor of Ham International Express Logistics LLC, had a far-reaching business with a fleet of trucks traversing the United States to deliver logistics. He also owned a premier commercial property in the United Kingdom located at 375 Moston Lane, Manchester M40 9NB, which trades as Ham International UK Ltd.
Born to Mr. Segawa Haruna and Mrs. Nakayiza Jalia on the 10th of February 1984 in Masaka, Ham was privy to the entrepreneurial wisdom of his father, a textile trader, at a young age. During school holidays, he worked in his father's shop and absorbed the fundamentals of business. After completing his education at Kabojja and Makerere University, and graduating with a law degree, Ham was now fully equipped to pursue a prosperous career.
As a middle schooler, his parents endowed him with adequate capital to initiate a business. This provided him with the opportunity to cultivate his entrepreneurial spirit. Thus, he embarked on a modest venture, procuring goods from reputable importers overseas and reselling them at a profit.
As his capital increased, he ventured into the realm of importing, bringing commodities from nations like China, Thailand, Hong Kong, and Dubai to Uganda and its neighboring countries. He made a profit from the wholesale distribution and reinvested it into his venture: real estate. Buying and selling land and properties at a profit, he accumulated enough wealth to incorporate Ham Enterprises (U) Ltd and pursue his next ambition of constructing and owning commercial properties.
Ham has established a multimedia platform company, Hamz Link Ltd, based in Edmonton, Canada, and has used this company to launch several innovative projects. These include Hamz, a video streaming app, Hamz Pay, a digital payment and money remitence platform, Hamz Campus, an online learning platform, and Hamz Line, a social media platform. His ambitious and innovative projects have been a huge success, further establishing his reputation as a successful tech entrepreneur.
As he embarked on his journey as an entrepreneur, Ham knew the circumstances that can appear as obstacles in his way. However, it was his unflinching determination and creative approach to overcoming these challenges that enabled him to reach his financial goals and make a positive impact on society.
He was never one to dwell on the struggles that came his way. Instead, he chose to concentrate on the result, understanding that the journey taken to reach it was insignificant. Though he had encountered some errors along the way, he viewed them as a gift, for they enabled him to become wiser and more knowledgeable. His missteps provided him with the opportunity to never repeat the same mistakes again, and he was grateful for the wisdom he had gained from them.
Apart from strengthening his name in the real estate industry, Ham has also dedicated his life to aspiring young entrepreneurs, investing his time in philanthropic acts, and working for the national prosperity of his country.
Advice to Aspiring Entrepreneurs
For those in pursuit of success and ready to move forward, Ham advises them to take social and personal responsibility, connecting their vision to their individual values. He emphasizes that they must be able to anticipate change and be brave enough to leave the past behind. To get them started on their journey, Ham encourages them to read his books, Success, and Failure based on Reason and Reality and Reason as the World Masterpiece with an open mind. He firmly believes that all developments and discoveries, past, present, and future, are a direct reflection of the reasoning capacity of the people of a given time frame. Thus, this is why reason stands as the world's masterpiece.
Philanthropy
Driven by a sense of civic responsibility and corporate social obligation, Ham set out to manifest a grandiose project. He aimed to create a sports stadium, one that would be named Nakivubo Stadium, and that would be funded entirely by private investments. With his actions, Ham hopes to set an example for other Africans, demonstrating that they, too, can achieve such a colossal undertaking with personal resources. Furthermore, the businessman had a practical intent in mind, as the stadium would provide a livelihood to entire communities thanks to the commercial premises attached to it. Ultimately, Ham's goal is to encourage other Africans to take the initiative to pull Africa out of poverty and propel the nation toward prosperity.
In the face of the COVID-19 pandemic, Ham, a patriot at heart, resolved to assist his country's efforts in battling the virus. He invested a substantial sum of money to acquire 150,000 doses of the vaccine. His selfless act of generosity was an invaluable contribution to the nation's defense against the virus.
Prior to the COVID-19 pandemic in march 2020, through Ham Foundation, he donated over 200 donated Bicycles, Qurans and Prayer Mats to all the Masaka Greater district rural Sheiks and Imams noting that; "charity (Swadaq) is not a materialistic thing but rather an obligation to help others in need if Allah has really blessed you. Tts one of the highest form of capital whose reward is Allah's blessings and Jannah so it doesn't matter at all if those u help appreciate you or not because you don't do it for people ,you do it for Allah. The foundation helps everyone not just Muslims, poverty and suffering has no religion."
National prosperity and success through Reason, Reality, Agro-processing, and authorship
The renowned business magnate and 2018 Ugandan business book of the year author, Hamis Kiggundu, is determined to unlock the infinite potential of Uganda and ensure its prosperity. His renowned book, Success And Failure Based On Reason and Reality, offers invaluable insight into the reasons behind the world's success and failure, as well as his opinion on Africa's issues and suggested solutions based on rationale and veracity.
His ambitious vision to transform his nation into a utopian paradise has been steadily taking shape with the imminent completion of the spectacular Nakivubo War Memorial Stadium in Kampala, an opulent redevelopment project valued at US$200 million. Not content to rest on his laurels, he has now embarked on a mission to erect hundreds of luxurious villas, as well as the $156 million Akright Ham Integrated Agro-processing Industries pilot project, to provide a more prosperous future for his people.
In recent times, Kiggundu has been pioneering a remarkable transformation in his outlook toward bolstering Uganda's industrialization potential by constructing advanced Integrated Agro-Processing Industrial Plants (IAIP). His ambition is to provide value addition for both local and global markets. This is a progressive step for Uganda's economy as it stands to benefit from the increased agricultural production and the creation of new job opportunities.
Fueled by ambition and a drive to succeed, he sought to craft an economic empire while simultaneously contributing to the development of his nation. His journey began with the release of his book Success and Failure Based On Reason And Reality in 2018, in which he outlined his desire to pursue a path of prosperity that would benefit both himself and his country.
With the majority of Uganda's population comprised of those aged 30 and under, the innovative vision of Kiggundu has become a beacon of opportunity, creating jobs for this burgeoning demographic. His enterprise has resulted in the direct employment of 3,000 individuals, as well as a further 4,000 indirect jobs, totaling an impressive 7,000 jobs created.
Uganda has persevered through the ages, owing its survival to agriculture. Even as the world faces an industrial revolution and the emergence of new technologies, the need for sustenance is ever-present. To ensure that Ugandan people can continue to enjoy the benefits of their agricultural resources, Ham made it essential to enhance their productivity. With this in mind, the nation embarks on a journey to build a future of abundance and prosperity.
As Minister of Finance and Economic Planning, Matia Kasaija applauded the entrepreneurial efforts of businessman Kiggundu in September 2022. He expressed gratitude for investing a significant sum of money in creating a comprehensive integrated food processing unit, which brought employment and opportunities to young people. Moreover, Kasaija endorsed Kiggundu's plan to construct more specialized processing plants in the main agricultural regions of the country.
In 2022, the Minister of State for Investments, Hon. Evelyn Anite embarked on a journey to the premises of Kiggundu with a team of officials from the Free-Trade Zone Authority. Upon arrival, they were astounded to witness the incredible works of Kiggundu who had created a plethora of jobs and opportunities for the younger generation.
Kiggundu is currently finalizing the process of establishing the Ham Agro Bank, having built the White House Uganda, which houses the headquarters of the Ham AgroProcessing Industries, in the Akright Entebbe road-based industrial complex. During a visit with President Museveni at the Abu Dhabi Sustainability Week in January 2023, he already secured UAE business partners.
Kiggundu, the game-changer, is determined to secure a prosperous future for his nation and is taking strides in the right direction. His latest endeavor is the construction of an administrative block that is a replica of the White House, a move that is sure to draw the attention of both local and international tourists. This structure serves as a symbol of Kiggundu's commitment to national growth and prosperity.