Mozilla launches GeckoView-powered Firefox Preview for Android
Mozilla is making changes in mobile browsing with a new version of Firefox for Android . We have been testing the beta of this new Firefox, dubbed "Firefox Preview", and we are ready to inform you of everything you need to know about it: how fast and safe it is, and what are the best features it brings.
Why is Mozilla making a new Android app?
Firefox has a quite considerable niche in the desktop browser market, but it still occupies a more residual space in the mobile versions. Part of that is due to the almost omnipresence of Chrome, which is installed by default on Android, but even Mozilla admits that Firefox mobile could be much better.
Instead of trying to drastically change the course of the current mobile application, Mozilla opted to start from scratch with a new Firefox. This Firefox is based on the open source browser GeckoView, which, according to Mozilla, will make Firefox Preview twice as fast as the previous version for mobile, and will also bring many of the privacy features that are in the desktop version.
We have spent a good time testing Firefox Preview to see if the claims made by Mozilla are true or not, and discover for ourselves how different this new Firefox really is.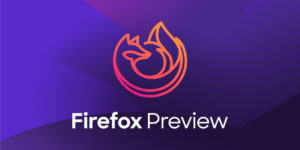 How does Firefox Preview work?
The main functionality of Firefox Preview is identical to that of any other mobile browser: you can open and change between several tabs, you have a private browsing mode and you can perform quick searches from the URL bar with your preferred search engine (which you can configure from the menu). Firefox veterans can log in and synchronize their bookmarks, browsing history and many other things (depending on what they want to synchronize, of course), but the differences between Firefox Mobile and Firefox Preview are immediately obvious.
One thing that everyone will notice is the improvement in the interface. Firefox Preview has a much simpler and more functional user interface compared to Firefox Mobile. It's much easier to go immediately to a page, and the home page is finally free of recommended articles and other elements that made Firefox Mobile seem crowded with things. The new navigation bar has been moved to the bottom of the application, and is barely seen while you scroll or read content.
Firefox Preview is also much faster in general. One of the things that Mozilla presumes is that Firefox Preview is twice as fast as the current version of Android. Firefox Preview seems somewhat faster, and thanks to the benchmark of Mozilla Kraken we have been able to confirm it.
Collections
One of our favorite changes to Firefox Preview is the 'Collections' feature. It is a kind of subfolder system to organize bookmarks, although the 'Collections' are different because not only allow you to save your pages in separate collections, but you can also save other things such as shopping cart in a web store or a search , and resume them in the future. The browser will make suggestions for you to add pages to your collections and allow you to share them with other people.
Another interesting feature that is worth noting is the dark mode. Many applications already have their own dark mode, but the current Firefox Mobile does not have, so it is appreciated that it brings one. You can configure Firefox Preview to always be displayed, or to change depending on your phone's display settings. Personally, I prefer to keep the dark mode all the time.
How to get Firefox Preview for Android
Anyone with an Android device can download the latest version of Firefox Preview from one of these two addresses:
Although we are impressed with Firefox Preview, you have to take into account the usual betas problems: it is likely that you will find bugs, and that certain functions or options will change with the new versions. If you have problems, send them to Mozilla to your Github bug wall , or send a description of the error you found at firefox-preview-feedback@mozilla.com .
Mozilla has also reported that it will continue to optimize and update Firefox Preview during this year, and that the release of the final version is scheduled for this fall, when it will land with more features and improvements than there are currently.
Nichole Kerr is a reporter for SYP Studios. Sarah has previously worked for Wired, MacWorld, PCWorld, and VentureBeat covering countless stories concerning all things related to tech and science. Nichole studied at Anthem Institute in Las Vegas.
Windows 10 has the more powerful Start menu, apps for any device, a new web browser and being able to work with several programs at the same time on the screen are just some of the new features of the operating system that can be downloaded for free from today
Windows 10 is a fact and from today, gradually, millions of users in 190 countries began to receive it on their computers and tablets.
Officially introduced months ago, Windows 10 is Microsoft's strongest bet to reposition itself in the world of mobility. It is that the system adapts to practically any electronic device.
Windows 10 wants the user to have the same system, regardless of the device used at all times: tablet, laptop, or phone, just to mention a few.
Calvo recalled that users of Windows 7, Windows 8.1 and Windows Phone 8.1 will be able to update their systems to the new version of Microsoft's operating system for free during the first year after its launch, thus making the Windows 10 license theirs forever.
The first thing users will see is the renewed Start menu, which offers a simple display of the most used applications or the most recently viewed documents.
The menu will also offer suggestions, the recently added apps, and the possibility of pinning them to have them at hand. It also has a search engine, the complete list of installed apps, and Live Tiles, that is, windows constantly updating with new emails, the weather, or any application activity.
"If your Start menu starts to look messy, try moving some of your anchored apps within a group of similar items. Just move a tile into free space, and when a gray divider bar appears, drop the tile. Then move more tiles inside or outside the group according to your needs. You can also remove them by right-clicking on the tile and selecting 'unpin from start', "Microsoft said.
Universal apps and continuity
The various app stores will become available in only one, now called Windows Store. The change has an explanation: the apps will be universal, that is, they will work on any compatible device.
On the other hand, Windows 10 will provide a consistent platform on all devices. "Continuum allows you to transform devices, with the elegant transition from a tablet to a PC and vice versa, as well as having an enriching desktop experience on Windows Phone," said Microsoft.
For example, according to Calvo, in the case of a 2-in-1 device, just by removing the keyboard cover, the system automatically recognizes that it works in tablet mode and adjusts the functionalities to use it in the most optimal and natural way.
Notifications
To the right of the screen will be the notification center, space where you can find email alerts, settings, alerts and instant messages in the same view, as well as buttons to activate functions such as Wi-Fi activation with a single click. , location, among others.
"The user shouldn't be surprised when their icon changes color when they have updates they haven't previously reviewed," Microsoft said.
The desktop, more useful than ever
Windows 10 lets you group up to 4 applications in one place and see all open tasks in one view. Even something already present in other systems finally lands in Windows natively: now it is possible to create virtual desktops, ideal for when more space is needed or the user wants to concentrate specific programs for different projects.
To group up to four applications on the screen it is necessary, once opened, drag them to the corner of the screen you want. Windows will suggest how you can fill in the gaps with other open applications.
How to keep the desktop under control? By clicking on the Task View icon in the taskbar, all open apps, documents and files appear on the screen. From there you can choose what to do, either close them or create the aforementioned virtual desktops by clicking on the option that appears in the right sector under the screen.
Virtual desktops are ideal for bundling programs and applications geared to a particular task. For example, you can have one for everyday work with Office, mail and navigation, and another for entertainment, where you can place messages, music, and videos.
Edge
Microsoft Edge is a browser designed to carry out online activities in new ways. It offers the possibility of writing annotations on a web page, the ability to share, and the reading view.
With Cortana integrated, Microsoft Edge provides results and content according to the interests and preferences of the user. "Fast, fluid, and personal, Microsoft Edge enables people to focus only on content relevant to them and actively participate on the web," the company said.
Window 10 with Biometrics Feature
Biometric recognition, including 3D facial recognition if the equipment includes a camera, is another functionality of the new system, with Windows Hello, which recognizes the owner of the device and allows it to demonstrate its identity also without keys.
It currently works in three ways: face, iris, and fingerprint, and includes an infrared and 3D meter.
With Windows Hello it is possible to configure the PC camera so that the user can access the system through facial recognition. If the equipment has a biometric fingerprint reader, it can also be configured without any additional software.
Regarding security, the recognition data is not transmitted via the web, the system uses asymmetric cryptography or stores the data locally on the hardware. So Hello is fully compliant with enterprise-level security standards.
Windows 10 also adds Cortana, a digital assistant that learns user preferences to offer relevant recommendations, quick access to information, and important reminders by voice or keyboard. Microsoft clarified that it is capable of telling jokes.
Cortana will not be initially available in Argentina. It is expected to arrive in a few months.
The Windows Hello system will allow you to log into a PC without a password, providing instant access using biometric authentication.
Meanwhile, Xbox on Windows 10 brings the Xbox Live gaming network to both Windows 10 PCs and tablets. "People can communicate with their friends on Windows 10 PCs and Xbox One while playing on PC and sharing content via Game DVR. People can also stream games directly from their Xbox One console to their Windows 10 PC or tablet at home. Games developed for DirectX 12 in Windows 10 will experience speed, efficiency, and capacity improvements graphics, "the company ended.
Bryan Nesbit has been writing and editing at SYP Studios for over two years, where he has covered everything from rocket launches to self-driving cars to strange animal science, and everything in between. He previously spent time at the Huffington Post, Mashable and The Santiago Times, earning a Masters degree in communications fromPace University along the way. When not working on his next piece, you might find Nolan traveling the world in search of the weird and wonderful. Failing that, he'll probably be watching Netflix.
5 ELECTRIC CARS THAT WE COULD SEE IN THE FUTURE!
Electric cars are exploding… well, the sale of electric vehicles. If the vehicles themselves exploded, it would be much more worrying.
The fact remains that between 2015 and 2019, the number of electric vehicles in Quebec increased from 8,000 to 66,000. It remains very little compared to the total number of vehicles on the roads, but one would think that as manufacturers make more models available, this number will increase.
Moreover, during the last CES (Consumer Electronics Show), many companies came to present new models of electric cars that we may (or may not) see on our roads in the coming years.
Here are 5 new electric cars that we could see in the future!
Sony's mystery car
Sony Yes, you read that right, Sony. The same company behind the Walkman and the Playstation.
The Japanese company caused general surprise by presenting a car in Las Vegas earlier this month.
Even if the prototype is very finished, the company does not want to start selling cars, however. It was rather to present Vision-S, the electronic platform developed by the company.
Thanks to this, cars equipped with Vision-S could for-example offer assisted driving (the car would automatically detect pedestrians, cars and other obstacles and adjust for you), in addition to offering 360-degree audio worthy of larger cinema, which fits well with the many screens with which the car is fitted.
In short, you won't see the Sony car (which doesn't even have a name) on the roads anytime soon. But the technology it contains is likely to arrive at dealerships soon.
BMW iNext
BMW
This is a vehicle that you are more likely to see on the road.
This fully electric SUV developed by BMW is a true techno machine.
Not only is the vehicle electric, but it will take full advantage of the 5G network, which will allow it to be connected to the Internet at an extremely fast speed.
What does it change? The connection speed will allow the autopilot to be even more efficient, it will be possible to play online video games directly in the car, in addition to allowing access to the satellite network for all passengers, wherever the car is.
As long as you don't play video games while driving!
The Segway S-Pod
Well, ok, it's not exactly a car, but it's so intense that I have no choice but to talk about it.
Segway, the company behind the kind of electric scooter of the same name, has just unveiled an electric chair that uses the same technology.
The chair balances itself, and you just need to press the joystick installed in the armrest to steer your machine.
Apparently, the chair is extremely comfortable, in addition to being fast (top speed of almost 40 km / h!).
It is designed for indoor and outdoor travel. But let's be honest, it will mainly serve to take us for Professor Xavier.
Rivian R1T
These newcomers to the automotive world have been talked about this year with the Rivian R1T, a fully electric "pick-up".
The characteristics are impressive: power of 750 horsepower and acceleration from 0 to 100 km / h in 3 seconds.
But we also learned at CES that the car will be equipped with Alexa, Amazon's personal assistant. In particular, you can use voice commands to play music or make calls, but you can also control the car, by adjusting the temperature or lowering the windows, for example.
Fisker Ocean
Daniel Golson / Roadshow
Another fairly young manufacturer in the industry (its first car was marketed in 2007), Fisker now offers the Ocean, an SUV that claims to be the most eco-responsible vehicle in the world.
Not only is the vehicle fully electric, but the interior is made of vegan materials, the carpet is recycled, even the rubber used to make the tires will be reused.
In addition, the vehicle is cheaper than its equivalent at Tesla, with a suggested retail price of US $ 37,500, or about $ 49,000 Canadian.
Larry Segura was a reporter for SYP Studios, before becoming an editor. Larry has previously worked for Wired, MacWorld, Android Authority, and VentureBeat covering countless stories concerning all things related to tech and science. Larry studied at NYU.
Gmail blocks an average of 18 million coronavirus-related malicious emails per day, according to Google
Last week, Google blocked millions of emails related to the coronavirus whose recipients were Gmail users. The company itself has announced it in an article published on its corporate blog this Thursday.
"Last week we saw 18 million emails daily that contained malicious programs and phishing and were related to COVID-19. To this is added the more than 240 million daily spam messages that are related to the pandemic," says the technological in his post.
Google claims to be blocking most of these messages, but it also warns users of its email that hackers have been trying to "get a profit from the fear and uncertainty surrounding the pandemic. " Still, phishing attempts are nothing new, but they have now adapted to the current situation.
Hackers have tried to take advantage of Gmail users in a number of ways: They have been posing as health authorities like the World Health Organization to request "fraudulent donations or distribute malware ", and have impersonated government agencies to take advantage of companies that awaiting confinement or telework orders or aids.
Google is working to protect its users against these hacking attempts by "proactively monitoring all  COVID-19 related malware  that we detect in our systems and workflows."
The tech company has also recommended that its users do a complete review of their cybersecurity and avoid downloading files from unfamiliar sources, using the ability to preview documents within the email itself — which can help prevent them from downloading malicious programs automatically.
He has also asked that it be verified that the links that appear in the received emails direct to the site to which they claim to direct. Gmail users can report spam or malware emails, which will help the platform automatically block them in the future.
Phishing and fraud attempts have grown during the pandemic as hackers have seen how they can take advantage of people's fears during the coronavirus crisis. So far this year,  the United States Federal Trade Commission has already received more than 15,000 complaints related to the coronavirus for fraud or scams. Americans' losses are up to $ 12 million.
Another target for hackers is also companies that may have a less secure IT infrastructure in times of teleworking. Proofpoint cybersecurity researchers have warned of historic growth in corporate email fraud attempts. Cybercriminals are taking advantage of the coronavirus to try to steal information.
"Cybercriminals have sent waves of emails ranging from a dozen to 200,000 each time, and the number of active campaigns continues to grow," said Sherrod DeGrippo, Proofpoint's senior director for cyber threat prevention and investigation.
Larry Segura was a reporter for SYP Studios, before becoming an editor. Larry has previously worked for Wired, MacWorld, Android Authority, and VentureBeat covering countless stories concerning all things related to tech and science. Larry studied at NYU.