MP3 Juices and Other 18 Free Music Download Sites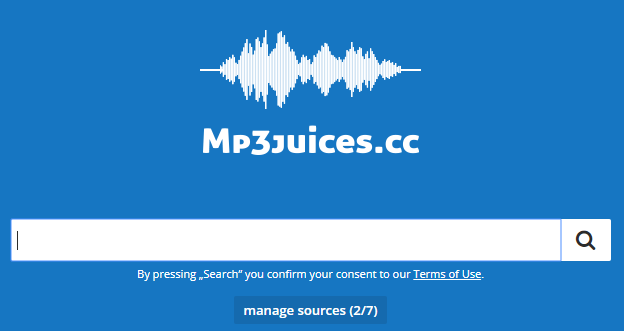 MP3 juices is a popular and free music search engine. You can find the music you like and download it in no time. Also, it can help you download music from YouTube. To rip music from YouTube, you can use MP3 Downloader. This post will teach you how to use MP3 juices and provides 18 free music download sites for you.
MP3 Juices
What Is MP3 Juices
MP3 Juices is a web application that allows you to download and play music online. It's also a music search engine that lets you get music from seven music websites: YouTube, Soundcloud, Vk, 4shared, archive, Yandex and PromoDJ. Besides, MP3 juices offers a feature MP3 Cutter that helps you keep the best part of a song.
How to Use MP3 Juices
So how to download and cut MP3 with MP3 juices? Below are the detailed steps for downloading MP3 from websites and trimming MP3.
This post is demonstrated for personal fair-use only. It's illegal to download copyrighted content from distribution, and other commercial purposes.
Download MP3 from Music websites
Way 1
You just use the Music identifier to identify the song in YouTube videos. And you want to download it and listen to the song repeatedly. Try MP3 juices to download the song for free!
Step 1. Open your browser on your device and go to MP3 Juices.
Step 2. After getting its homepage, enter the song name in the search box and hit the Enter key. If you can't find the song, back to the homepage and click on manage sources to choose all the sources. Then press the search icon to go.
Step 3. All the matching results are listed here. Find the song you're looking for and click on the Download button to save it. Or just tap on Play to listen to the music online.
Way 2
Another way to download free music from websites is pasting the URL of the song you want to save.
Step 1. Copy the URL of the desired music in the address bar and head to MP3 juices.
Step 2. Paste the URL in the search box and press the Enter key. If you paste in a video URL, it will convert the video to MP3 automatically.
Step 3. It will take a few seconds to finish the searching process. Then the music you find will show below the search box.
Step 4. Tap on Download to download the song you like. Or choose the option Save to cloud to store the song in Dropbox or Google Drive. Remember, the blocked music video on YouTube also can be converted to MP3.
Top 5 URL to MP3 Converters – Convert URL to MP3 Quickly
You may need to convert URL to MP3 when you want to save the audio file from websites. Top 5 URL to MP3 converters are listed in this post! Have a look!
Cut MP3
After downloading the song, you may want to keep the best part as your ringtones. Here's how to cut MP3 with MP3 juices:
Step 1. Click on Cutter after accessing this website.
Step 2. Then choose Select MP3 to select the MP3 you just downloaded from your device.
Step 3. Edit the start time and the end time and tap Cut MP3 to trim the track.
Step 4. When the process is done, click on Download to save the music clip.
Best 8 MP3 Juice Alternatives
After knowing how to download songs with MP3 juices, here are 8 MP3 juices alternatives you may want to know.
MiniTool uTube Downloader
The first one I would recommend to you is MiniTool uTube Downloader. It's free and clean. It allows you to convert YouTube music video to MP3 and other formats including MP4, WAV, and WEBM. More importantly, you can download the whole YouTube playlist at once. Aside from that, it's capable of downloading YouTube videos with subtitles.
Here's how to download songs from YouTube with MiniTool uTube Downloader.
Step 1. Download and install MiniTool uTube Downloader.
Step 2. Launch MiniTool uTube Downloader to get its main interface.
Step 3. Type the song name in the search box and click the search icon to go. Or paste the URL of the video you wish to download and hit the Enter key.
Step 4. Open the target video in the search results and click on the download icon to get started.
Step 5. Choose the option MP3 to download music from YouTube. Then tap on DOWNLOAD to start the conversion. The Subtitle option is checked by default. When you download the song from YouTube, the subtitles will be downloaded together. To remove subtitles from video, just uncheck the Subtitle option.
Step 6. After the process is done, click the Navigate to file icon to locate the music file.
Main Features
Download audio and video from YouTube without any limitations.
Download the whole YouTube playlist.
Automatically download YouTube subtitles while downloading videos.
Search for songs and playlists by keywords.
Export converting YouTube videos to MP3, WAV, MP4 and WEBM.
It's freeware. No ads, no bundle.
Download videos at full speed.
TubeMate
TubeMate is an app to help you download MP3 from YouTube. It's capable of extracting the audio from YouTube video to different formats including MP3, AAC, MP4 and so on. Moreover, it also can be used to download MP3 from Dailymotion, Vimeo, Facebook, Metacafe and many others. To learn more about how to download Vimeo videos, see this post: How to Download Vimeo Videos? 3 Solutions.
Main Features
Download MP3, AAC, and MP4 from some video websites including YouTube, Vimeo, Dailymotion, etc.
Work with almost all operating systems.
Download multiple files simultaneously.
Offer different output formats and resolutions.
Convert YouTube to MP3 Free In Seconds (Complete Guide)
This post lists 10 free YouTube video to MP3 converters to convert YouTube to MP3, and download YouTube playlist to MP3.
KeepVid.Pro
KeepVid.Pro, also known as iTubeGo, is a powerful video downloader on the web. It provides the desktop version and chrome extension that allow you to rip HD video and audio from over 1000 online sites like YouTube, Facebook, Instagram, Vimeo, NBC, etc. With it, you can download songs to Windows, Mac, iPhone, iPad and Android.
Remember, you can't download copyrighted video or music on KeepVid Pro.
Main Features
Support over 1000 video sites.
Download songs from YouTube for free.
Download YouTube playlist.
Download video in MP4 and WEBM.
Compatible with all operating systems.
Y Music
Y Music is a free music discovery app with an intuitive interface. It offers over millions of tracks and podcasts, news, sports and shows. Music in this app categorized by genres, which help you find the music you like quickly. Also, you can browse music with Music Charts including iTunes, BBC Music, Billboard and others.
More than that, it can play only audio of a video in background, saving up to 90% cellular data for you.
Main Features
Provide tons of tracks, podcasts, news, shows and more.
Download MP3 from YouTube for free.
Search for tracks, albums, songs and playlists by using keywords.
Loop a song as you like. You may like: 4 Tips on How to Loop a YouTube Video Easily.
Come with the feature Sleep Timer.
Edit metadata about artists, genres, albums and tracks.
SONGily
You can find loads of music streaming services on SONGily like Spotify, Deezer and Apple Music. With it, you can download videos in MP3 format on your phone and computer. This app is available on Google Play, but it does not support downloading videos.
To download videos from YouTube, Instagram, Facebook and more, you need to go to its official website and switch to the tab Our Apps. Then download and install the app SONGily Pro on your phone.
Main Features
Download songs from YouTube, Instagram, and more.
Search for the song by typing the song name.
Download music for free.
Works with computers and phones.
Shazam
Shazam is the most popular app, used by billions of people, which helps users identify music and TV around them. It's the best way to explore, recognize and share songs you like. Now, it's available in Android and Apple stores. With it, you will listen to upcoming popular songs instantly for free.
Main Features
Easy to use.
Come with a huge database of music.
Compatible with computers, Android devices, and iPhones.
Identify a song in seconds and offer more detailed information about it including lyrics and related video clips.
Free and safe download.
4shared
It's an online file-sharing and storage website. Create an account for 4shared, you will get 15 GB of free web space that let you upload, share and manage your files like music, photo, etc. On the website, you can easily find the music you need with the big database. It also has an app for Windows and Android.
To search for the music on 4shared, just enter the song name in the search box. After a while, the music you're looking for will show in the result list.
Main Features
Allow you to access the massive file database including songs, documents, photos, and so on.
Offer 15 GB web space.
Simple and free to use.
Best MP3 juices alternative.
How to Download YouTube Music to MP3 Player – 2 Steps
How to download YouTube music to MP3 players? You need to complete two steps – downloading music from YouTube and transferring them to the device.
SoundHound
SoundHound can recognize music from movies, shows, commercials and anything else with sound. Also, this app comes with a huge database of millions of tracks. Once you've identified the music, you can play the full song, watch the music video and browse the lyrics.
Main Features
Identify music from anything that has sound.
Listen to the full music and enjoy the music video.
Provide millions of tracks.
Voice-controlled player.
10 Best Free Music Download Sites
Want to find and listen to music without any software? Here offer you 10 best free music download sites.
SoundCloud – It's the world's most popular music streaming platform.
Free MP3 Finder – You can discover the latest music and download them for free.
SoundClick – You can download free music from lots of artist websites.
MP3juicestv – Millions of tracks available for download.
Last.fm – It's the largest online music service. You can track all of the music you listen to.
Spinrilla – No user account is required for downloading albums.
ReverbNation – all songs can be streamed, but not every song can be downloaded.
Musopen – Find and download public domain music for free.
Free Music Archive – It's an online royalty-free music website.
YouTube Audio Library – You can download and use the music in YouTube Audio Library without limitations.
How to Install & Uninstall YouTube Music Desktop App on a PC
Can you get the YouTube Music desktop app? How to install the YouTube Music app on a PC? This post explains how to use the YouTube Music desktop player on your PC.
Conclusion
MP3 juices are the best option to find the music you need. But if you can't find the desired music on MP3 juices, don't forget to try the above-mentioned 8 MP3 juices alternatives and the 10 best free music download sites.
MP3 Juice FAQ
Are MP3 juices safe?
The answer is yes. The website has a simple and clean interface. It is safe to download a song in the public domain. But it is not legal and safe to download a song that is copyrighted.
Where can I download MP3 songs for free?
There are many free music download sites such as YouTube Audio Library, Free Music Archive, etc. The two websites offer you tons of copyrighted free music. That is to say, you can use these tracks without paying.
What is the best MP3 download site for free?
Free Music Archive is the best MP3 download site for free music videos and royalty-free music. You can download MP3s from this website freely and you don't have to worry about the legit of the site. It's 100% legal to download music.
How can I download music to my phone?
Subscribe to YouTube Premium and launch the YouTube app on your phone.
Enter the song name in the search box and open the music video.
Click on the Download button to download music on your phone.