Multani Mati Pack Skincare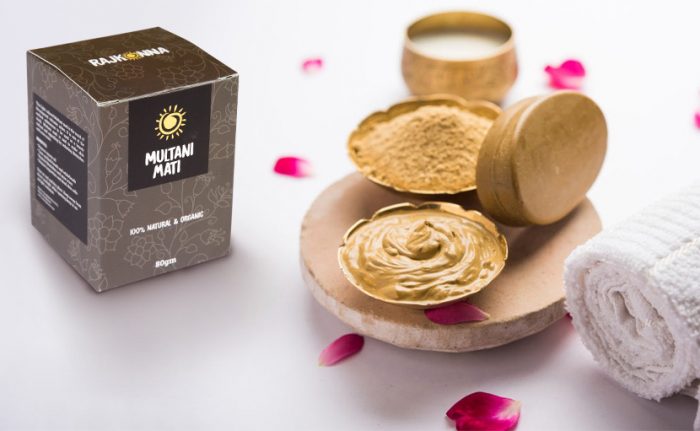 For those who are interested in ancient Ayurveda and natural beauty, Multani soil is nothing new to them! Multani soil has been used for beauty for a long time. It is a well-known name among beauty lovers for its many benefits and qualities. This multani soil is very effective in getting rid of unwanted black spots and sunburned skin starting from getting soft and fresh skin. But in this age of adulteration, where do you get pure and organic multani soil, you are thinking about it? No worries, but that too is within our reach now. Before that let's know, about the use and benefits of multani soil in domestic beauty!
Use of Multani soil for safe beauty
Where did Multani soil come from? Let's start with a little history then. In the 18th century, a lump of clay was found while digging in the city of Multan. The locals were a little surprised because it worked great as a cleaner. They noticed that the skin was cleansed by applying it on the face and the skin color became brighter and the oily feeling disappeared. Bess, since then the use of multani soil began to circulate!
Benefits of Multani Mati in Domestic Beauty
Why use Multani soil? What are its special qualities? I know, this question is revolving in the minds of many! Usually Multani soil is used more in face pack. Let's take a look at the benefits of multani soil in domestic beauty!
1) Multani soil is one of the most important natural ingredients for maintaining oily skin. It helps to reduce excess oiliness of the skin.
2) It acts as a natural exfoliator. In other words, it plays an effective role in removing dead cells, blackheads and whiteheads from the skin.
3) There is no pair of multani soil to cure any black spots including acne scars, suntan, blemish.
4) Multani soil plays an effective role in retaining the elasticity of the skin. It also brings a healthy glow and brightens the complexion.
How do I use multani soil for domestic beauty?
If you apply face pack according to your skin type, you will get the highest benefit from it. The use of multani soil in domestic beauty treatment is completely safe and effective. If you do not know how to use multani soil for any type of skin.
Multani soil in home beauty care for oily skin
Make a face pack by mixing rose water and cucumber juice with multani soil. Every ingredient in this pack is good for oily skin. Leave it on for 10 to 15 minutes and wash it off. You can use this pack 1/2 times a week. If you have aloe vera gel, essential oil or rose petal powder on hand, you can mix them too. If you have an allergy to any ingredient, it should be eliminated.
Multani soil in normal beauty care for dry skin
Make a pack by mixing multani soil with yoghurt or milk. Leave it for 10 to 15 minutes and wash it off. You can also add honey, besan, aloe vera gel to the pack. Use this pack 1/2 times a week. Gently massage for 5 minutes for exfoliation. If you use it for a while, you will understand the difference.
My experience with Princess Multani soil
At first I said that it is a little difficult to find authentic things! I got Princess Multani soil from cosmetics. It is completely organic and the packaging is also attractive. The first time you use it you will realize how pure it is. Free of any extra colors and flavors, so feel free to use! Since my skin is oily, I don't mix it with rose water and aloe vera gel. After washing the face, the skin looks much fresher and softer. Moreover, it also reduces the oily feeling of the skin. Overall I like this product a lot. But the price is within reach!
Then you know, about the use and effectiveness of multani soil in domestic beauty! It can be used safely on all skin types. No matter how modern we are, we can never deny the benefits of using natural things!
If you want you can buy authentic skin care products online from shop.sajgoj.com. You can also shop at two physical cosmetics shops, located at Jamuna Future Park and Border Square.