Netflix's Bridgerton Season 2 
Diamond Jewelry Extravaganza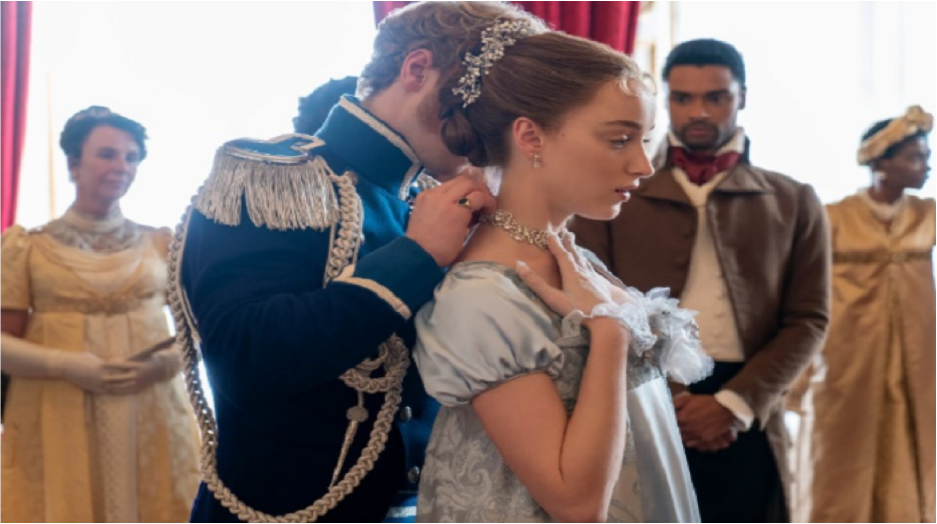 Much has been made of fashion in the highly anticipated second season of Bridgerton, which aired on March 25th, 2022. Ellen Mirojnick, the costume designer, has truly outdone herself with intricate and opulent gowns for early 19th century English aristocrats. 
Such are the costumes, in fact, that they are arguably on equal footing with fellow Netflix hits, Downton Abbey and Reign. But Mirojnick's jewelry choices were arguably the aesthetic highlight of this show, with lavish gems and diamonds adorning and making social statements about the characters.
There was a stir surrounding authenticity of a jewel in Season 2, which today might be called "Rubygate." Lord Jack Featherton's mines were found to be empty, and a ruby necklace he gifted turned out to be a counterfeit. This embarrassing blunder permanently altered his wedding plans. It would be difficult to recover from a scandal like that even today.
This begs the question about how people in those days knew details about their gemstones. Would they have been able to differentiate between real diamonds and artificial costume jewelry or something like Moissanite? Assuming their stones were genuine, how would any family even know if their family jewels were of the highest quality?
In those days, jewelers would have their own personal methods for surmising what they viewed as quality. This was a time before the Gemological Institute of America (GIA) 4Cs, which is now a universal standard for grading. 
But despite having a standard today, the same problem with subjectivity actually persists. Just as with 19th century England, gemologists still evaluate gemstones by eye—something that's quite undependable. 
Opinions often differ among various laboratories that issue certificates. Even GIA itself uses the same old-fashioned inspection method by which it issues certificates.
As of 2021, however, a new technology finally solved this problem. Sarine Technologies is an Israeli high-tech responsible for systems used by diamond producers around the world. 
Its engineers designed special scanners that use machine learning software. These devices operate 3D image sensors to precisely analyze gemstone qualities on a level impossible to achieve with the human eye. The result is high precision 4Cs grading and certification, and this scientific advance is great news for modern diamond shoppers. 
It's always a smart idea to get a second opinion on any grading advertised in a store. According to Keith Ericsson, owner of Shimmers, a Houston jewelry boutique, there are all sorts of reasons to question certificates on stones. 
"All of our pieces are certified, but the associations and authorities that issue these have in all honesty been controversial. In at least one case I know if they would actually grade stones higher as incentive to buy more certifications. That's nuts."
Ericsson was probably referring to a European authority accused of ethics violations. But some people might be shocked to learn that even the GIA itself has been the subject of no small amount of controversy.
According to Rapaport, a leading diamond industry resource, clients were accused of bribing the organization in exchange for better ratings on stones. "GIA does not provide full disclosure of what happened — they do not straightforwardly admit that any employees have been caught taking bribes."
It wouldn't be fair to suggest that this is an overall bad organization. But reports from the GIA, AGS and EGI are subject to error, where Sarine's eGrading is not. Machines tell the truth down to every last detail. This is why this service is so revolutionary. Diamond shoppers should always request that jewelers get an eGrading report for verification.
Fans of the Netflix series would undoubtedly be interested in knowing appraisal values of real jewels used on Bridgerton. That would require a visit to Sarine's labs for analysis. But would owners of the jewels really want to know if they paid too much? 
Either way, if the pieces go up for auction at Sotheby's someday, chances are that any buyer would carefully vet such an investment by performing an electronic grading.
While Sarine's technology will be invaluable to modern day jewelry shoppers, it might prove scandalous to real-life Bridgertons of the day. What if Lady Danbury's necklace had lots of inclusions and a poor clarity rating? It would all be rather unimaginable how she might react.
On the other hand, after that whole ruby fiasco, maybe characters really would be better served by making sure something like that never happens again; at least within the same season.