Rajkonna Brightening Body Lotion Super Moisture Review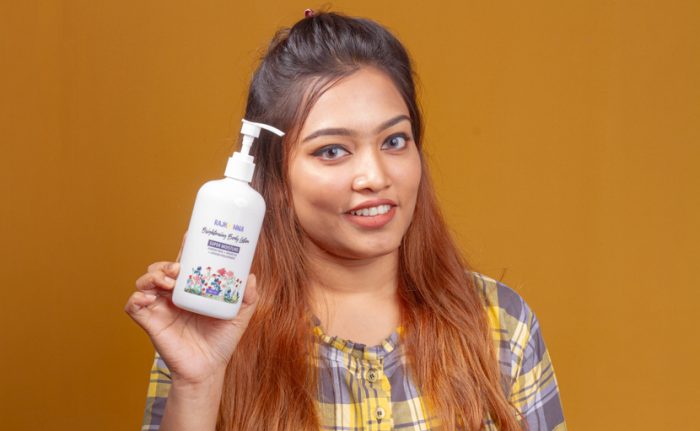 Suppose you put on a very nice make-up and also wear a very nice dress. But after leaving the house, he saw how dry his hands were or how white they were! Tell me how it feels? We often suffer from dry skin and there is no alternative to moisturizer to solve this problem. So to keep the skin bright and moisturized, find a good quality moisturizer.
Since we use lotion on dry skin all year round, there is a budget. Since my own dry skin, I was also looking for a good quality budget friendly body lotion. Then I found out online about Princess Brightening Body Lotion (Super Moisture). I have been using this body lotion for some time now. Today I will talk about the function of this body lotion and the benefits of the ingredients in the lotion. As well as knowing how effective body lotion was to prevent dry skin. Let's find out without delay, my experience.
What's in it?
Princess Brightening Body Lotion (Super Moisturizer) contains all the ingredients that are beneficial for the skin. The lotion contains almond milk, argan oil and sodium hyaluronate. We all know how effective almond milk is for our skin. Almond milk moisturizes the skin from the inside out and keeps the skin hydrated. The argan oil in it is well known as a natural moisturizer. Argan oil has anti-aging properties, which are effective in avoiding fine lines and wrinkles on the skin. This moisturizer will keep the skin hydrated as well as brighten the skin.
Effectiveness of body lotion
1. It blends very well with the skin and can keep the skin moisturized for up to 48 hours.
2. This moisturizer keeps the skin hydrated as well as brightens the skin.
3. The use of moisturizer reduces dryness of the skin.
4. Using this moisturizer keeps the skin soft.
5. The almond milk in the moisturizer is useful for maintaining the beauty of the skin.
. Another ingredient in the moisturizer is argan oil, which acts as an anti-aging agent on the skin.
Who can use it?
This moisturizer is suitable for all skin types, but especially for those with dry skin. It is very beneficial for those of us whose skin becomes dehydrated and rough. Many times the skin of our hands becomes much drier. In particular, the hands of our mothers. As a result of the use of alkaline soaps, detergents and water, the skin loses its natural moisture. So the solution may be a hydrated moisturizer.
When to use?
You can use this lotion at any time of the day. In particular, applying moisturizer to the body immediately after bathing will retain skin moisture and prevent dryness of the skin. And if you apply the moisturizer before going to sleep at night, you will get soft and glowing skin in the morning.
Packaging
First of all let's talk about its packaging. You will get the product in a bottle of white floral printed. And there is a pump for use, with which you can easily apply the lotion.
Amount
Princess Brightening Body Lotion (Super Moisture) Net Weight 360ml. Which you can easily use 1/2 month. And if you are looking for a body lotion for everyone in the family, this is the perfect choice for you.
Thinking about smell or texture?
Many of us emphasize its smell or texture before buying lotion. Because we don't like all kinds of smells or textures. I was thinking about this before buying. The smell of this body lotion is very refreshing and its texture is also very light weight. As soon as it is applied on the body, it sticks to the skin and does not cause any stickiness. So I am very happy with this product of white color refreshing fragrance.
Price
Princess Brightening Body Lotion (Super Moisture) costs only 490 rupees. It is very good as a budget friendly moisturizer for use on the whole body. And to me the price seems quite reasonable in terms of its effectiveness.
Not without saying something else. Princess is one of my favorite bands. When I saw that the princess body lotion had arrived, I bought it without delay. And this moisturizer has fulfilled all my expectations.
I bought Princess Brightening Body Lotion (Super Moisture) from Shop.sajgoj.com. Cosmetics for my skin and hair care for authentic products. If you wish, you can visit two cosmetic physical shops, one located in Jamuna Future Park and the other in Border Square. Hope you like the review. Everyone will be fine, will be healthy, will be beautiful.