Rajkonna Moisturizing Shower gel Review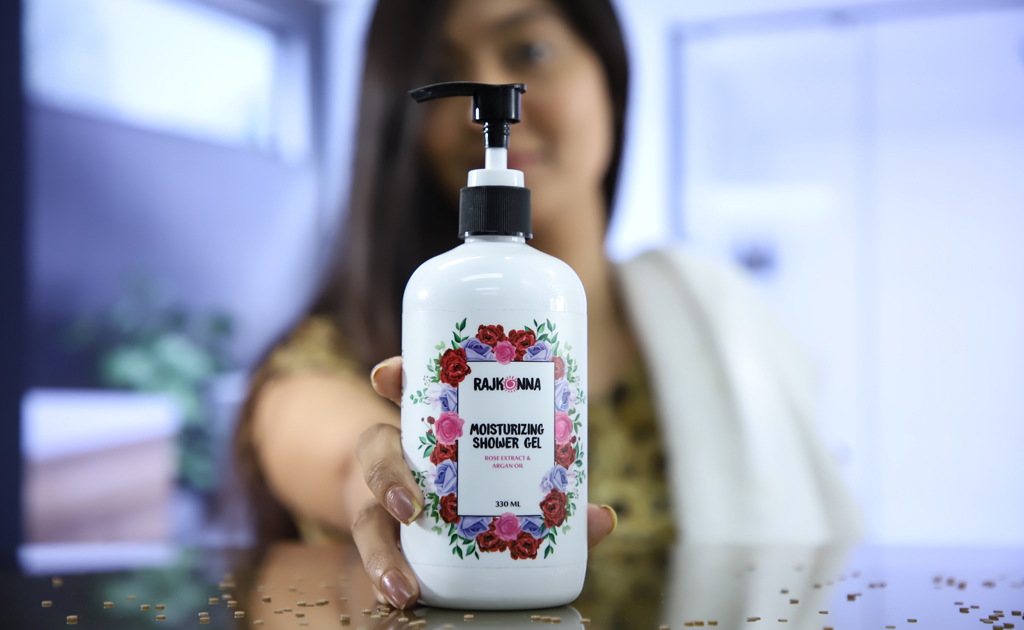 Tell me, what is the first thing that comes to mind after taking a shower? You need to apply a good moisturizer at the end of the shower! Isn't it? Regardless of the skin type, after taking a shower, we all feel a kind of dry or tight skin. What is the reason for this? Mainly taking a shower for a long time reduces the hydration level of our skin. Also, the harsh chemicals in the products we use for skin cleansing make the skin rough or dry. What is the way to keep skin properly clean and moisturized then?
What if a shower gel is available that will help keep the skin properly cleansed as well as moisturized? Very good! Isn't it? Especially for those whose skin is already dry, there is no point. So today I will share, with a budget friendly shower gel to keep skin properly clean and moisturized. Which is one of my favorite skin care routine products recently. Let's find out about the shower gel without delay.
What is the function of shower gel?
The word "shower gel" is new to many of us! So, before knowing about budget friendly shower gel in skin care, let's not know what is the function of shower gel.
Most of the time in our skin care routine, we are concerned about our face. However, taking care of every part of our body is equally important. And taking care of every part of the body is not comparable to a shower gel in a skin care routine. Because it-
1) Helps to cleanse the body as well as properly exfoliate.
2) It contains several ingredients needed for skin care.
3) Healthy and easy hygiene can be maintained.
4) It does not compare to give soothing and refreshing feel to the skin.
5) Can be used instead of bubble bath product.
6) It can also be used every day.
There are many more benefits of shower gel. And because of this, many of us feel more comfortable using shower gel instead of soap to keep our skin properly clean and moisturized.
Which shower gel is "budget friendly and meaningful"?
Shower gel quality but a lot. But the only thing that came to my mind when I was thinking about selecting shower gel was,
Which brand of shower gel would be better?
Most shower gels are expensive! Which one should I select for regular use?
Who will target my skin problem?
Will it suit my skin?
Will the quality be good?
Won't you make the skin extra dry?
The questions seem a little familiar, don't they? But that is not the case with me. When it comes to buying a new product, it is more or less in the head of all of us, but these questions play naturally. With all this in mind, a few days ago I selected "Princess Moisturizing Shower Gel" as a solution! It is also budget friendly and means good. Why am I saying that? Before we get into the details of the product, let's take a look at the reasons for choosing the "Princess" brand.
Something about the "Princess Brand"!
Along with skin care, Harmful Chemical Free products predominate for me. And, Princess Bangladeshi is one of the popular organic brands. Each product of this brand has a wonderful blending of local herb ingredients. Each product of this brand works great in solving specific skin and hair problems. And the reason why the Princess brand seems the best to me is that every product of this brand is free of harmful ingredients like parabens, alcohol or any non-halal ingredients. And being a domestic brand, the price is affordable. So this is the best option for me for regular use!
Princess Moisturizing Shower Gel Review
First I will share, "Why did I choose this shower gel?" Basically, the first reason is the "princess brand". I have shared many things about the brand before. I have also used several products of this brand. Personally I am very satisfied using. The reason-
Every product of this brand is budget friendly
Perfect for regular use
Quantities are sufficient according to the price
Its reviews are very good
Easily suited to any skin type
Another big reason is that I have been using another princess shower gel product "Princess White Glow Shower Gel" for the last 2 to 3 months. I loved this shower gel so much that within a week of use, I ordered one for everyone else in my family. So I did not hesitate to order the princess's new shower gel as soon as it arrived.
What ingredients have been used in it?
Princess Moisturizing Shower Gel, rich in natural skin care properties, also contains ingredients like Rose Extract or Rose Flower and Argan Oil. Let's take a look at how these ingredients work on the skin.
The work of Rose Extract in skin care
The antioxidant and anti-inflammatory ingredients in rose extract give the skin a soothing feeling
It contains vitamin C. Vitamin C helps boost collagen in our skin
Also, the rich amount of Vitamin E in Rose Extract is incomparable in keeping the skin moisturized.
It also helps to keep the skin clean and blemish free.
Argan oil works to keep skin properly clean and moisturized
Argan oil is a multi-purpose ingredient in skin care. It contains a lot of antioxidants, which help the skin retain hydration.
Argan oil is rich in fatty acids, which softens the skin by removing roughness.
Princess Moisturizing Shower Gel Why is it different from other shower gels?
1) Its light texture and soothing smell
I prefer light-based everyday showers over cream-based formulas. The texture and soothing smell of this shower gel will impress you. As well as those who can't take a very strong smell, this is definitely the best choice.
2) Even with a very small amount of skin will be clean from the inside
Usually 3 to 4 pumps of princess shower gel is enough for me to use once a shower. It doesn't give a sticky feel at all. I get a great refreshing feel after using the reverse. It easily removes dirt or grime from my skin.
3) Removes roughness of the skin as well as keep the skin moisturized
The first problem that many of us feel after using shower gel is excessive roughness or roughness on the skin. But the rose extract in Princess Shower Gel contains a lot of Vitamin E, which is incomparable in keeping the skin moisturized.
4) Budget friendly and means good
The price of other shower gels in the market is usually extra. Again, the amount is not too much. The Princess Shower Gel is budget friendly and means good.
5) It is Harmful Chemical Free and suitable for all skin types
Another great reason to choose this shower gel is that by claiming the princess brand, their products are harmless chemical free and can easily adapt to any skin.
Useful for whom?
Princess Moisturizing Shower Gel can be used by all skin type owners. As well as family members from young to old or boy or girl, anyone can use it safely. To put it simply, anyone 7 years of age or older can use it.
How to use it?
Just like we use soap or soap bar, the rules for using shower gel are also very simple. Pump the gel into the loofah 2 to 3 times. Now make foam by hand. Then gently rub on the wet body. Finally, rinse the body thoroughly with water. Busy! You will get clean and moisturized skin every time you take a shower.
How's the texture?
The texture of Princess Moisturizing Shower Gel is largely based on light weight formula. As you can see from the name, it is a gel based shower gel. I like the color a lot after taking it in my hand.
How much will be the packaging and quantity?
I have always loved simple suding packaging. In a word, I really like the packaging of Princess Moisturizing Shower Gel. 330ml red, pink and lavender color floral prints in a very simple white color bottle. I'm sure everyone else will like it, not just me.
How much is the price?
You will get this shower gel in a 330 ml bottle at a reasonable price, the price is very affordable. This is one of the specialties of Princess, where you can get quality products within the reach of the best possible.
"Budget Friendly Shower Gel To Keep Skin Properly Clean And Moisturized!" What? Now you must understand why it was said in the beginning? This princess moisturizer shower gel works great for cleansing the skin properly, as well as keeping the skin moisturized and giving a soothing effect. I can say for sure, this is a must-have skincare product for those who prefer shower gel or body wash for daily use in the shower. Also, for those who are looking for a "low price means good" product, every product of Rajkanya brand can be the right choice. If you want to buy authentic products, you can buy from two physical shops of cosmetics, one of which is located in Jamuna Future Park and the other in the border area, and if you want to buy online, you can buy from shop.sajgoj.com.