Recommendations For Prom Gowns: Colors And Styles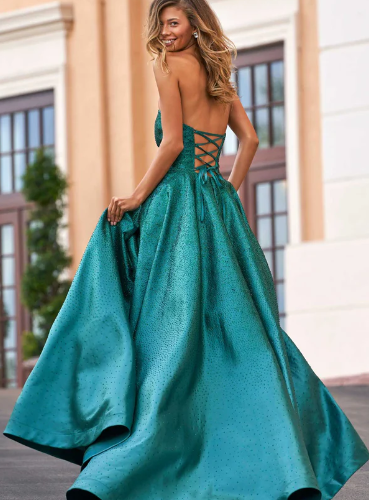 From their first day of high school most girls are dreaming about going to the prom. Chances are you have had an idea of what you wanted your gown to look like and feel like for some time now. You might not know exactly where to start because there are so many styles, colors and designs to choose from.
How to Choose a Prom Gown
When attempting to create a look for your prom start by paging through some magazines to get some ideas about what is in style or what some celebrities are currently wearing. Look at the latest cuts, colors and patterns and try to forecast whether those styles will still be in by the time your prom comes around. You might want to also take into consideration seasonal changes. As the weather changes, so do the colors and designs. .................................................................
Cut out all the designs that appeal to you and paste it on a huge piece of cardboard. Try to stay away from designs that are too bold and daring but also from those that are boring and unoriginal. Arrange the different gowns by color or design. Color is easier because you can then see each gown in the color you like. If you have 15 different colors on a board it will be extremely cluttered and very hard to find your favorites. If you do want to sort by design, then keep the different categories separate. Another great idea is to take a full-length photo of yourself and place it in the middle of your chart. This way, you can match the best gown that will suit your body type, skin color, hair and eye color as well as height.
Once you have pasted all your favorite gowns on your chart you can now start to rank them in order. Remember not to have too many designs and only choose those gowns that you absolutely love. Do not even waste your time on the "maybes". If you do not think you like it, you probably don't. All your gowns should now be grouped together based on color or design, making selection easier. Now the ranking process can begin. Simply give the gowns you like the most a higher rank and the gowns you like the least a lower mark. Try to keep it on a scale of One to Five. Keep in mind what looks good on you and your photo should serve as a guide. During ranking you should be able to narrow down your selection until you find your perfect gown.
Selecting a Suitable Color
Before selecting a style for your prom gown, you should absolutely know what color you would like to wear. How you go about choosing a color is relatively simple. There are three ways this can be done. First thing you can do is to pick your favorite color. Next you can take a look in some magazines or on the internet and see what the color trend is for prom gowns. In other words, what is the new black? Lastly, you could choose a color that looks good on you. This is the color that makes you feel great and makes everyone around you take notice.
All three ways are great when it comes to selecting a color, but at the end of the day you should ultimately choose one that you feel comfortable in. If the biggest trend is orange but you feel like a pumpkin in it then you should not wear orange. Besides, there is a chance that half the prom might be wearing orange as well. Yellow is a very elegant color, yellow prom dress suit many body types of girls.
Selecting your favorite color might not always work though. You may absolutely adore white, but white will not do you justice if you are pale with red hair. Alternatively, your favorite color could be dark purple but that could not be the best color for you depending on your complexion.
Therefore, the best option may be to choose a color that looks great on you. Perhaps choose a color that, when you where it, brings compliments your way. Also, try to choose a color the does not clash with your appearance. You will automatically feel more confident in this gown knowing that it is a color you can trust.
A Prom Gown Style for Your Body
On the night of your prom, you might want to look like Charlize Theron, Halle Berry or Angelina Jolie, but let's be realistic for a minute. Not everyone can pull this look off. You might not be tall enough to wear that long flowing gown like Gisele Bundchen or have the figure to fill out a gown like Beyonce. When choosing a style for your prom gown, be kind to your body. Just make sure you select a gown that not only compliments your size and height but gives you the confidence to have the time of your life.