Rhys Kelly's is Setting a New Standard for Customized Jewelry Due To It Being Made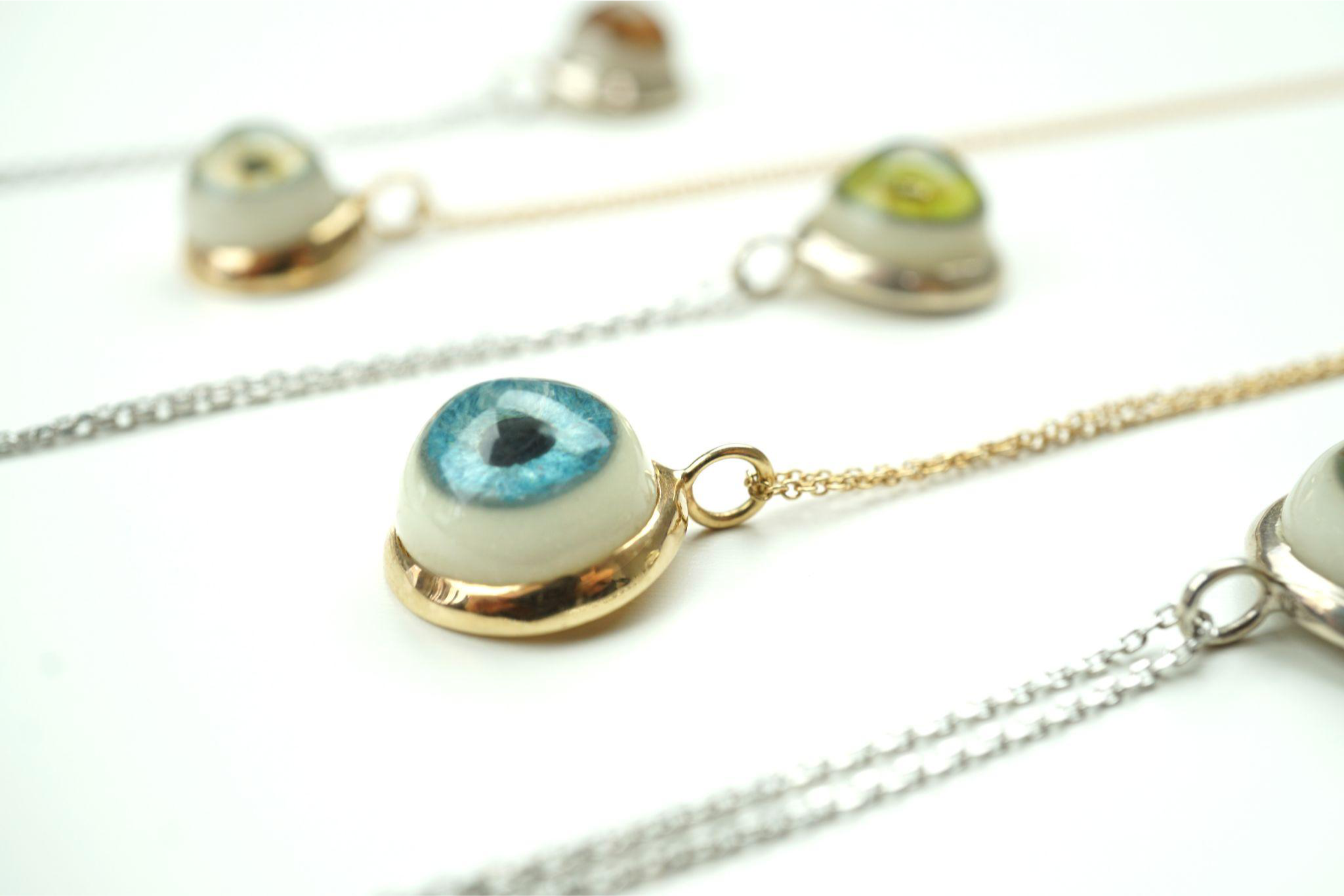 Rhys Kelly, designs handmade jewelry and is setting a new standard for personalization, sentimentality, and intimacy in the industry. The well-known personal touch of a monogram, initial, or birthstone doesn't compare to Rhys' hand painted custom eye jewelry. Creating one-of-a-kind pieces for each customer based on images of the customer's eye or the eye of a loved one.  Rhys' collection is revolutionary in the customized jewelry industry and is an exceptionally meaningful expression of love and longevity. 
Rhys has always been fascinated by the human eye. "The ability to feel a deep connection with those around us, simply through eye contact or the emotive expressiveness of each person's eyes tells a story and gives us personal, intimate, and deep relationships," says Rhys. 
As an artist who has centered her work and jewelry line around the image of the human eye, Rhys sees it as a symbol that unites humanity. "No one sees the world in the exact same way as anyone else," she says. "But even with these differences, we all still undergo the common experiences of love and loss. For me, other people's eyes are a reminder to consider the perspectives of the people around us and to get out of our own heads." 
By taking the time to hand paint and craft each eye and each piece of jewelry for her customers, Rhys is making a statement against the fashion industry in the process. Throwing away the status-quo made up of cheap, trend-focused products that aren't meant to last, Rhys creates individualized designs by hand to imbue each piece with a sense of longevity and life. 
"I focus on the quality of each piece in terms of its production value and its singularity. It is my goal that people will be holding onto these pieces forever and eventually pass them down to generations to come. I would feel so connected if I had a piece of jewelry with a piece based on the eyes of my grandparents and I hope to provide that opportunity to my customers."
Pouring so much of her own work and time into each piece, customers receive a true work of art filled with Rhys' passion and love for the world. Each piece is truly distinct from the rest, as no two eyes are exactly the same. Wearing this jewelry is like wearing a symbol of our common humanity, showing the eye that unites us as humans and yet remain unique from person to person—a true reflection of life on this planet.
Beyond the customizable eye necklaces and rings, Rhys' collection includes other statement pieces, lockets, and jewelry, all of which include an eccentric individuality and playfulness that sets her apart from the mass-produced products flooding the fashion industry. Her line attracts buyers that truly span an age gap, clients from 18 to 80 years of age are drawn to this unique line. Rhys fills each piece with small surprises and individualized elements that give her customers something new to look at every time.
6 Ways You Can Make More Money When You Sell Your Home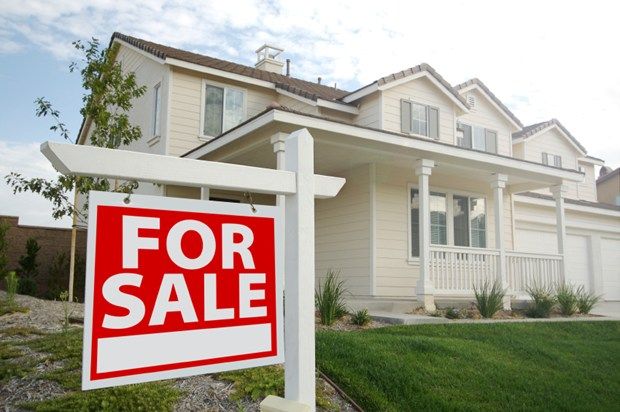 To get the most value out of the home that you're selling, you must always take the right measures to make your house stand out above the rest. Whether you are selling an old family home that needs some work, or a newer house that no longer suits your daily needs, everyone wants to be able to make the most money out of their home sale.
If you're in the process of selling your home and want to get the most capital out of your property as possible, take a look at the following 6 fast and easy ways to make more money when selling your home.
Renovate to Raise Home Value
There are a few different things that you can do in order to raise your home's value when selling. Renovating or doing some minor upgrades to your home is one of them. Making home renovations can increase the value of your home by adding luxurious elements or even increasing livable square footage. Renovations and upgrades that will help you succeed in raising the overall appraisal value of your home prior to selling include:
Kitchen upgrades including new stainless steel appliances
Removing popcorn ceilings
Raising ceilings and removing non-load-bearing walls to create open spaces
Building add-ons and finishing unfinished basements
Creating large walk-in closets
Replacing bathroom lights and fixtures
And more
Consider Curb Appeal
Another great way to make more money when you sell your home is to add curb appeal. Curb appeal is the aesthetic appeal that your outdoor yard spaces have, as well as their practicality for use year-round. The following outdoor projects can add a lot of monetary value to your home's property when getting an official appraisal or marketing to potential home buyers:
Doing landscaping
Planting mature trees
Cultivating garden beds
Creating native-plant rock gardens in desert locations
Building a pool and hot tub in warmer areas
Adding a greenhouse for year-round gardening
And more
Price Your Home at True Value
When you know the true value of your home and are able to price accordingly, you are far more likely to make more money when selling it. When a house on the market is priced way too low, potential buyers tend to shy away from it because they believe that there could be underlying issues with the home. If a house is priced way too high, on the other hand, it will be impossible to encourage a bidding war against two potential buyers.
When your home is priced at true value, you are more likely to get multiple competing offers, therefore driving the price up and allowing you to obtain a higher profit when the sale closes.
List Your Home as For-Sale-By-Owner
A great way to make more money when you sell your home is to list your home as FSOB, or for-sale-by-owner. Listing your home to sell by yourself means saving on the costs and commission fees that you would otherwise pay a real estate agent. Rather than giving a portion of the sale price to your agent, you will be able to keep it as part of your home sale capital.
Enter the Market at the Right Time
Entering the real estate market at the right time is of the utmost importance when selling your home. It can make the difference between selling at a profit and selling at a loss. The best time to list your home for sale is between the beginning and end of May, according to many real estate specialists. During this window, home-buyers are looking for their perfect summer property and are willing to pay higher prices. Sales often tend to close faster during this time frame, meaning that you won't have to wait a long time for your pay-out.
Sell to an All-Cash Buyer
The sixth tip for making more money when you sell your home is to sell to an all-cash buyer. All-cash home-buyers are potential buyers that already have the full amount of cash on-hand. Rather than applying for a mortgage loan to buy your home, they are able to present a no-obligation all-cash offer.
Many companies, like the one described on the TruePath Properties Website, are happy to buy your house "as-is". This means that you will save any money that would otherwise go towards renovations and upgrades, leaving you with more money in the long-run.
How to get your Home Loan Approved with these Tips?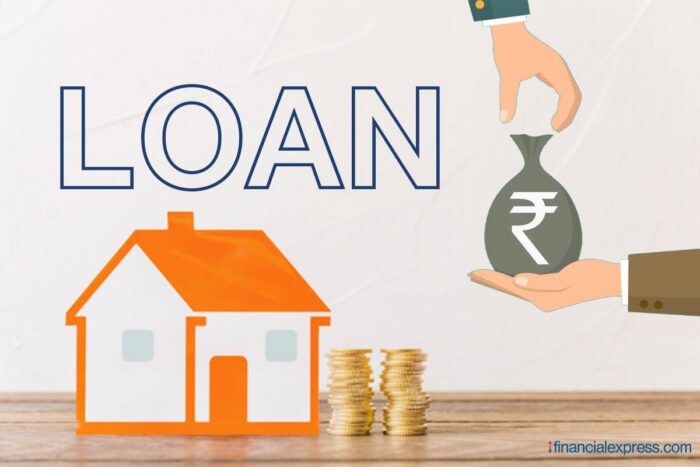 The most common of all the problems that people face when they are buying a house is that the home loan gets rejected. There are many reasons as to why the application is denied confirmation. The applicants start to panic and become frustrated. But a piece of wise advice to them is to stay calm and think over the things you did. As it is said that the solution is always in the problem; so applicants must look into every step of the application process and find the solution.
Tips to get Home Loan Approved
If you think that has done everything in the right way but still you are having problems in the loan application process then it is definitely you have missed a certain point. Many people think that buying a specific kind of house will not create this problem but it doesn't matter because the loan can be rejected for normal and even stop renting to own homes.
Check what obstacles are there
Loan applicants face many obstacles when they are buying a house. These issues were not so much criticism in the past few years but in recent days; it has become harder for people to apply for a loan. The obstacles that applicants face are;
The application gets rejected in the very beginning.
The credit score is not enough.
No constant source of income.
Not providing collateral.
Hidden charges and fees
Be Very Patient
The time of approval of the loan depends on the type of loan you want to apply, the lender you want to apply to, the amount that is mentioned, and whether the collateral is available or not. All these factors are playing a vital role in the approval of the loan. You have to be very patient after applying because it can take time for the lender to verify each and every aspect of the application.
Have all the documents prepared
On several occasions the paperwork required for approval is incomplete. If anyone of the document is missing then you have to face rejection. So if you want your loan to be approved within the time then you have to be ready with the following documents;
Personal information
Records of your employment and income
Data about your assets
An account of your savings
Adjust the limit of the money borrowing
On several occasions, the loan amount that the applicants put into the application; is not realistic and is not accepted by the lenders. You have to look closely at the amount that you want to borrow. If you want a large amount then you have to be prepared to pay a considerable amount in installments.
Change the expenses according to the budget
Making a budget will help you with the arrangement of money for the advance to be paid for the loan amount. You have to write down each and every point of the expenses; then act accordingly. But if you are having problems with this matter then you can get help from professionals like Stop Renting Bunbury to arrange for the expenses of the budget.
Hire a property lawyer for further assistance
There are many terms and conditions that are really difficult for a layman to understand. So you will be in need of a property lawyer; with whose help you can go through the loan application well. This lawyer can also become your representative when you are unable to attend any of the meetings between the two parties.
Research on the demand of lenders
Different lenders have various demands and when you don't know the needs; it becomes a problem. The borrower must do thorough research on the demands of the lender. But you have to keep in mind that you find at least three lenders; so that if one lender rejects the loan then the other can be approached.
Know what questions the lenders will ask
There are several questions that lenders have to ask borrowers before giving their approval. These are important because it is a kind of security the lenders get.
Are the borrowers in the same job as before?
What is your income per month?
Do you have any previous debts?
Do you have an asset?
What is the amount of down payment?
Which type of house do you want to purchase?
Determine the type of home loan best for you
Another critical mistake that buyers make is that they apply for the wrong kind of home loan altogether. The best thing to do is to find loans that are exclusively for buying a home. Categorize them according to the terms and conditions and decide the type of loan that is the best for you.
Is loan good for Stop renting to own homes?
Although the process of buying a house through Stop renting to own homes is slightly different but applying for the loan is also a good option. In this the final payment is made after the rental period has finished and the buyer has made up the mind to purchase it.
Storing Kratom: Key Things To Remember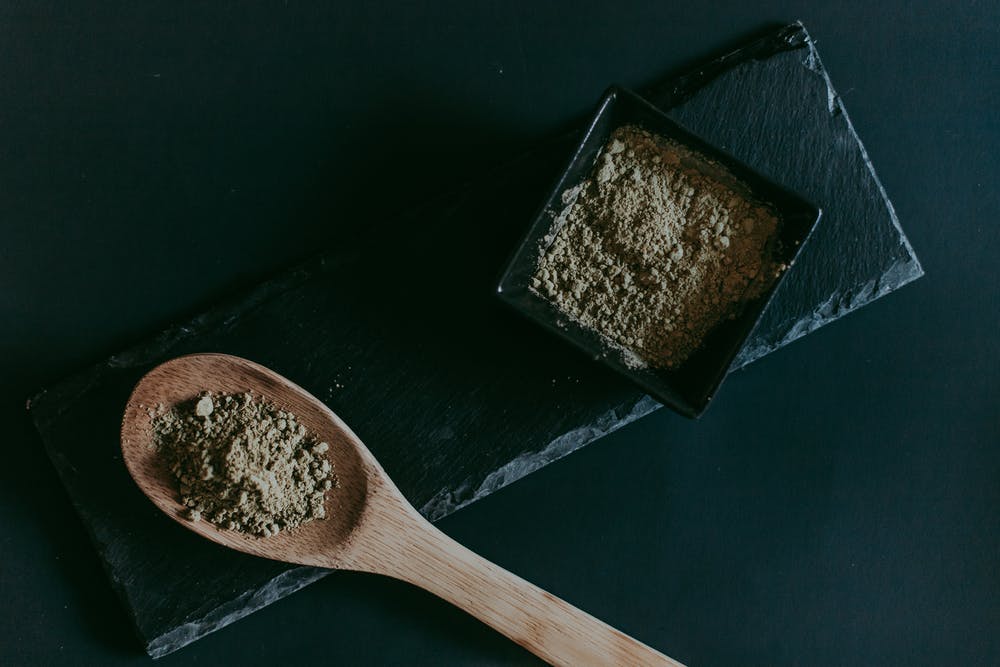 Kratom is a herbal product that has become famous in the US, and if you use it, you should know how to store it. The thing is that it is a sensitive substance that is best in the first 3 months. It grows in hot and moist conditions, and keeping it safe can help save you money. So, read the article to know the preferable ways you can use to keep it best when you store kratom at home. Buying a reasonable amount of time would be the best choice for you. 
Environmental factors to consider
When it comes to kratom, the environment can be a big enemy to keep it safe. Therefore, you should avoid losing its best condition due to the environment.
Avoid Moisture
Please keep it safe from moisture as it can be harmful to your magic substance. When exposed to moisture, there are chances of it getting algae. 
Avoid Oxygen and UV Lights 
Kratom is among the substances you cannot store in a place with oxygen. So, try to save in a store that does not contain oxygen. You can keep it in an airtight container. 
Interestingly, you cannot expose this herbal product to the light, which means you cannot leave it under the sun. The sun is bad as it can cause a build-up of bacteria in it. If this happens, you will lose the characteristics that kratom has. So, avoid keeping it in the open as it can also change in the alkaloids that it contains.
No Temperature Fluctuations
Temperature is another enemy that can hurt your special product. So, keep it safe from any such fluctuations. This thing means you should try keeping it at a consistent temperature that you can manage inside your house or anywhere you store it. At the same time, it is not recommended to store it for more than a year, no matter what kind of protection you have. 
Some Other Things to Avoid
Some other things you should avoid to keep it safe are not checking it after some time. If you do not check it regularly, you may have problems that you fail to detect until it is completely wasted.
The enthusiasts have experienced that keeping it close to something that has a strong smell can also cause problems. It may catch the smell, and you may lose its unique aroma.
If you keep it in a freezer, you should keep it in an airtight container. Try to keep it in a place that does not have any harmful environmental factors to ruin the taste or the smell. At the same time, some factors can cause problems with its chemical composition and can cause it to lose the special features that you use it for.
Preferable Ways that Work
Although there are too many ways kratom cannot be stored, you can use some extremely helpful ways. Some top methods would be:
Always keep it in something airtight to avoid any air passing into its zone. Try to use containers like zip-lock bags as they are easy to seal, and you can open them without distorting the whole substance.

You can keep kratom for longer if you do not expose it to environmental factors. So, never keep it open in the air. At the same time, you can try using some silica to keep it safe and help keep it dry. So, when it is airtight and dry, it won't catch much contamination. Moreover, it will be safe from moisture and oxygen.

If you do not have a dedicated store to keep it, you can try keeping it under your bed. When you do that, do not forget to keep it safe.

Some enthusiasts recommend keeping it in a dry closet or a treasure chest. When you do that, try to choose a place with no windows so that no moisture can get into the container.
With these measures, you can surely keep this magic product safe and use it for longer. 
How do you know kratom is no more the best
Even though you can keep it safe for long enough to consume it, there can be some instances that it may not be best to use. So, before using self-stored kratom, make sure it is its best. 
Some signs of it not being the best are that it does not contain the smell it usually has. In such conditions, you may notice a loss of smell. This condition is an indication of it not being the best anymore.
Sometimes, you may notice a loss of color. And if you keep it in a freezer, keep checking it after some time. To ensure that it does not have freezer burns, you should keep checking it when you keep it there so that you can spot it early enough to avoid any big loss.
Sometimes, contaminants can cause it to decay. So, if it has decayed already, you should avoid using it and dispose of it. At the same time, you may see signs of mold forming on it. If you see any of these signs, do not use it. And to avoid any reasons to cause such problems, you should buy it from an authentic vendor to be relied upon. Many vendors sell authentic products that you can keep stored for a year. So, deal with sellers who keep fresh products.
Last word
Kratom is a sensitive product that you can keep stored for a year if it is fresh. To avoid any rotting or decay, keep it away from oxygen, moisture and rapid temperature changes.
The enthusiasts believe that you should avoid keeping it in the open and try airtight containers like zip-lock bags. Treasure chests, freezers, and keeping under a bed would work too. It would be best to keep it in a place without windows to ensure zero moisture contamination. If you have any signs of decay, algae, change in smell or others, you should try not to use it.