Rose Water For Skin Care and Makeup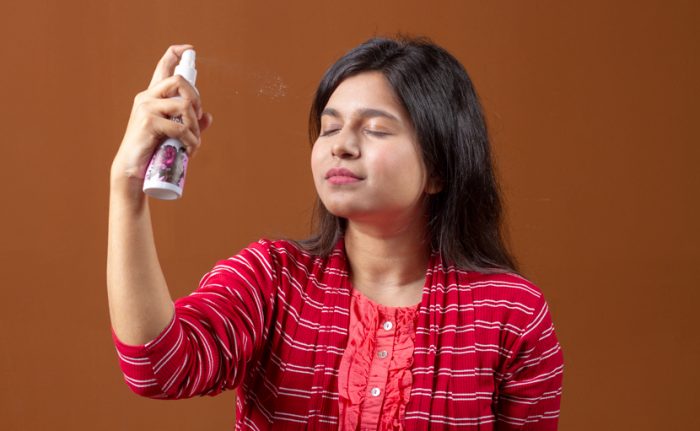 Rose water has been used in beauty treatments since ancient times. There is no pair of rose water to take care of the skin in a natural way. Rose water is also used in skin care and hair care. Rose water has been used all over the world to enhance the beauty of makeup. But let's find out, the rules of using rose water in skin care and use of makeup.
As a toner
Rose water is very useful as a toner. Using rose water as a toner controls excess oil in the skin and maintains the pH balance of the skin. Even after cleansing our face with face wash, dirt accumulates inside our skin. When rose water is used as a toner, it removes all kinds of dirt from the skin. And rose water works very well as a toner on all skin types.
As a moisturizer
We often become lazy or forget to use moisturizers. On such days, your skin is rough all day long. So these days you can spray rose water or rose water as a moisturizer. Using a little rose water on the skin will help the skin regain its lost moisture and the skin will remain hydrated.
To remove makeup
Rose water can be used as an alternative to makeup remover to remove makeup from the skin. You can easily remove your makeup with a few drops of rose water on a cotton pad.
As a makeup setting spray
Just as rose water can be used for makeup, it can also be used for long lasting makeup. If you use rose water as a setting spray after applying makeup, the skin will be hydrated and the makeup will be long lasting.
To maintain the vitality of the skin
Is it possible to look fresh using makeup all the time? A lot of the time the face looks a little tired without makeup before going out. So you can wake up in the morning and spray rose water on the face to bring back the vitality of the skin. It will make the skin look bright and vibrant. In addition, as a result of working for a long time, our skin often gets the impression of fatigue. In that case, if you spray a little rose water, the skin looks alive.
Reduces puffiness of eyes
Many of us are embarrassed by the swelling under the eyes. To reduce the swelling of the eyes, rose water should be kept in the fridge and cooled. Now soak the cotton with this cold rose water and put it on the eyelids for a while. The feeling of peace will come to the eyes, the swelling of the eyes will be removed.
Reduces the tendency to get acne
Rose water is rich in antiseptic antimicrobials, which act as an acne preventative. Rose water helps to prevent acne-causing bacteria as well as reduce skin blemishes. Also rose water helps to reduce skin irritation. This reduces the redness of the skin.
Pores shrink
Rose water removes all kinds of dirt from the pores or pores of our skin. As the pores clear from the inside, the pores become smaller and the tendency to acne or acne decreases.
Hydrates the skin
When working in an air conditioner for a long time, the skin loses hydration or moisture. Many times the skin loses hydration due to lack of water in the body. In this case, if light rose water is sprayed on the skin, the lost hydration of the skin comes back.
Eliminates sunburn
Many of us suffer from sunburn or sunburn. Rose water is very useful to remove sunburn or sunburn spots on the skin. Soak in cold rose water and a few drops of lemon juice and apply it on the skin. Use on the skin 2-3 times a week from outside. This will remove sunburn or sunburn on the skin.
As a hair conditioner
Rose water is not only good for the skin, but also for the hair. After shampooing your hair, wash your hair with the same amount of rose water. It works very well as a natural conditioner.
To reduce roughness of hands and feet
Rose water is also very effective in reducing roughness of hands and feet. Those who get skin on their hands and feet in winter can use rose water on their skin at night. Also use a few drops of rose water mixed with glycerin on the skin to solve the problem of ankle sprains. This will eliminate the problem and the skin will be smooth.
Suitable for all skin types
There are many products or natural ingredients that are not suitable for all skin types. But rose water or rose water is suitable for all skin types. Whether it is dry, oily or combination skin, you can use Rose Water on the skin without any irritation or irritation.
In making the pack
We use different types of face masks or packs for skin care. You can use rose water to make various natural face packs. For example, you can use a few drops of rose water to make different packs including multani soil, licorice powder. This will increase the effectiveness of the pack manifold.
This is how you know the quality of rose water and the rules of use in beauty treatment. We hope you enjoy the article.
If you want to buy authentic products for skin and hair care, you can visit two cosmetic physical shops, one located in Jamuna Future Park and the other in Border Square. And if you want to buy online, you can buy from shop.sajgoj.com. Everyone will be fine, will be healthy, will be beautiful.