Skincare Product Layering Steps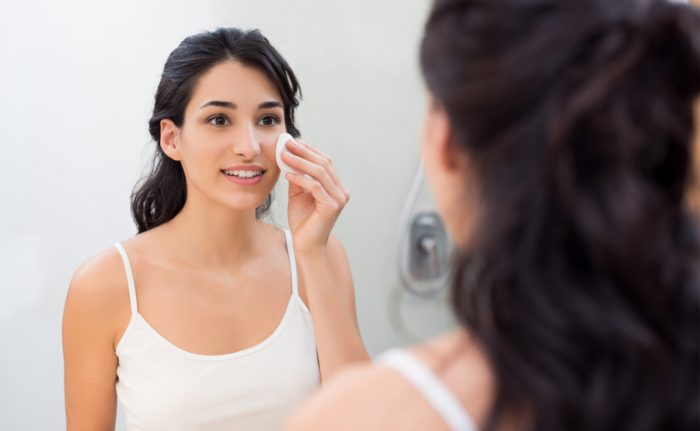 After buying skincare products with thousands of rupees and using them, it is seen many times, our skin is not doing any care, right? I often hear this saying in a very funny way. There could be many reasons behind this. One of the reasons is that the layering of skincare products on your skin is not done properly.
What? Sounds a little hard to hear? Okay, but let me explain easily.
What is meant by product layering?
We use creams, serums, toners, facial oils, etc. for skincare. Each product has a different function and the molecular size of these products is also different. For example, the molecular size of serum is smaller than that of facial oil. Facial oil is large in molecule size and it is thicker than serum. If you apply facial oil on the skin first, then apply a serum or moisturizer, but the serum will not penetrate the skin well by penetrating the molecules of the facial oil. This means that the serum will be difficult to penetrate deep into the skin. As a result, spending money to buy serum tea will not do any good. So what is the benefit? What else ?! It's just a waste of money and you're getting fed up with skin care products.
What to do then?
You need to know how to properly lay out skin care products. That is, you need to know which product to apply before and which after. But, how? That is my today's article. But without further ado, let's know how to do skin care product layering on your skin in 7 correct steps!
7 Right Steps to Laying Skincare Products on the Skin
1. Cleanser:
The first step in skin care is cleansing. Cleansing removes dirt, oil, makeup, etc. from the skin. There is no benefit in taking care of the skin that has accumulated dirt, but there may be more harm. Therefore, it is important to clean the skin thoroughly with a cleanser according to the skin type at the beginning. Then you can use exfoliator if you want. However, it does not have to be done every day. It is enough to exfoliate the skin 2-3 times a week. Then let's take an extra step. That is the mask. You can use a mask of your choice 1-2 days a week.
2. Toner:
Toner should be used only after cleansing the skin. Many people skip the toner. However, toner is very important for skin care. Toner helps to remove extra dirt and makeup from the skin. The toner also tightens our pores and balances the pH level of the skin. Wipe the whole face with toner on a cotton pad.
3. Sheet Mask:
Sheet masks are very popular in skin care nowadays. Isn't it? I really like to use sheet mask. The sheet mask is mainly soaked in serum and with its use the skin becomes bright and hydrated. Those who want to apply a sheet mask, they will apply a sheet mask after the toner. And there is no need to wash your face after removing the sheet mask. You just have to go straight to the next step. And if you have any treatment for your acne or spot, then you have to apply it after toner or sheet mask.
4. Serum:
The next step in the sheet mask is to use the serum. Those who do not use sheet masks will go for serum after toner. Serum is basically very lightweight and its molecules are so small that it can penetrate deep into the skin. Serum is used for various skin issues like acne, wrinkles, dry skin etc. It is enough to apply a little serum on the skin.
5. Eye Cream:
After the age of 20, it is very important to apply eye cream every night before going to bed. Wearing fine lines on very early AJ eye area skin and the tendency for collagen loss greatly reduces it. Eye cream also brightens our under eye, removes puffiness of the eyes and hydrates the eye area. After applying the serum on the face, now is the time to use eye cream. Always apply with eye cream ring finger. Because our ring finger is a little weaker than the other fingers. As a result, the pressure in the eye area decreases. The eye area should never be massaged with pressure. If you want eye cream, you can keep it in the fridge. This will make the eyes feel cold and relaxing when applying eye cream.
. Skincare Skin Moisturizer:
The real glow of our face comes only when our skin is hydrated and moisturized. So moisturizer is very, very important for us. Even if you skip all other skin care products, moisturizer is a must, whether your skin is oily or dry. Using a moisturizer moisturizes, keeps your skin hydrated and soft. So it is very important to find the right moisturizer for yourself. Apply a little moisturizer of your choice on the whole face with light hands.
. Facial Oil:
Facial oil works very well to repair the skin. Because it contains rich natural vitamins. And as I said before, the molecules of facial oil grow in size. So, it creates a layer on the skin. Therefore, it is best to use facial oil towards the end. Understand the skin type and then use this type of oil. Sensitive skin should be removed or patch tested.
. Sunscreen:
The last step of skincare product layering on the skin is sunscreen application. Sunscreen is a must for the day, whether it is winter or summer. This is because sunscreen protects your skin from damage from the sun's UVB and UVA rays. The SPF in sunscreen creates a protective layer against the sun on our skin. This protects our skin from being damaged. So it is always better to use it at last.
Some important tips
1. These 6 steps for skin care are not something that needs to be done day and night. For example, there is no need to use sunscreen at night. Again, it is better not to apply eye cream and facial oil during the day.
2. After applying each product on the skin, it takes time for it to be absorbed into the skin. So give 2/1 minutes after applying each product without applying one after the other. Then apply the next product.
3. I have talked about so many products here, many people may think, you have to put so much ?? !! In fact, your skin! So you will select the product according to the needs of your skin. However, I have just said that one after the other will do the layering.
Here's how to do a skincare product layering on your skin in 7 easy steps. Hopefully, you will get a lot more help. If you want you can buy authentic skin care products online from shop.sajgoj.com. You can also shop at two physical cosmetics shops, located at Jamuna Future Park and Border Square.