Tennis star Nick Kyrgios admits to being a 'massive conspiracy guy,' doesn't rule out Earth being flat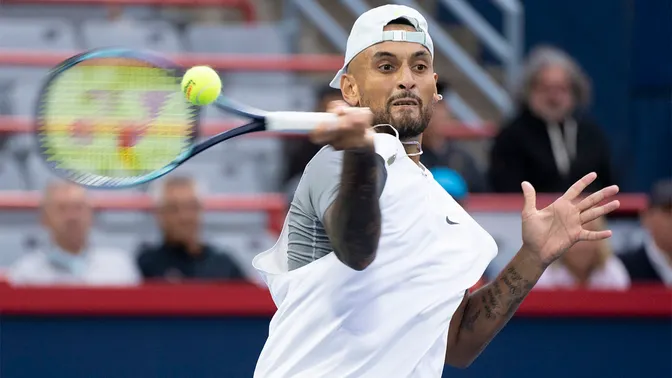 Kyrgios also doesn't believe the pyramids are man-made
Lloyd Christmas was shocked in "Dumb and Dumber" when "we landed on the moon." Well, Nick Kyrigos would apparently be just as surprised.
In fact, the tennis star has his thoughts on lots of popular theories — the 27-year-old Australian actually admitted he is a "massive conspiracy guy" and has no idea what's true and what's not.
"I don't even know what to believe anymore," Kyrgios said when asked on Logan Paul's "Impaulsive" podcast about the Earth's shape. "I think we could chat for hours on it."
He seems a bit indifferent about whether the Earth is flat or a sphere — and he wouldn't be the only athlete to consider the former. Dallas Mavericks' Kyrie Irving once wasn't entirely sold that the planet is a sphere, but he's since walked that back.
But he's holding true to the moon landing. A theory that has grown quite popular is it was simply filmed in a Hollywood studio.
"America weren't apparently even close to having anything successfully going up in a rocket," Kyrgios said when one of the host's did not believe it was true.
And the pyramids in Egypt? Aliens.
"I don't think the pyramids are man-made…" he said, which garnered some agreement. "The doors are massive, and we don't really need doors that big as humans."
Theories have circulated that it was extraterrestrial activity that lined them up perfect with the four cardinal points.