The Idea Behind the Fingerprint Necklace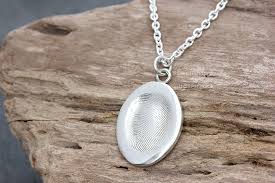 Fingerprints are among the first things that come to mind when thinking of personal and unique accessories. They're also a great way to subtly commemorate someone. But what if you could combine these two concepts and create a new piece of jewelry at the same time? That's exactly what Fingerprint necklaces are all about! These pieces, which feature fingerprints as their main motif, can make for unusual but thoughtful gifts or mementos. The idea behind fingerprint necklace is extremely simple: take a person's fingerprint and turn it into an accessory they can wear every day. Not only that, but it can also have specific significance and meaning behind it, depending on who we give the necklace. Keep reading to learn more about this interesting type of necklace and see if any of them would be perfect for someone you know.
There are two types of people who can really benefit from a fingerprint necklace: First, people who want to always keep a loved one close to them. These types of people can always use a few different ways to keep their loved ones close to them. Another group of people who can benefit from a fingerprint necklace is people who have a specific cause they want to support. They're also a great way to always keep something that's very personal to an individual close to them.
How to Create a Fingerprint Necklace
Fingerprint necklaces are very simple to make. In fact, there are two main ways you can go about creating one. The first method is to use a special rubber mold and your own fingerprint. First, you place your thumb in the rubber mold, then you pour warm liquid metal into the mold and let it harden. Finally, you remove the cast from the mold and polish it to a shine. The other method doesn't use a mold at all. Instead, you make a print of your fingerprint using special powder, a surface to press it onto, and a black powder or paint. You then press it onto a surface like silver or gold to create a necklace.
There are many different types of fingerprint necklaces. Some are simpler than others, while some have more of a design to them. There are even some that include gems or stones, like labradorite or opal, to make them more unique. You can choose to have your fingerprint engraved on a necklace. Depending on the type of necklace you choose, the design of your fingerprint can be anything from bold and striking to simple and understated. It can even be artistic and abstract. You can also have your fingerprint turned into a pendant. This can be done with any type of necklace, whether it's silver or gold. You can even get your fingerprint engraved on a ring and wear it as a pendant necklace.
Where to Get a Fingerprint Necklace Made
There are many different places where you can get a fingerprint necklace made. The first place to look would be at specialty jewelry shops. Many of these shops have people who specialize in creating custom pieces of jewelry, including fingerprint necklaces. You can also turn to online shops and local craft fairs. If you're crafty, you can even make your own fingerprint necklace. If you want to make your fingerprint necklace at home, then a few things to keep in mind. First, you'll want to make sure you have the right materials, such as the powder or paint, a surface to press it onto, and a black powder or paint. You'll also want to make sure you have a clean surface to work on. You don't want to mess up your kitchen table or any other surface. Instead, you can use a clean and soft surface, like a piece of velvet.
The Bottom Line
At first glance, a fingerprint necklace may not seem like a very thoughtful gift. But once the recipient looks closer at the necklace, they'll be able to see that it's a very personal and thoughtful gift. As such, fingerprint necklaces make for fantastic presents for people of all ages. If you have a loved one who has passed away, you can also have their fingerprint made into a necklace and wear it as a tribute to them. A fingerprint necklace is a special type of accessory that anybody would appreciate having.