Top 5 Sunscreen for All Type of Skin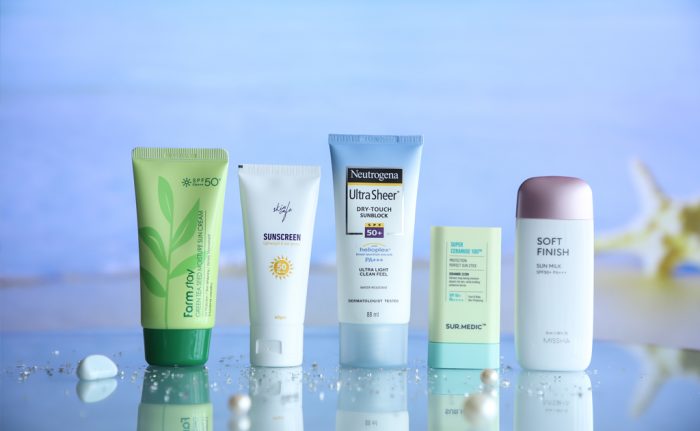 If there is a skin problem, we find out the cause. Whether it's skin blemishes or aging at a young age – notice that most of the skin problems are caused by the sun's harmful ultraviolet rays. Applying sunscreen during the day is an important step in skin care routine. Adolescents, boys and girls, all need to use sunscreen in skin care. As well as protecting the skin from the harmful effects of sunlight, we want the skin to be fresh, not sweaty and not have sunscreen floating on the skin. Isn't it? Today I will tell you about 5 sunscreens.
What is sunscreen and why should I use it?
The sun's harmful ultraviolet rays can cause serious damage to our skin. We use sunscreen to protect our skin from these ultraviolet rays. But you know what? Due to the harmful rays of the sun, the collagen production of our skin decreases day by day, resulting in the impression of age on the skin at an early age. There are also problems like rash, redness, skin irritation, skin tone variation, melasma or mesta. Cancer is a bigger problem than this. Yes, that's right! Harmful ultraviolet rays from the sun cause skin cancer. Then you understand how important it is to apply sunscreen every day. Sunscreen will protect your skin from the sun's heat and UV rays. Sunscreen is available in various forms of gels, creams, powders, lotions.
Here are some things to know before buying sunscreen
UV Ray – Two types of rays reach our skin, one is UVA and the other is UVB. UVA reduces the collagen production of the skin which means that the impression of age occurs. And UV-B rays cause spots on the skin, which we call sunburn.
SPF – SPF stands for sun protection factor. How long your sunscreen can protect your skin from sun damage depends on the SPF. This is why many people prefer sunscreen with SPF when choosing sunscreen.
PA +++ (PA +++) – Sunscreen packaging ranges from PA Plus (PA +) to PA Plus Plus (PA ++) and PA Plus Plus Plus (PA +++). The more plus, the more protection is available from UV A rays, meaning it works in the deeper layer.
Learn about the top 5 sunscreens
Skin Cafe Sunscreen SPF 50 PA +++ Lightweight & Non-Greasy
Don't like the stickiness of sunscreen? Want good sunscreen within budget? Then Skin Cafe Sunscreen is a perfect choice.
(1) Protects skin from UVA and UVB. This prevents sunburn and age spots.
(2) This sunscreen contains SPF 50, which can protect up to 96% of the sun's UV rays.
(3) Sunscreen contains PA +++, which gives high protection to the skin.
(4) As it is non-comedogenic, it can be used on acne-prone skin. And it can be used on all skin types.
(5) As it is very light weight, the sunscreen easily blends into the skin. There is no oily feeling on the skin, so you can use it easily on oily skin.
Misha All Around Safe Block Finish Sun Milk (Missha All Around Safe Block Soft Finish Sun Milk SPF50 + Or PA +++)
This sunscreen not only protects the skin from sun but also makes it instant bright. Because it contains fruit and thanaka extract. There are some more benefits to this sunscreen.
(1) This sunscreen is very effective in protecting the skin in double layer.
(2) If you reapply a lot of time, the skin becomes heavy. Due to its light and soft texture, it blends easily with the skin and keeps the skin soft. Even if you re-apply, the skin does not feel heavy.
(3) Keeps the barrier of the skin straight, does not sweat even after re-applying the sunscreen.
(4) Thanaka extract keeps the skin refreshed with hydration for long term.
(5) Suitable for daily use because sunscreen contains SPF 50+ and PA +++.
(6) It contains Glycofilm 1.5P, which works well to prevent premature aging.
Neutrogena Ultra Sheer Dry-Touch Sunblock SPF50 +
Another best sunscreen is the Neutrogena Ultra Series Dry-Touch Sun Block SPF 50+. Protects the skin from the harmful rays of the sun and makes the skin soft and smooth. This brand is quite popular, many people may already be using it.
(1) The best part of sunscreen is that it is waterproof or sweatproof.
(2) This sunscreen can be used on all skin types. And since it is oil free, it can also be used on oily skin. Pors does not clog, so there is no tension of breakouts!
(3) Can be used on sensitive skin.
(4) Lightweight and creamy formula is a sunscreen, a formula that many people prefer.
(5) Gives matte finish, does not float white. Matte looks as well as keeps skin soft and smooth.
NEOGEN – Surmedic Super Ceramide 100TM Protection Perfect Sun Stick (NEOGEN – Surmedic Super Ceramide 100TM Protection Perfect Sun Stick)
In addition to providing sun protection, the ceramide component of this sunscreen provides solutions to many skin problems. There is also hyaluronic acid, pearl etc. Works quite well for anti aging.
(1) Ceramide is a type of fatty acid which is a lipid which decreases with age in our body, so with age the skin becomes thinner. This ingredient strengthens the skin's upper barrier.
(2) This ingredient also reduces the folds under the eyes, fine lines.
(3) Hyaluronic acid locks the skin's moisture, reducing dryness.
(4) Sunscreen has SPF 50+ PA ++++, so it protects up to double layer of skin, even for a long time.
(5) Pearl powder glows naturally.
(6) The skin is smooth for powdery texture, not sticky.
FARM STAY GREEN TEA SEED MOISTURE SUN CREAM
For those who are looking for a makeup based sunscreen, this sunscreen is a great choice. This sunscreen has SPF 50+ PA +++, which means the skin gets quite good protection.
(1) This sunscreen protects the skin as well as provides light makeup coverage.
(2) Sunscreen will give a feeling of aroma refreshing, which is very nice in summer.
(3) Green tea seed extract will provide antioxidants to your skin.
(4) Protects skin from free radicals.
(5) If there is any kind of irritation, redness or such problem, it reduces a lot.
Some questions about sunscreen
(1) Will I apply sunscreen when I go out?
When you go out, you have to apply sunscreen even if you are at home. When working in front of the stove in the kitchen, sunscreen must be applied to the skin, it will protect the skin. And you must apply sunscreen 15 minutes before going out.
(2) Do not just wash your face with face wash?
No, just cleaning with face wash will not clean all the dirt or products from the face. And if it is outside, it is re-applied again and again. Sunscreen should be thoroughly cleansed from the skin. So first clean the skin with oil cleanser and then clean with face wash. It cleans the skin well.
(3) Why is it necessary to re-apply?
Whatever the sunscreen, it loses its effectiveness after application. So reapply every 3-4 hours.
(4) Who will use?
Everyone from teens to adults should use sunscreen. Sunscreen needs to be used for both men and women. Those who go out, or stay at home during the day, even on a cloudy day must use sunscreen!
I always trust Shop.sajgoj.com to buy authentic sunscreen and skin care products. Order online and get the product at home. There are also two cosmetics outlets, located at Jamuna Future Park and Border Reserve. You will get all the skin care and hair care products you need. So far today. Stay well, stay healthy.