Water Beads: Ideas and Uses of Water Beads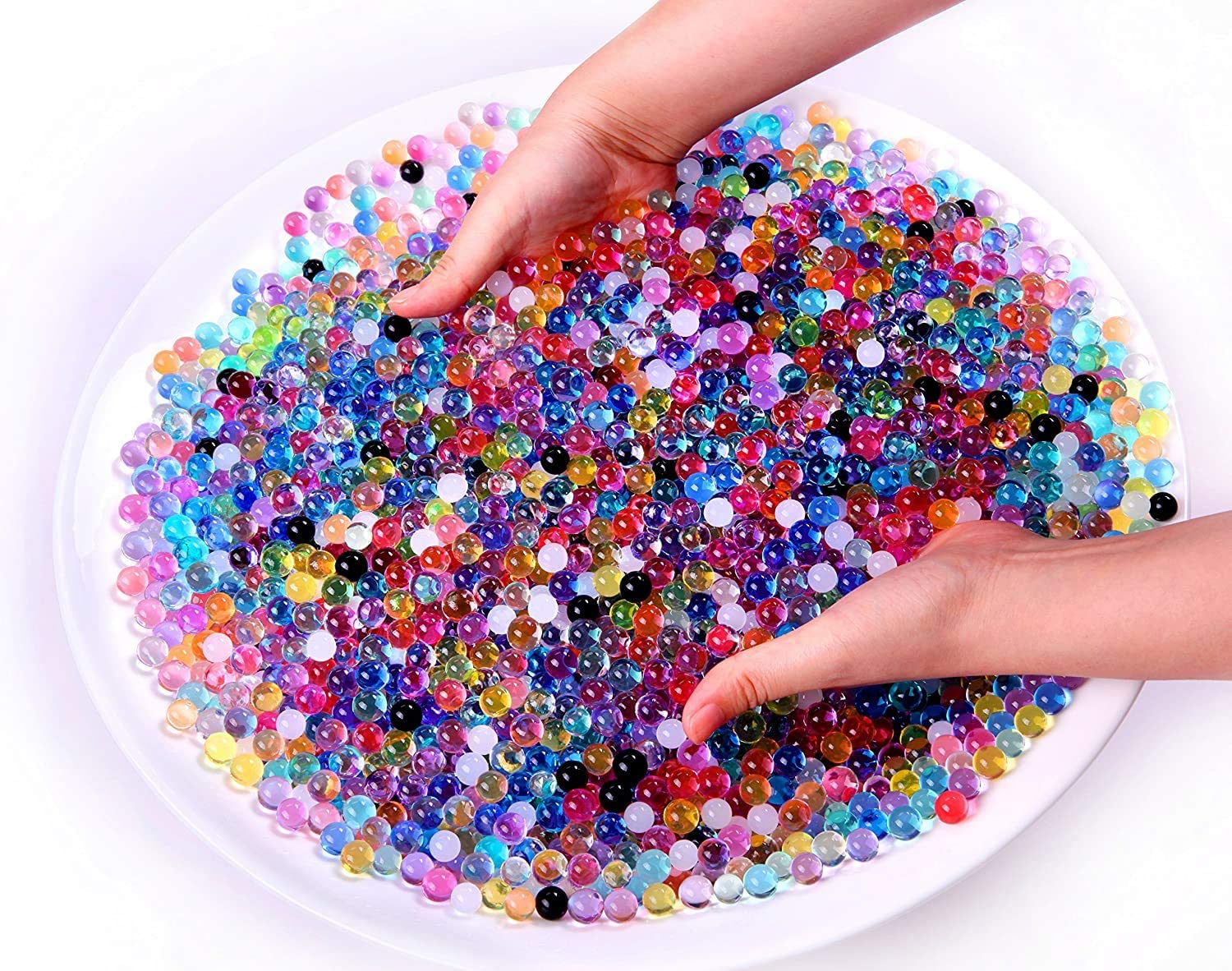 Water beads are a great, exciting item for decoration, watering facilities, and even activities and games for children. They look really cool and are fun and easy to use.
They are popular for use in centers for weddings and special events and are part of an exciting trend in sensory exploration for kids.
beads (also known as Orbeez, water pearls, water crystals, gel beads, etc.) are polymer crystals that look like small beads. When placed in water, they absorb water and grow to about the size of a marble.
Read on to learn how to use beads and some ideas to incorporate them into decorations, plants, and kids.
beads are small before water is added.
Pour the beads into a bowl and add water.
The beads absorb water and grow.
Cold Use for Water Beads # 1
On hot days, beads wrapped in a bandana work great for a neck cooler. Put the bandana in the freezer for a greater cooling of 15 minutes.
How to Use Water Beads?
Beads are easy to use. Follow the instructions below and follow the instructions.
Beads are usually completely dry. They will be small, hard beads. Take care of themselves in the packaging because if they come loose they will roll all over.
Put them in water for a few hours (about 4-8 hours) to make them expand. The more water you add, the bigger they will grow until they reach their size limit (the size of a large pea or marble). Allow 8 hours for larger beads.
When they absorb the water, they will feel like a crushed gel and look like a translucent ball.
Once the beads have expanded to their full size, a strainer can be used to drain excess water.
Beads are relatively durable, but they can break. If they are mashed hard enough, they will crumble. If you drop them on a hard surface, it can shatter them as well.
They can hold the water for a few weeks or even months. Eventually, the water will evaporate and the beads will start to shrink. Just add more water to keep them hydrated.
If you want to make these smaller, let the water evaporate. To speed up the process, you can use a strainer to get rid of excess water. Carefully lay it on the towels (folded by the edges to prevent them from slipping) and let them dry. Then you can put them in a bag and use them over and over again.
Demonstration of most of the use of beads in decoration.
Cold Use for Water Beads # 2
Add essential oils to the water you use and freshen the air with beads. Beads make a room look and smell great.
Decorating with Water Beads
The most common use for beads is decoration. Use them in vases, bowls, and jars for eye appeal. They are perfect for centerpieces for weddings and other events.
Beads really add a wow factor that can turn ordinary vases and bowls into something beautiful.
They come in multiple colors and there are even different shapes and sizes. Look for jumbo water pearls as well as square and heart-shaped beads.
Add more impact to your decorations with these ideas using beads:
Layered vases with bands of different colored beads. Use wax paper between layers to keep the beads separate. Or mix beads of two or more colors for a rainbow look.
You can also add different amounts of water to make the beads grow in various sizes. You can then layer the colors with beads of different sizes, or you can soak the beads in varying amounts of water to combine multiple sizes into a single color mix.
Add floating candles to vases with beads. Add extra water along with the beads so the candles stay on top.
You can even put pillar candles in the beads. Beads will be able to support the candle.
Paint food in water with beads, especially clear ones, for a more colorful decoration. The beads will absorb some of the color for a while.
Use real and artificial flowers in water bead vases. Beads help keep real flowers moist and will not damage artificial flowers. With the wrapping around the artificial dyes, you can wrap it before placing it on the beads if you are worried about putting it on the beads.
Submersible LED lamps are great for using in containers with beads. It looks gorgeous shimmering through the light beads. Just turn on the LED lights and drop them inside the beads for a lighted centerpiece to catch your attention.
Water Beads Decoration Inspiration
Colored layers of beads.
Red candles in a jar with beads of clear water.
The beads were lit by submersible LED lights.
Beads with submersible LED light.
Candle in beads
Halloween inspiration – beads in a bowl with spooky props.
A vase of blue beads with a candle in a larger purple bead bowl.
This plant is watered with beads that surround the bottom of the pot.
Water Beads for Plants
Beads are also great for using with herbs. It helps plants conserve water and reduces the amount needed by irrigation plants. They release the water slowly so that the plant does not fill with water.
There are several different methods of using water crystals in plants:
You can add beads to the bottom of the pot, but if you mix the beads with the soil, the results will be better for better dispersion of the water.
Water particles can also replace soil with some plants. Bamboo plants work well with beads rather than soil.
There is only water gel made for plants, or you can use regular beads with them.
Kids will love to touch and feel the gel beads.
Sorting beads
Use beads for science.
Beads make great science themed props.
Children can sort different shapes and colors of beads.
Beads are perfect for mad science parties.
Cold Use for Water Beads # 3
Beads make great "eyeballs" for Halloween when you want to spoil your friends, boxes, or anytime. Add plenty of water to make the beads as large as possible for the best eye effect.
Using Water Beads for Play and Sensory Exploration
It is a really great wear time for beads. Fun to play with kids and great for exploring and learning.
Just don't let small children who can put the beads in their mouths play with them. They are best for kids 3 and up. You will still need to supervise older children with them. They can be a choking hazard.
Some nice activities and ideas for kids using beads:
Beads are like magic for kids because the beads start out very small and grow in a matter of hours. Just watching the bead change is a fun activity for young children.
Playing with beads is perfect for sensory exploration. Let the children feel the beads and feel their texture. Use them in sensory cans and even sensory bottles.
Beads are perfect for science lessons. They can be a tool to teach more about expansion, solids, and liquids.
Beads are also great for science parties. Use them for party fun, decoration or even favors.
You can also include beads in math. Use them for sorting (shape, size, color, etc.), counting, and even measuring.
Sensory Features with Water Beads for Kids
How will you use the water beads?
I will use them as an easy way to water the plants.
I will put them in my centers and vases to make them gorgeous.
Kids will love to use them for sensory play.
I will try all these great ways to use beads!
Do you know?
Water gel bags are used to rapidly absorb water during floods and other water-related emergencies. A type of water gel is also used in disposable diapers and instant snow.
CSGO: Dust 2 Quick Tactical Guide – Blinding the Snipers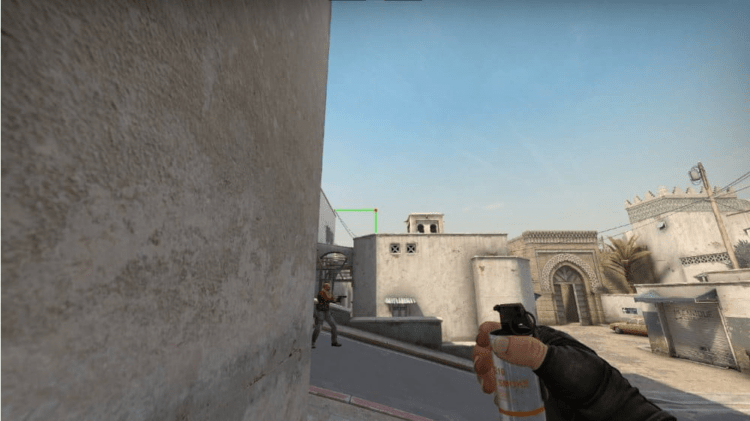 The worst possible way to go out, in the beginning, is by a tricky sniper. If you are playing as a counter-terrorist then smoke in front of the corridor is one of the best smoke spots in dust 2. Terrorist snipers have a tremendous advantage because of their spawn point. They can quickly take out the players crossing the corridor without a curtain to protect them.
Dust 2 is a classic iconic map with a tactical advantage in perfect balance for both teams. CSGO Dust 2 map is a flawless successor to CSGO dust. The dust 2 maps have many variants but the original one is from the classical counter strike in 2001. Due to its immense popularity, the passionate CSGO dust and CSGO dust 2 lovers made many versions of dust 2. All of the dust 2 maps have the passion and love poured into them.
Let's learn the dust 2 callouts first
Dust 2 map callouts count to 51. These dust 2 map callouts are a great way to understand the map.
CSGO DUST 2 MAP CALLOUTS
Spawn point of Counter terrorists
Spawn point of terrorists
The door to the right of CT spawn and Along
The Bomb plantation site A
Bomb plantation site B
The inside area leading to bombsite B and CT corridor
Located on-site B. Provides visual cover
The ramp leading to T Spawn
The ramp leading to T spawn via tunnel
The area behind the corridor in front of the mid ramp
The upper part of the tunnel where Terrorists enter the tunnel
Inside the tunnel but down the stairs
The exit of the tunnel on B site
Near the car on Site B
Behind the car
The upper portion of site B where boxes are located
The ramp leading to A site and Along
The area between CT and B ramp
The doors near the T mid
Near to the top of mid
Where Along ends and Mid Doors begin
Middle of CT and T spawn site. Located above the right corridor ramp.
From the right corridor's ramp to the left corridor's front
Entrance to Along
The area from Bombsite A to Side Doors
T spawn's long corner near the Tramp
The left side of CT spawn
Located on-site A
A section behind the site A
Hole in Site A can be used for ninja defuse
Stairs in the tunnel
The small narrow way that leads to site A from the left and Mid
CSGO dust 2 map callouts
CSGO dust 2 map callouts can easily turn the tide of a battle. If you want a command issued to a teammate then use dust 2 map callouts.
Best grenade spots in dust 2 are side mid, tunnel lower and upper, catwalk, corridors, and mid ramp. For terrorists, the grenade advantage is a litter higher if the CTs are rushing in from mid ramp. The ramp excels the grenade a little further when it touches down. So, it gains more momentum and reaches the corridor (almost). So, for the Ts best grenade spots in dust 2 include that position.
CSGO dust 2 Callouts make it easier to pinpoint the exact location of the enemy. This way your team can know your position and the enemies as well. They can act accordingly and gain a significant advantage over the opposing team.
Extra – CSGO Funny Story
I was on dust 2 once and it was a normal day. As I went through the corridor going up the ramp. I was aiming for the ramp on the Ts for a kill but before I could see what's up there A Grenade came flying right into my face. And that was it. With the sheer force and momentum of the grenade, I flew back like a potato chip when the grenade exploded in my face. The dead animated body of the GIGN was found halfway through the corridor.
Benefits of Online Games and Exciting Gaming logo designs.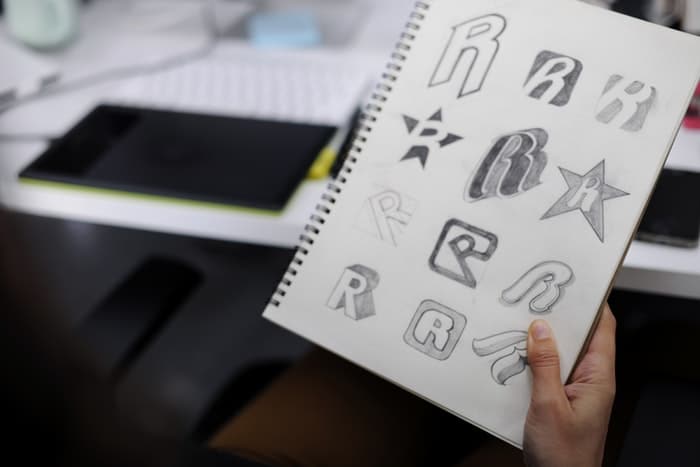 With advances in technology, online games are fast becoming the most enjoyable and engaging form of entertainment today. Increased use of the Internet has made online games practically accessible, thus improving their reach. Research shows that online games have improved the memory and concentration of the people involved by providing mental training. They are also beneficial for players as they help relax the mind, reduce stress, and improve critical and analytical skills. Before we dig into the gaming benefits and fun clanzilla.de offers Gaming & Clan logos that are 100% personalized and tailored to your needs. They are one of the best gaming Logo designer your friends have a great gaming profile picture or the opponent has a fancy clan logo? Don't worry you can get a gaming logo too that is convincing and reliable.
Here are some of the essential benefits a gamer is likely to gain from playing online games.
1. Offers a wide range of games
Online games guarantee a first-rate gaming experience for players of different types. It allows players to start playing instantly, unlike traditional games with other table games, where players have to wait their turn to start playing. And with a wide range of games to choose from, players can choose their favorite game with different levels and take several days to complete. These games have different themes, reels, and game lines, making each group unique.
2. Comfortable to play
In online games, players can enjoy their favorite games from the comfort of their homes. Without any effort, they can access their favorite games online on both their phones and computers. This saves players a lot of time, unlike before when they left their homes to access traditional casino games. All they need is internet access and a tablet or mobile phone, and they'll be ready to play the game of their choice on the go. Online games like pg slot allow players to enjoy their favorite games in real-time, as they can witness the gaming process as if they were in a physical casino.
3. Rewards, incentives, and gamification
Online slot games provide players with a unique opportunity to enjoy additional rewards and bonuses. They offer rewards to players such as sign-up bonuses and play frequency bonuses. These bonuses can come in direct cash rewards, free spins, or a bonus on the first deposit, giving players the chance to win great prizes. Modern technology also ensures that online players enjoy their favorite slot games even more as they allow them to level up and thereby unlock new features on the website such as cash prizes and bonus offers. Playing more fun on these sites gives players a faster chance to level up.
4. Interaction
Online games give people an incentive to work with each other and win at games, promoting communication and teamwork. These skills help players to better interact with their peers in their workspaces and in everyday interaction. Online games are very important to introverts as it allows them to express themselves with others through a medium that is more clearly under their control. Online games are more fun and a great learning opportunity today.
Roblox Decals IDs and Spray Paint Codes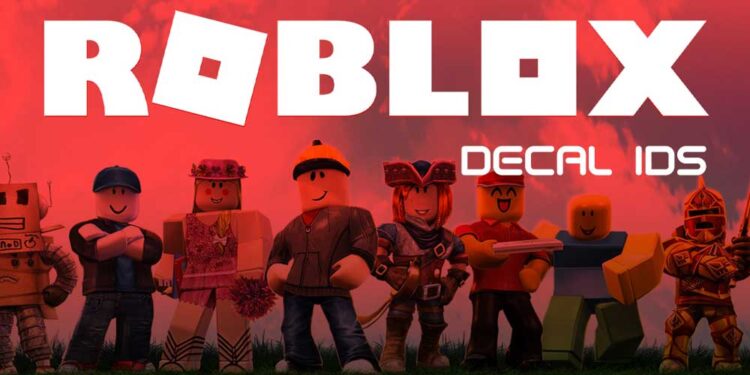 If you are a Roblox picture user, you may have heard a lot about Roblox Decals IDs. They are great if you like the artistic elements of the game. Have you ever wondered how to get them? Well, wonder no more as we will help you know everything you need to know about these codes. Now you can fulfill any image you conjure in the virtual world and share it with your friends.
In this article, we'll take a look at what Roblox is for those of you just getting into the game and a bunch of Roblox sticker IDs. We will also see how to use them among other things.
What is Roblox?
Roblox is a massively multiplayer online game played by 64 million people around the world. It started in 2007 and promotes all kinds of imaginative ideas. You can play games created by your friends and other users of the games. The games span a wide variety of genres: from role-playing and simulation games to arcade and racing games. You can create your own game in your own world. When you first start playing, you get a world for free and can shape it however you want. You can then share it with your friends and other players because the more the merrier.
If you want to make your extra world unique, you need to buy items with the in-game currency called Robux. Normally, you have to buy Robux with real-world money, but there will be an item to get them for free, so keep an eye out for that. This will allow you to obtain items and new worlds to make a different part of your imagination. The possibility of creation is endless and the amount of fun may never run out.
Roblox is also extremely simple to use and very child-friendly. People from all over the world can communicate and share their creations. This application is also available on iOS and Android. You can register with them using this link. The registration process is very simple and straightforward. All you have to enter is your birthday, your username, and your password. You also have to add your gender and then you will be in the club. If you are already registered and want to have Robux for free, click here.
What are Roblox decal IDs?
Decals are a great way to add a bit of personality to any game you play. In Roblox, you can spray paint any logo and other decals on any object in the game and the Roblox team has improved it since the feature became available. You need a Spray Paint kit in the game to think about the decals. This kit allows you to use Roblox decal identifiers to spray paint whatever you want. The Spray Paint equipment is quite simple to use. It is a simple GUI that has a customizable score and parts. The Spray Paint team was greeted with great applause and rightly so because it adds so much to the already impressive game.
Roblox Promo Codes for Robux 2020 [Free List and Wiki]
Roblox Aerosol Code and Decal ID List
This is the list of Roblox decal IDs and spray codes that are used to paint specific items. We've also included some surprise and character IDs for you. Let's get started:
1. AC / DC: 12347538
2. Angry Patrick Star: 13712924
3. Anime Girl: 1234538 (sticker codes and IDs)
4. The Annoying Orange: 76543210
5. Bang! 6013360
6. Blue Dude: 9876543
7. Charizard ?: 516095478
8. Cobain's OMG FOOT: 12347578
9. Against: 1234756
10. Doge: 134079000
11. Dominus: 69791871
12. Dragon: 136931266
13. Drake: 473973374
14. Finn and Jake: 80684094
15. Girl: 80514443
16. Do you have milk ?: 45550210
17. Gravity Coil: 23534055
18. Halo Helmet: 75076726
19. Haters will hate: 66481956
20. I
21. John Cena: 7564321
22. Kitten: 123475161
23. Lol Emoji: 24774766
24. Miley Cyrus: 144685573
25. Monster Energy Logo: 123474111
26. No Noobs: 1081287
27. Party hat: 12345383
28. People on the beach: 7713420
29. Pikachu: 46059313
30. Red Dirt Bike: 30155526
31. The Roblox logo: 80373024
32. Spider Tux: 1803741
33. Spongebob Pattern: 1234532
34. SpongeBob Street Graffiti: 51812595
35. Super Smash Bros Brawl: 2018209
36. Super Sonic: 1234752
37. Pack of Swords: 73737627
38. Target and Destruction: 69711222
39. Truck: 5961037
40. Trump: 415885550
41. Twitter Bird: 394647608
42. Universe: 1234562
43. Welcome to the sign of hell: 30117799
44. Wizard: 80373810
45. You can't see me; I am an invisible cat: 2483186
46. ​​Zombie: 57764564
Surprise ID for Roblox
1. 1234550
2. 12347561
3. 1340790
4. 2033687
5. 205393736
6. 409739014
7. 54335881
8. 54353046
9. 601336913 (infinite rpg codes)
Roblox character identification
1. 22711653
2. 25116617
3. 40468903
4. 45883754
5. 47168976
6. 47662061
7. 51969264
8. 55882232
How to use Roblox decals and spray paint codes
Using these codes from the Roblox Spray is pretty straightforward. All you have to do is copy and paste whatever you want from the list above into the Spray paint device and use them. The Spray Paint device costs 350 Roblox and is a great tool. If you want to get it for free, stay tuned because as I mentioned before, we have an article on how to get Robux for free.
If you want to get the codes yourself in the game, just follow these steps:
Select the gray-white square and click Libraries.
Choose the Decals option from there.
You can write the genre of decal you want. If for example you want the anime-related decal, search for the anime and you can find the decal if it is published, along with the author's name and description.
Copy and paste the code into the Spray Paint device and voila! You are ready to go.
Conclusion
That's all there is to know about Roblox decal IDs. Know that although art is simplified with this tool for people like me who have no artistic talent, they can create new images with the already published stickers. I hope that our article has been useful to you and that you have been able to find your perfect design. If you have any questions or suggestions, please leave them in the comments section and we will try to resolve them as soon as we can.