What Is Took For Instagram Influencer Riley Summers to Reach 2 Million Followers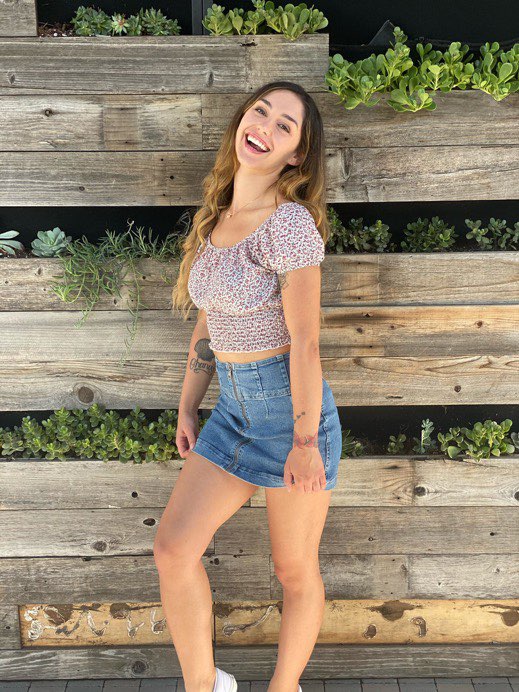 Riley Summers is a young and free-spirited Instagram influencer who has made quite a name for herself. At just 21 years old, she is only beginning down her path of success. This once-shy girl has now become a model who bares it all for the camera. How did she set manage to reach two million followers in the span of just nine months? It involved a simple mind hack.
Her road to extraordinary success doing something she loves that leaves her feeling fulfilled began shortly after graduating from high school. Back then, she had the exceptional opportunity to work for a holistic advisor who imparted some life-changing advice for her.
Riley used to be the "shy girl" and was very much reserved, even though she knew she had an adventurous spirit. While working for that holistic advisor, she learned how to shift the way she saw herself. She discovered that she wasn't simply shy because she was unwilling to express herself. Instead, she was afraid of what people might think of her if she did. This is something that lots of people struggle with.
All too often, we allow what we think others are thinking about us to control our lives. Thanks to that first boss she had, she was able to quickly liberate herself from those limiting beliefs. That is when it all popped off for her. She quickly grew her fanbase due to baring it all for the camera, and then some. She regularly uploaded photos and videos to her Instagram page.
Riley has gone from zero to two million Instagram followers on her current page in the span of just nine short months. That goes to show you that if she can achieve that level of success, you can as well. The main thing that may be stopping you from achieving it is your own limiting beliefs.
You can head over to Riley's Instagram page to get a healthy dose of inspiration when you see her boldness and confidence. Who knows, you may achieve the same level of success as Riley has, no matter how you choose to express yourself to the world.
Riley's main message to her fans is to be yourself. Not only that, but you should also be yourself so radically that the very act of doing so seems almost revolutionary. Riley is someone who loves seeing what the positive effects of what she is doing on others are. She receives messages all of the time from others who have expressed their thanks and gratitude to her for helping them become more self-confident.
If you are currently feeling like you're in a shell that you find is hard to break out of, consider following in Riley's footsteps by making a mental shift in how you see yourself. It may be the best decision of your life!

Best tattoo Sunscreens tips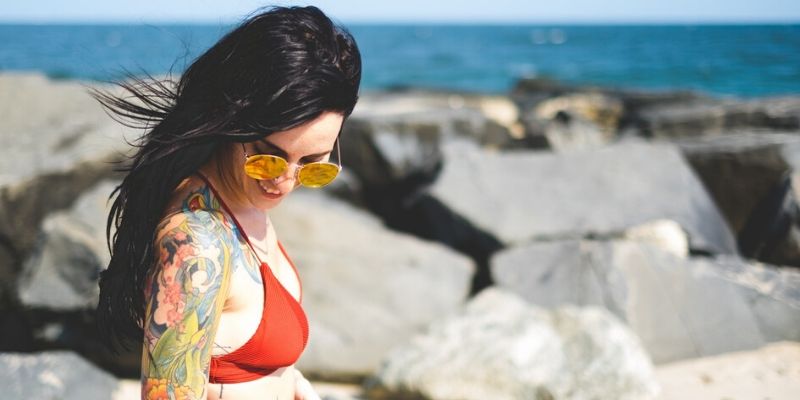 Sunscreens on Stick
I have always taken great care with my skin and, in all the visits to the dermatologist; I have heard the same advice from different experts: you cannot forget the use of sunscreen.
UV rays can cause different damages to our skin, from premature aging, the appearance of spots, wrinkles and, in the worst cases, different types of cancer.
Creating the habit of using a good sunscreen will be easy if you have the best stick sunscreen, since, among all the options, they are very easy to apply, they do not leave traces and they are perfect for children and adults.
What is the best stick sunscreen?
You have a market full of options and you do not know where to start looking, which can become totally overwhelming, but by following some tips you will be able to choose a protector that has the best characteristics that suit your needs.
If you have acne, your skin is sensitive, dry or, on the contrary, very oily, you will need a protector that can adapt to what you need, being the most recommended that it is resistant to water, with antioxidants and without chemicals or components that may be harmful .
1.  Neutrogena Ultra Sheer Protector SPF 70 – The best stick sunscreen for face and body
A great option that you will find in this comparison is this Neutrogena brand stick protector, known for its high quality and care for our skin.
It offers a protection of SPF 50, being perfect for the beach; it has water resistance for 80 minutes.\
2.  Australian Gold Tattoo Stick SPF 50+ – The best sunscreen for tattooed skin
This tattoo sunscreen has SPF 50, great for protecting yourself from the sun's UVA and UVB rays, and is specially formulated to prevent ink from fading. It is wider compared to a traditional tattoo sunscreen, which means there will be more coverage within a single swipe.
It offers maximum protection against fading, ensuring that your tattoo will not fade even if it is exposed to the sun most of the time. It is good for indoor and outdoor tanning.
3.  Banana Boat Sunscreen Sport Performance SPF 50 – The best sunscreen for water sports
An ideal protector for sensitive areas of the face, such as lips, eye contour, ears and nose that will create a barrier on your face, keeping UV rays away.
4. Think sport SPF 30 – The best sunscreen for children and adults
It is a mineral formula base that can be used daily by everyone at home, from the little ones, even by you in any outdoor activity.
5. Shushed Clear Stick Wet Force SPF 50+ – The best transparent sunscreen
This clear sunscreen is easily applied to your skin to protect you from the sun on the go. Can be used over and under makeup. Wet Force technology provides the skin with a protective veil that strengthens when it comes in contact with water or perspiration. To activate this, expose the applied area to water for 15 minutes or perspiration for 30 minutes.
This product is non-comedogenic, water resistant for 80 minutes, and dermatology and ophthalmology tested.
6.  Riemann P20 Seriously Reliable Sun care SPF 50 – The best long-lasting sunscreen
This is simply not like any other product. It is unique in that it needs to be applied only once a day (and active 15 minutes after application). Sunscreen provides high sun protection (factor 20) and remains 90% effective after swimming.
There is no need to reapply the product, so you can simply continue to enjoy. Applying once a day means a little goes a long way and is therefore cheaper than other sun preparations that need to be reapplied regularly throughout the day.
7.  La Roche Posey Anthelion XL SPF 60 – The best sunscreen for acne-prone skin
A sunscreen for sensitive or sun allergy-prone skin that protects the skin from sunburn and skin reactions, as well as UV-induced cell damage. This product contains proprietary Memory tattoo sunscreen technology and other sunscreen filters and has been rigorously formulated to provide excellent protection against harmful UVA and UVB rays.
8. Clarions Paris Sol Stick SPF50 – The best stick sunscreen for face
This very high protection stick has many advantages. Its pocket size allows you to carry it with you at all times and easily store it when you are away from home. It is a light and crystalline sunscreen that allows quick touch-ups throughout the day, protecting the most sensitive parts of the face, such as the cheeks, nose and ears, preventing dehydration and photo aging.
Formulated with a unique texture, which looks bright orange on packaging but is transparent on skin, this product helps boost your level of sun protection without compromising the coveted "bare skin" effect.
9. Elizabeth Arden's Eight Hour Cream Stick – The best sunscreen for aging skin
This sunscreen offers maximum defense, glides on smoothly and invisibly. It targets sensitive and overexposed areas such as lips, nose, earlobes, even scars to help protect against the burning and aging effects of UVA and UVB rays for healthier skin. The product also protects your skin against sunburn, surface cell damage, and premature signs of aging.
10. Avenel Sensitive Areas
A combination of vitamin E, thermal water and protective agents perfect for facial use that will keep the skin of your face protected against UVB and UVA rays.
Why shouldn't you be in the sun with your new tattoo?
If we have just had a new tattoo, the weather will always be nice in some other way or we have not planned our vacation conveniently. That is not so nice.
If you just got your tattoo done, your tattoo is an open wound. And you have to protect it from dirt and the sun. Your skin is now extremely sensitive to UV light and can burn very easily. This can cause blisters, bumps or even cracks in your tattoo. This is not only very painful, but it also slows down the healing process of your tattoo.
And you also run the risk that your tattoo will heal less well than you expected. That is literally and figuratively the sun.
After how long can you be in the sun with your new tattoo?
You can put your new tattoo in the sun as soon as the top layer of the skin has healed completely. That is when all the sheets and crusts have disappeared and your skin feels completely smooth.
Exactly when that is differs from person to person. For some, this is already after two weeks, for others only after four weeks.
Read in How long does your tattoo heal? how healing your tattoo works.
Can you sunbathe with your new tattoo?
No, better not. New tattoos and tanning beds don't mix.
The same applies as with the real rays of the sun. That is why you can only use the sunbed with your new tattoo when the top layer of skin has healed.
So when all the sheets and crusts have disappeared and your skin feels completely smooth. After about two to four weeks. That differs per person.
And even then we recommend that you cover your tattoo with a towel or a T-shirt when you go to the tanning bed.
Sunscreen on your new tattoo. Is that possible?
We are often asked whether it is safe to sunbathe with a sunscreen.
Yes of course! But not if your tattoo has just been done.
As long as your tattoo has not healed, it is better not to put sunscreen on your new tattoo.
The ingredients of sunscreen creams can seriously irritate your tattoo and slow down the healing process.
If your tattoo is completely healed, we recommend it correctly.
And suppose you put sunscreen on your just-done tattoo that does not change the fact that the bright sun is not good for your just-done tattoo.
It is really best for your tattoo, to avoid the sun as much as possible for the first few weeks.
It all sounds very pedantic, but we have seen really ugly burnt tattoos.
How can you protect your tattoo from the sun?
It's easy with a neat tattoo. Just cover in the sun or stay out of the sun as much as possible.
When your tattoo is healed, you can protect your tattoo from fading by smearing your tattoo with a cream with a factor (SPF).
Make no mistake about the sun's rays when it is cloudy. Even then UV light will come through. Of course not as much as with a clear blue sky, but enough to fade your tattoo.
Should you put sunscreen on your tattoo?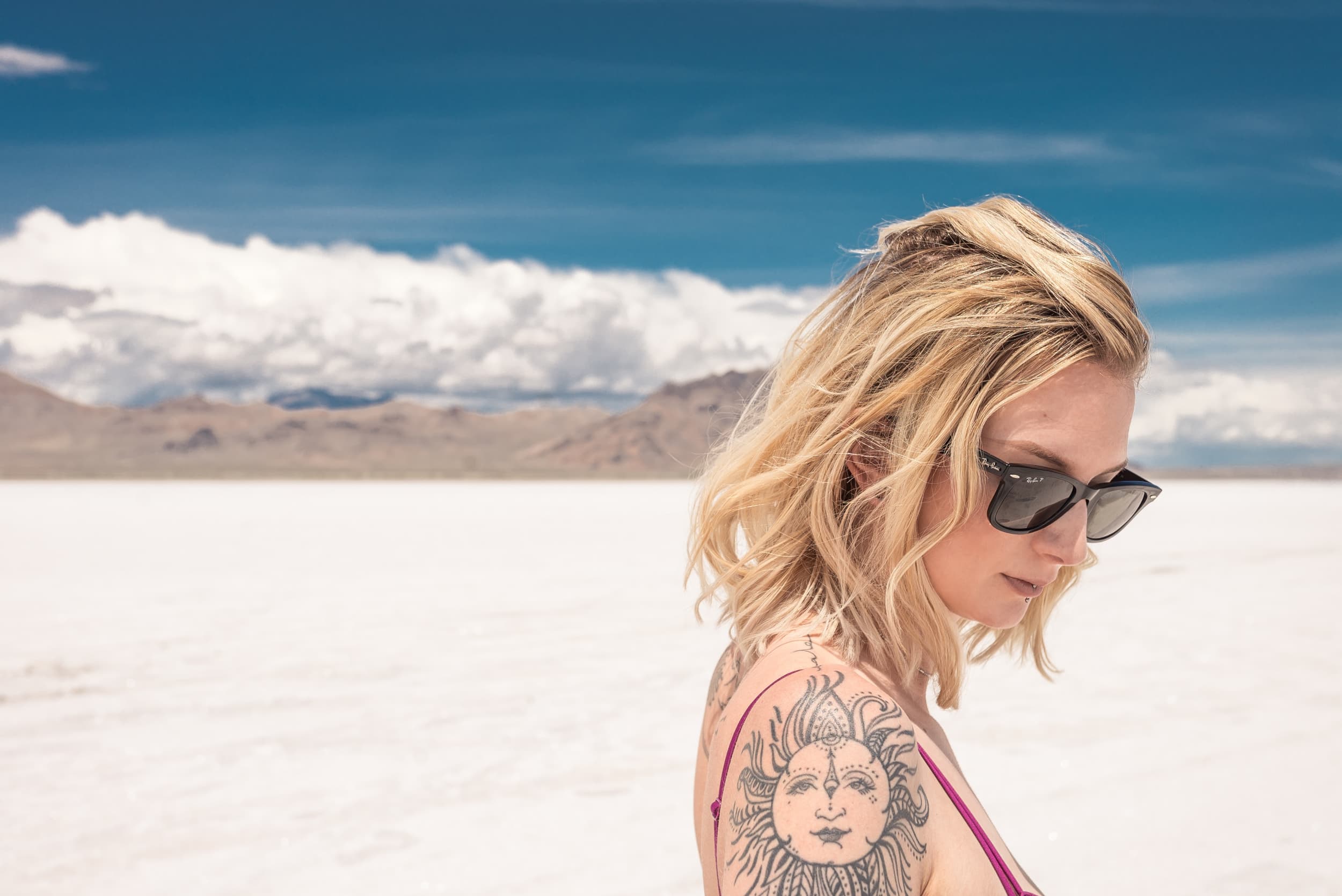 If you are one of those who go out in the sun almost every day, you must know that it is essential to protect your skin from sun rays. Overexposing your skin can lead to skin damage, sunburn, skin cancer, etc. If you don't take proper protection, the sun's harmful UV rays can do severe damage to your skin and ultimately, your tattoos.
Now, when it comes to protecting your tattoo from the harmful sun rays, you have to keep certain things in your mind. Should you put sunscreen on your tattoo? It is one of the most critical questions that can arise in the minds of people with tattoos. So, read on below to know more about how to protect your tattoos when you go out in the sun.
Importance of sunscreen for tattoos
The sun gives out some harmful rays like ultraviolet radiation, UVA, UVB, etc. These rays can have a damaging effect on your skin, especially your tattoos. A well build Tattoo Sunscreen can protect your skin and your tattoos from getting damaged due to these harmful sun rays.
UVA rays can penetrate the skin deeply and cause a fair amount of damage to the skin and your tattoos. It can lead to premature skin aging, sagging of the skin, or wrinkles around the tattoo region. Also, UVA rays can fade the light-colored tattoos over time.
New tattoos are open wounds. You should not expose a new tattoo to direct sun rays until they get healed. If your new tattoos get sunburned, it will take a lot of time to heal and may also lead to blisters and itching. Even if your old tattoos get sunburned, it can lead to severe damage and distort the appearance of the tattoos. It's equally important to fully understand proper tattoo aftercare, so your tattoo has the best opportunity to be vibrant for a lifetime.
Protecting your tattoo from the sun
When you get a tattoo, there are specific measures that you need to take in order to protect your tattoo from getting infected. A tattoo is an open wound that needs to be cared for until it gets fully healed. It is also said that you must not apply sunscreen directly on the tattoos as soon as you get inked. At that time, what you can do to protect it from the sunlight is to cover the tattoo with loose clothing so that it does not get exposed to the sun directly.
Should you put sunscreen on your tattoo? Should you use tattoo-special sunscreens? What kind of sunscreens should be used on tattoos? When is it safe to use sunscreen on a tattoo? Well, these are some of the main questions that can arise in your mind when you get inked. To clear all your doubts, always consider using a tattoo sunscreen from a well-known tattoo brand, like Inkeeze.
How to protect your tattoo using sunscreen?
Tattoo experts would agree, that using a Tattoo Sunscreen from an industry-leading tattoo aftercare brand like Inkeeze is your best bet. The team at Inkeeze has created the formulas' in their tattoo aftercare products to deal specifically with delicate skin that has just been tattooed. 
Inkeeze offers a tattoo sunscreen spray, and a tattoo sunscreen cream.
You should look for cream-based sunscreen, or sprays to apply on your tattoos as you can see them while using it, and it will spread equally all over the skin. The Inkeeze Tattoo sunscreen spray is very popular, as it's easy to apply.
Can I put sunscreen on a peeling tattoo?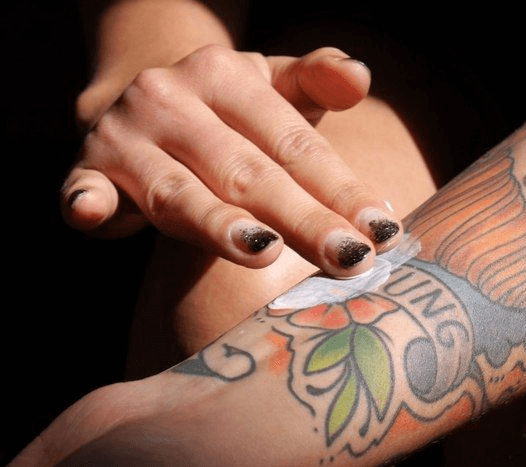 If you've recently got a tattoo, then you might have asked yourself the question, can I put sunscreen on a peeling tattoo? Protecting a tattoo at its initial phases is essential for it to last a lifetime. Maintaining a tattoo in the early days can often be a hell of a job, especially during summertime. You are required to protect the new tattoo from the harmful sunlight out there. But what will you do if there is a planned beach vacation ahead after getting a tattoo? This is the time you are highly required to protect the tattoo in the best way possible.
You are always recommended to spare some time so that the tattoo gets appropriately healed, and make sure you follow the proper tattoo aftercare instructions. Hence, it is of utmost importance to keep the newly tattooed area out of the sun for a while.
Protect the tattoo
If you are looking forward to providing utmost care to your tattoo, you need to keep it covered for the first few weeks. Keeping the tattoo covered for 2-3 months will be best. During this time, the tattoo will get automatically healed. Once this healing phase ends, you can use sunscreen on the tattoo before going under the sun. Most dermatologists recommend not to use a sunscreen lotion of the peeling tattoo. So the answer to your question, Can I put sunscreen on a peeling tattoo, is harmful. But once you can wait out the tattoo's healing period by covering it with clothes and staying inside, you are allowed to use sunscreen to protect it.
Use quality sunscreen lotion
There are different kinds of tattoo sunscreen lotions available in the market, but it's most advised to go with a professional tattoo sunscreen built solely for customers that aim to use it on their tattoos. Using the proper tattoo sunscreen for can aid to your new tattoo's health by keeping it protected from the UV rays.
Things to consider to take care of the tattoo
Once you get a tattoo, you need to cover the tattoo by wearing loose cotton clothes for some days. If you do otherwise, then the direct sunlight can potentially affect your tattoo and the skin in a negative way. Do not proceed to use sunscreens just after getting the tattoo. As it can adversely affect the open wounds on the tattoos. Sunscreen is only perfectly safe and secured to use on a healed tattoo. Apart from sunscreen, there are different kinds of tattoo ointments that you can use.
What type of sunscreen should you go for?
Tattoo Sunscreens are available in different forms such as oils, creams, and sprays. We like using Tattoo Sunscreen Sprays so you never miss a spot. Inkeeze is a tattoo aftercare company for tattoo enthusiasts, by tattoo enthusiast – and we're confident we have developed the best sunblock for a new tattoo.