Why Hyaluronic Acid is a Trendy Ingredient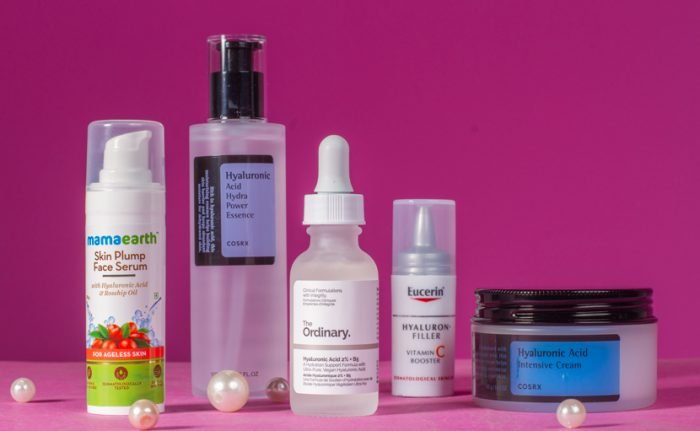 Every year new changes come in the world of skin care. And this year is no exception. Over time, the world of facial acid skin care will spread this year as well. For example, hyaluronic acid is currently trending. So today we will talk about hyaluronic acid.
What is hyaluronic acid?
Hyaluronic acid is a sugar molecule that is naturally formed in our skin and helps keep our skin hydrated, moisturized and plump.
The texture and softness of our skin depends on the moisture of our skin. The hyaluronic acid in our skin decreases over time. And the reduction of hyaluronic acid in the skin means the amount of water in the skin, that is, the decrease in moisture. When the water in the skin decreases, the skin becomes dry. This can lead to problems such as wrinkles, fine lines and wrinkles under the eyes. With this the skin becomes rough and dull.
Therefore, products with hyaluronic acid are used to keep the skin fresh and healthy. Hyaluronic acid works to keep the skin beautiful and hydrated by providing hydration to the skin.
Different forms of hyaluronic acid
Hyaluronic acid is available in various forms suitable for our skin. Such as serum, moisturizer and essence.
Suitable for any skin type?
Hyaluronic acid is a boon for rough skin. It contributes a lot to revitalize dull skin that has become rough. It rejuvenates and at the same time rejuvenates the dormant cells. If there is acne, rash or any kind of irritation on the skin, hyaluronic acid works very well in those places.
Benefits of hyaluronic acid
1. Help with hydration
This ingredient penetrates our skin and hydrates the skin cells. Re-moisturizes the cells by going to each layer of the skin and helping to restore the glowing look to the skin. It draws water from the environment and provides lasting hydration to the skin while retaining skin moisture.
2. Moisturizes
'Dryness' causes more damage to our skin and destroys skin barriers. Hyaluronic acid strengthens the barriers of our skin. And its anti-inflammatory properties help reduce acne, rashes or any irritation of the skin.
3. Boosts collagen production
Hyaluronic acid helps to retain collagen in the skin. Its function is to boost collagen production. And as a result, problems like fine lines or wrinkles under the eyes are reduced.
4. Repairs the skin from the inside out
It contains hyaluronic acid which protects the skin from various damages. As it is used to strengthen the skin barrier, it protects the skin from harmful substances. For example, sun-repaired skin is repaired from within. And protects the skin from the free radicals that are formed in the skin. And this ingredient is very effective in reducing pigmentation.
Although hyaluronic acid does not form new cells, it helps old cells to stimulate hyaluronic acid. And naturally makes the cells healthier and more vibrant.
5. Helps to tighten pores
With age, our skin is sagging a little. And with this, the pores of our face gradually get bigger. Hyaluronic acid works well to tighten these enlarged pores.
. Smooths the texture of the skin
Hyaluronic acid hydrates the skin and smoothes the skin texture. And helps to tone the skin.
. Helps reduce wrinkles and fine lines
On rough skin i.e. dry skin very quickly folds under the eyes, fine lines fall off. Hyaluronic acid helps to smooth the skin folds and fine lines by balancing the hydration required for the skin.
Misconceptions about hyaluronic acid
Many of us think that oily skin does not need to be hydrated separately. But this idea is completely wrong. In fact, oily skin also loses hydration and produces excess oil, reducing skin hydration. So mild any hyaluronic acid product can be the best solution for oily skin.
How to use?
The best way to use hyaluronic acid is to apply a toner or essence to mildly wet skin. Then you have to lock it with moisturizer.
When to use?
Hyaluronic acid can be used in daily skin care. You can use it any time of the day or night. And you must use sunscreen when going out.
I hope you understand why hyaluronic acid is trending in your skincare routine.
If you want to buy authentic products for skin and hair care, you can visit two cosmetic physical shops, one located in Jamuna Future Park and the other in Border Square. And if you want to buy online, you can buy from shop.sajgoj.com. Everyone will be fine, will be healthy, will be beautiful.