World's 10 Most Expensive Laptops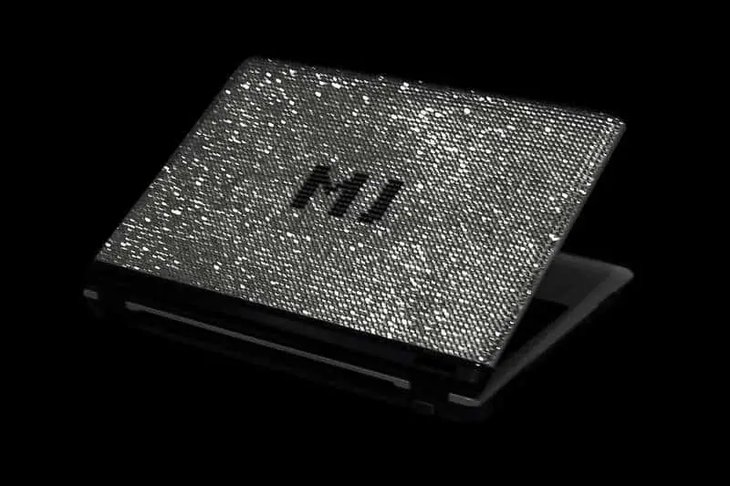 The evolution of technology has surprised humanity. There is no more requirement for an old desktop computer. The most expensive laptops (Gaming Laptops) have taken their place. Technology becomes cheaper when it gets excessive use. But, the applications make a device expensive. If a laptop is high-priced, the first and foremost feature is to ensure security from cyber theft.
The advancement of Artificial Intelligence shows that there will be more and more expensive, smarter, and rugged laptops developed shortly.
A laptop has several features. Everyone may define the expensiveness of laptops differently. One may consider the gold or diamond plating the essential element that makes it expensive. The other may take its power as a critical characteristic. But the price is a vital feature in the perspective of expensiveness.
Let us see the top ten most expensive laptops.
1. MJ's Swarovski & Diamond Studded Notebook
MJ's Swarovski & Diamond Studded Notebook is number 1 as the most expensive laptop in the world. Its price is 3.5 million US Dollars. Now, what makes it costly? Its body is gold and diamond plated. Its colour is black and white. Its other expensive versions include Sony Vaio BlackWood, Asus Lamborghini Platinum Crocodile, ASUS Epic VIP Swarovski, and Acer Ferrari Gold Python. It contains high-priced leather, such as croc or snakeskin, luxury gadgets accessories, and a gold-coloured mouse.
2. Luvaglio: one million dollar laptop
Luvaglio is the world's second most expensive laptop, costing 1 million US Dollars. There are diamonds embedded in the body of this laptop. Its memory is 128 GB and is available in metal as well as wood. It comes with ten years warranty. Its screen is 17", having a self-cleaning feature. The Luvaglio laptop supports fingerprint ignition, thus providing complete security from theft or misuse. It powers on/off from a diamond button. It is a fully customized laptop, i.e., the user can set the design, specs, and material according to his own choice.
3. Tulip EGO Diamond
A Dutch company has specifically designed the Tulip EGO Diamond laptop for those who can afford it. It is worth 355k US Dollars. Its memory is 160 GB, RAM is 2 GB, and the processor is AMD. It is made up of white-colored golden plates of solid palladium and eighty carats diamonds. Even the tulip logo has been made using two square-cut rubies. It is more suitable for a typical user than for a professional because its design is more attractive than its functionality.
4. EGO FOR BENTLEY
EGO is a famous brand that has introduced a car and a laptop matching the vehicle shape. Its cost is 20000 US Dollars. Its manual decoration of white gold and leather cover makes it expensive. Its memory is 160 GB, and the processor is AMD Turion four mobile processor. The company has only issued 250 laptops complementing their car. It is a multi-tasking computer. It contains twelve specific keys shortcuts to various applications, including a webcam, Bluetooth, and WiFi.
5. VOODOO ENVY H171
Voodoo Envy H171 comes in two versions. The cheaper one costs around 4500 USD while the expensive one is worth 8500 US Dollars. It comes with twenty-four designs. The user can choose whatever design he likes. Its memory is 600 GB with three drives, and the processor is Core 2 extreme. It has a 1.3 MP camera, and the hard disk is dual. Its screen is seventeen inches. The company launched its first version in 2007. The tech gurus considered it the most expensive and powerful laptop and objected to its price.
6. MacBook Pro 24 Karat Gold
Apple MacBooks are very expensive all around the world. Now, it introduces MacBook Pro costing 6000 US Dollars. It will not be wrong to say that Apple has showered this laptop with gold.
There is a diamond fixed in its logo. It has become much popular in the tech community. Its memory is 256 GB, and Apple has used a soft touch technique to design it.
7. ROCK XTREME SL8
Rock Xtreme is the 7th most expensive laptop worldwide. It is a gaming laptop and, no doubt, the most powerful one. Its price is 5500 US Dollars in the market. It also has another great feature, making it a single laptop, i.e., its speed is the fastest. You will be curious to know about the processor that makes it so. That is Intel Core 2-Quad. Its memory is 256 GB, and the company is based in the United Kingdom. Unfortunately, Rock Xtreme could not get as much success in the UK as they expected.
8. ALIENWARE AREA 51 M15X
In the ranking of most expensive laptops, ALIENWARE AREA 51 M15X is at 8th rank. Its market price is 5000 US Dollars. Its speed is ultra-fast and looks quite sophisticated. Its memory is 200 GB, and the processor is Intel Core 2 Extreme X9000. It could not get many sales because of its clumsy and massive appearance.
9. LENOVO THINKPAD W700DS
Lenovo Thinkpad W700DS costs 4500 US Dollars. Its performance is high because of its 4GB RAM. It comes with 128 GB memory and Intel Core 3 Extreme QX9300 processor. Its unique feature is its auxiliary screen, i.e., 1st dual display laptop in the whole world. It boots in a short time, say 1 minute or even less. But now, the company has stopped selling it.
10. DELL M6400 LAPTOP
The performance of the Dell M6400 is excellent. It costs 3000 US Dollars. Concerning the price, we can rank it the 10th most expensive laptop around the globe. The tech gurus regard it as the best scalable laptop. Its storage capacity is one TB. The interface used in this laptop is SATA. It is suitable for professional developers, designers, analysts, animators, and engineers.