Best Types of Sweatshirts for Men and Women In 2022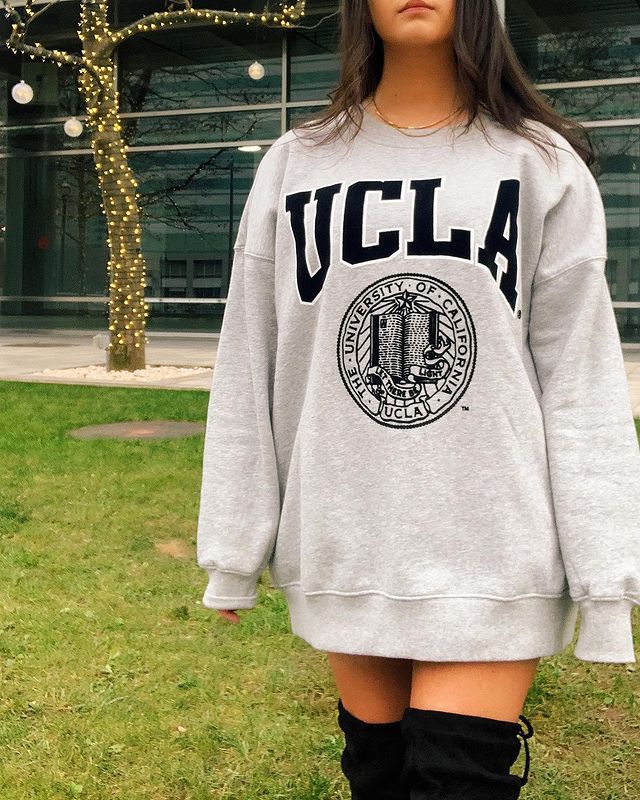 Sweatshirts are more flexible than you may realize. They are available in a number of designs. For special events, such as a night out with friends, you can dress them up a little. At the same time, they're ideal for casual events, as you can effortlessly pair them with jeans and sneakers. Here's an overview of the various types of sweatshirt, as well as a breakdown of the differences between sweatshirts, sweaters, and jackets.
A sweatshirt is an outstanding piece worn by both men and women. Originally a practical jersey all in cotton, the round-necked sweatshirt is a necessity in today's wardrobe. Now often referred to as a round collar or simply sweatshirts, everyone has a round collar and no collar. Crew necks are often compared head-to-head with sweaters, hoods, and jackets.
A sweatshirt is a long-sleeved sweater. It covers the upper body (chest and arms). It can be worn alone or with additional clothing, accompanied by a shirt or T-shirt under the sweat. Like a sweater, a sweatshirt does not have buttons, hooks, or zippers fastened. Sweatshirt are typically made of the following materials: wool, cotton, jersey, synthetic materials, or any combination thereof.
Here are some types of Sweatshirts for Men and Women
Crewneck sweatshirts are circular, collared long-sleeved outfits that are usually heavier and warmer than a long-sleeved t-shirt. Crewneck sweatshirt are one of the most basic and generally available types of sweatshirt.
These sweatshirts are a little more formal than your regular sweatshirt because they contain polo-style characteristics, particularly on the neck. These sweatshirt, as the name suggests, have a polo-like style, particularly with collars.
This kind of sweatshirt has a simple pocket on the stomach. A great option for a sporty or casual style. It is popular with women, men, and children. It comes in a variety of color and design solutions. A very comfortable and elegant way to warm your hands when it's a little cold.
Short-Sleeve or Sleeveless
These sweatshirt are commonly seen in hoodies and are excellent for layering in order to insulate your chest and core but not your arms. A short sleeve hoodie can be used at any time of year.
It's more like a tank top with a hoodie when it comes to sleeveless. These are usually used by men and women while working out at the gym, participating in sports, or for casual layering. They're perfect for athletes who like to keep their wardrobes at the top of their game.
These are designed for both men and women and are normally lightweight and perfect for keeping warm while running outside. They do, however, work in the air-conditioned confines of the gym. If you intend to run at night, search for a hoodie with bright, reflecting color to make you visible to motorists. What's fantastic about this type of sporting clothing is that it's frequently waterproof and quick-drying.
Some Features of Sweatshirts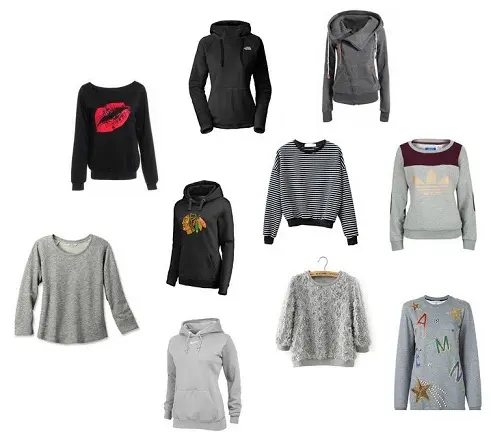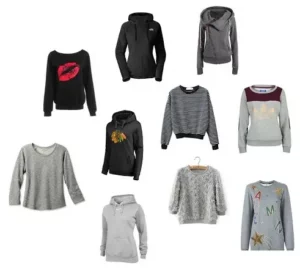 Material
Collar
Mostly made of sweat fabric.
Attached hood with ribbon to be laced up.
Kangaroo pocket in the front part.
Elastic cuffs and hem.
More about Sweatshirts
Sweatshirts, soft, long-sleeved pullover garments made of cotton or a cotton/polyester mix knit fabric that is soft and fleecy on the inside, have long been worn by athletes while warming up, observing from the sidelines, or cooling off after exercise. Nonetheless, they began to be worn by others during the 1960s and were eventually embraced by designers as part of their collections in the 1980s. Sweatshirt were one of the most prevalent pieces of a typical person's everyday clothing by the 2000s, and they came in a variety of materials and designs.
Sweatshirts combined with matching pants ("sweat pants") to form the jogging suit, Tracksuit, or sweat-suit, which became popular in the 1970s alongside the jogging fad. Modern adaptations ranging from short-sleeved or sleeveless sweatshirt to "sweatshirt," as well as the development of high-tech fabrics with improved insulation and comfort, demonstrate the sweatshirt's ongoing capacity to adapt to the demands of the wearer.