How to Make a YouTube Intro with Best YouTube Intro Makers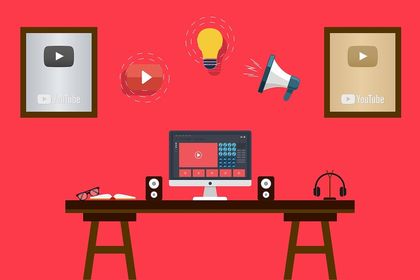 The first thirty seconds of your video can make or break it. Creating excellent YouTube video intros is essential to give your videos a great start. Intros can significantly improve your video's engagement rates and can also determine whether viewers will stick with your video till the end.
If you aren't aware of what a YouTube intro is, it's a short clip included at the beginning of the video. Depending on your content type and style of video, it could be an introduction to the topic you're covering or a quick look at what the video is about.
As the saying goes, intros are all about making that first best impression. It sets the tone for your video, gives a quick glimpse of what to expect, and is also a proven way to get viewers excited.
If you've never created a YouTube video intro before, it's easier than you think. We have compiled a list of some of the crucial things to consider when creating YouTube intros, along with some of the best tools you can use for the same.
Tips for Making Jaw-Dropping Intros
Keep It Short
The most valuable tip you can get when making YouTube introductions is regarding their lengths. In short, keep it short. If it lasts for too long, viewers are more likely to get bored and move to another video.
A length of five to ten seconds is typically the maximum you can go. Of course, the length of the ideal YouTube intro can vary among channels and also the type of content you publish. To find the magic number, experiment with multiple lengths in different videos and compare their engagement rates. Even better, you could directly ask your loyal subscribers about what they think is an ideal YouTube intro length.
Use Music
As mentioned earlier, YouTube intros have the power to set the tone of your video. To make the most out of it, use enthralling audio tracks that grab the attention of the viewers and entice them to stay around till the end of the video.
If you're just starting out with your YouTube channel and want to save costs, there are numerously royalty-free soundtracks available. If you have the required budget, you can produce an intro audio track, which will be useful for branding. The next time a viewer hears the track, they will know it's your video.
Stick To the Point
Don't confuse the viewer. If a video's intro doesn't make sense or match what your video is about, your viewers will be agitated. Including an irrelevant intro video is similar to including a click-bait thumbnail.
The key here is to be empathetic to the viewers. Think about how they will benefit from the intro. Always remember that an uninterested viewer is always better than an upset viewer. Not all subscribers will find all of your videos interesting. An intro can help them understand whether the video is something they would want to watch. If you trick them, they're highly likely to unsubscribe.
Branding Is Important
As mentioned above, your video's intro should help with brand awareness. Make sure you include your channel's name in the intro. Additionally, if viable, stay consistent with the elements used in the intro. This includes audio tracks, graphical elements, and style of intro. Of course, you can experiment with multiple styles and change the intro theme, for example, a Christmas-themed intro. But the idea is to make the intros as recognizable to your audience as possible.
Tools to Make Engaging YouTube Intros
There are several YouTube intro maker tools available. Some of them are paid, while some are free. Some of them are meant especially for creating YouTube intros, while others can help you make intros for any kind of video. Likewise, some tools let you start from scratch while others offer templates. The following are a few of the best YouTube intro makers.
InVideo lets you create unskippable YouTube intros effortlessly. The platform comes with more than 5000 templates to choose from and also has several industry-specific designs. It's a powerful YouTube intro maker that you can use for almost all of your video editing projects. You can select from thousands of videos and images available in the library and make videos in just 5 minutes.
Animaker is another tool that lets you create intros without much effort. You can pick a template of your choice or start from scratch. You can make the video more engaging by adding music from its massive music library. You can also create custom characters and select from more than 30,000 animated assets.
Clipchamp is a free YouTube intro-making tool that lets you create professional introductions. It's useful for brand building as you can choose from different colors, fonts, and effects that fit your channel the best. There are numerous customizable templates to choose from and there's a massive stock library with a huge number of royalty-free audio and video files.
Renderforest lets you create broadcast-quality YouTube intros in a couple of minutes. Users of any design skill level can use this tool to create a high-quality introduction video. The tool comes with a vast library of templates to choose from and also lets you upload your logo.
Motionden makes intro making an easy task. You can choose from hundreds of ready-made templates which cater to the needs of different industries. The platform lets you customize almost every element of templates, allowing you to effortlessly brand your intros.
VideoCreek is another intro-making platform that lets you create eye-catching intros online. You can include text elements, tweak the transitions, add multiple-element layers, and more. Just like most other tools, you can use VideoCreek to create an introduction video in a few minutes.
In Conclusion
The introduction of your video matters the most and can decide whether viewers will stay or leave. However, there's no harm in experimenting with different intro styles. The key is to experiment and find an intro style that resonates with your audience and brings the full essence of your videos.