13 ways to increase your sales on Instagram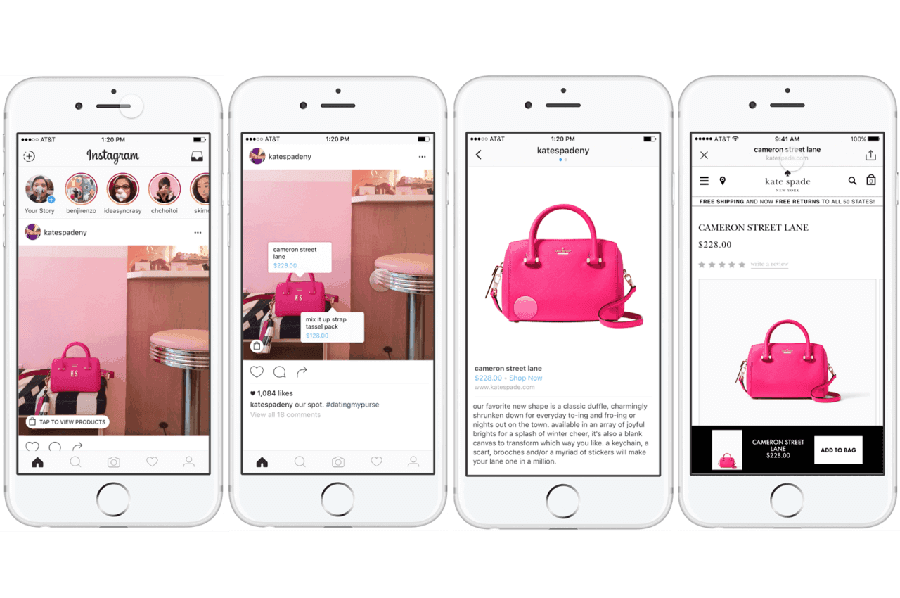 Before discussing the thirteen simplest and most effective ways to increase your sales on Instagram and optimize your content let's talk about Instagram first. Instagram is one of the most used social media platforms and therefore an excellent marketing channel. Therefore, even a simple account finder check will reveal a lot of big brands.
This unique photo-sharing platform offers one-of-a-kind opportunities to gain visibility and engage in dialogue with customers.
It is highly likely that you are already doing your best to promote your business through Instagram. 
1. only post attractive images to increase your sales on Instagram
Instagram is a visual platform. First of all, you should only post high-quality images.
Ideally, your photos should be creative and eye-catching, and properly highlight the products you want to promote. Once your customers are on your profile, they need to be able to recognize your brand immediately.
Check out some of the pictures of Taco Bella below. As you can see, they're fun and colorful and fit organically into overall branding.
Make sure each image you post on Instagram aligns with your overall branding strategy and business strategy to give them an authentic brand image. If your brand is elegant and minimalist, Instagram should be elegant and minimalist.
Choose an aesthetic and stick to it. This extends to Instagram captions. Don't oscillate between different styles and filters. Keep it simple. Consistency is key.
While original photos are always the best, sometimes borrowed images can help add variety to your account. There are many different free photo websites where you can find amazing high-quality photos. Moreover, online tools like Canva allow you to create custom images to promote discounts, gifts, or contests.
Remember that visually depicting your brand online may be the first experience your customers have with it, so make sure it's great.
2. Invest in Instagram ads (only business accounts, you won't go on private accounts)
Instagram ads will help you reach new and target audiences. It is a worthwhile investment, especially if your brand or business is fairly new.
You can plan your Instagram ads in such a way as to reach the customers who are most interested in your products. This is what InflowStyle did with its Instagram ads.
The fashionable sportswear brand launched an advertising campaign on Instagram targeting women aged 25 to 34 in America. InflowStyle ads featured lifestyle photos with bright colors and a "Buy Now" button that took users to a product or category page on their website.
During this campaign, InflowStyle saw sales increase fivefold. The cost of conversion also decreased by 80% and the return on ad spend increased sixfold.
The lesson to learn is that finding an effective Instagram strategy can be a catalyst for your business. For a long time, the problem with Instagram marketing was that you couldn't put clickable links on your post, so brands had to direct their fans to the link in their newsletter – and update that link constantly.
But now you can add links to your website in Instagram posts – if you advertise. (You must have 10,000 followers and a business account)
Instagram is also working with Shopify to go further and offer product tagging for hassle-free customer service.
3. Do a re-marketing of your Instagram campaign
To further improve the performance of your Instagram ads, use retargeting to engage people who have already visited your site – in other words, consumers who have already expressed an interest in what your brand offers.
Retargeting is primarily advertising that specifically targets site visitors who will leave without making a purchase. It was originally introduced on Facebook in 2015 before being added to Instagram's advertising arsenal in 2016.
As described on Instagram:
"Dynamic Instagram Ads help promote the right products to the right person at the right time. When someone visits your website or mobile app and then looks at Instagram, they'll get an ad with lots of related products from those they've viewed on your website or app. "
It turned out to be a huge success for M. Gemi. In fact, their Instagram campaigns have been much more successful than their campaigns on other social media platforms, despite targeting identical audiences.
On Instagram, twice as many conversions (advertising effectiveness) were achieved as for other channels for M.Gemi, and 25% of their total sales come from Instagram. Their acquisition cost was also three times lower than for other channels.
You can focus on one specific product when re-targeting, or use its carousel format to highlight similar items to drive customers in the right direction.
To get started, simply download Facebook Pixel and upload the entire product catalog to Business Manager. The ads will then automatically run based on the products displayed on your site and the uploaded product images, and Facebook's backend system determines the most relevant content based on how you categorized the ads.
4. Make friends with influencers to increase your sales on Instagram
Influencers are Instagram personalities who already have an established audience. They turn to them for recommendations and advice on shopping, so it should come as no surprise that more and more brands are turning to people who influence the promotion of their products.
As a visual platform, Instagram offers the perfect way to engage your target audience with the help of influencers. A good Instagram influencer marketing strategy can help you get high traffic and more engagement, which will ultimately result in higher profits/conversions.
To increase your sales on Instagram by influencer content, provide influencers with a discount code or promotional link. If you want to promote your products with multiple influencers, assign each one a unique code or link to track individual conversions.
For example, Glossier promotes its products with the help of beauty influencers on Instagram. As you can see in the screenshot below, micro-influencer Grace Abbott shared a unique promo link for their products. By following the link, her followers can get a 20% discount on their first order from Glossier – and Glossier can see how much Grace Abbott is worth, down to the last dollar.
Instagram influencer marketing is also a great way to increase your search engine ranking as literally more and more people are talking about your brand. Research has shown that compared to paid advertising, customers generated thanks to "whispered" advertising have a 37% higher retention rate.
5. Show your products in action to increase your sales on Instagram
While high-quality images of your products can grab people's attention, they may not always be enough to increase your sales on Instagram.
To make a real impact on your Instagram content, showcase your product experience. Tell your story through your Instagram content with photos and videos that show which products are active.
For example, if you sell a specific ingredient (food for a dish), you can include pictures of dishes that can be prepared with the ingredient. Include the recipe in your signature and perhaps describe the perfect occasion to enjoy the dish.
Alternatively, if you are selling clothes, you can show the people wearing the clothes in different contexts. Include a caption that describes the experience of wearing the clothes or resembles the texture of the fabric.
GoPro does an excellent job of showing its product in action. All Instagram posts are photos and videos taken with the camera.
Introduce your products by showing people how people love and enjoying them, and helping them understand how they can use and enjoy them.
6. Be subtle with influencer marketing
Consumers don't like to sell themselves too much. So even if you use an influencer to promote your product, the content shouldn't be too "selling". This means that it should be interesting and attractive, but in line with the usual content.
Otherwise, the content may feel overly promotional and disingenuous, which could negatively affect how your followers are influencing your brand.
Before you begin the influencer's range of influence, make sure you have defined what it is and what it
is for.
deliver a specific message raise awareness support your content marketing activity – drive traffic to your site and generate more sales all of the above? Whatever your goal, the goal is not to influence the publication of what appears to be clear brand pressure.
Only engage high-impact people who fit your brand, and make sure you accurately portray your results.
In the post above, content marketing is in line with the usual lifestyle post. The emphasis is on food, in this case, a salad. The headphones are cleverly placed nearby, labeled that they're great for blocking out noise while learning.
The post is about headphones, but it's not immediately apparent that it is. This looks like a product recommendation, not a product push.
7. User Generated Content
User-Generated Content is another form of word-of-mouth advertising. Your existing customers help you create content that showcases your product. This, in turn, helps promote your product or service to new customers or their followers.
What could be easier?
However, some customers may not share photos of your product without your encouragement. To encourage them, you need to offer a reward or incentive, such as a chance to win, if you post pictures of your product or hashtag.
For example, you can offer the opportunity to appear on your official Instagram account or a chance to win freebies or gift cards. Encourage them to use this branded hashtag to help you track the success of your efforts.
The Melt regularly uploads photos taken by their customers. As you can see in the screenshot below, they always save the user appropriately in the photo and add fun captions for their followers to relate to.
Celebrate your existing customers. Think of content from them as some kind of living social evidence for potential customers who still have doubts about buying from you.
As a bonus, presenting user-generated content is a great way to show your customers how much you appreciate them.
8. Ask for honest reviews from influencers to increase your sales on Instagram
People trust influencers because they are like ordinary consumers. Their opinions and advice seem more authentic than any random celebrity promoting your product.
Brands that work with influencers do so mainly because they want to gain the trust of their target audience.
A good way to do this is to ask an influencer to be honest in their reviews, even if they find some negative aspects to your products. When an influencer honestly shares some features of a product they don't like, their positive feedback on other features seems more genuine.
Customers know that each product has certain advantages and disadvantages. So ask your influencer to post pros and cons to help you gain the trust of your target audience.
Beauty influencer Adri regularly publishes honest reviews about her experience using certain cosmetics. It tells you about the results it gets from each product, as well as whether these results are in line with the product claims.
In the screenshot below, she mentions that her experience with a specific product was overall positive. However, she did not hesitate to mention that the product fell short of expectations, that it shrinks pores after 28 days.
Is this still a good result for the brand? Yes. Because he lists enough positive "advantages" for the product to outweigh the negative "against" and gives an overall score of 9/10. Her honest evaluation both maintains her credibility and increases fans for the brand.
9. Be funny to increase your sales on Instagram
Humor is good for engaging your audience. To increase your sales on Instagram, try to implement witty puns and witty humor in your Instagram posts. The goal is to improve users' perception of the brand. And you already know how positive brand perception can affect sales!
The Honest Company engages its followers on Instagram by regularly posting fun, related parenting quotes. In the screenshot below, you can see how many fans react to their sense of humor and talk about what it's called.
The brand also publishes favorite photos with witty inscriptions.
If humorous content doesn't fit your brand, try to evoke thoughts and inspire. Instagram is the perfect platform for aspirational posts that are very, badly needed by ordinary people.
10. Offer discounts or gifts
Offering a discount or gift is one of the most effective ways to increase your sales on Instagram. It is a cost-effective method of promoting products and increasing sales.
With this method, you can also increase awareness of your products or services as customers share news about the offer with their friends.
This then increases the engagement rate. When your Instagram followers somehow engage with your content, you can offer them a discount.
By offering gifts or discounts, they naturally attract potential customers and encourage them to buy your products or services. If your customers love your products or services, they don't hesitate to talk about and promote your brand. To reward such loyal customers, you can offer them attractive offers such as VIP discounts or membership in a top-class rewards program.
For example, FatFace, a British clothing brand, offered huge discounts on a clothing line they announced on Instagram. Their supporters were very excited about the discounts as the post received over 6k. Views.
An example of using discounts on Instagram – FatFace
11. Use Instagram Stories
Instagram has released the Instagram Stories feature, which allows you to post and share videos and photos with your faithful followers. Brands can really take advantage of this feature to increase sales.
But how can you use it effectively?
Here are some suggestions to help you create effectively and inspiring Instagram stories. By implementing these tips correctly, you can significantly increase your sales on Instagram:
If your hands are trembling, buy a tripod. A tripod will make your smartphone or camera steady while recording videos and taking photos.
Capture and share a brand story or journey with your followers in your Instagram Stories.
Use product images or create a video and share it on your STORY. Make sure you are using good lighting.
Capture and share your customers' experiences by using your products or services.
Take behind-the-scenes shots and videos suitable for your product or service and include them in your STORY.
12. Use hashtags
How to use hashtags
You can even use hashtags related to your services or products to attract customers and increase your sales on Instagram. When you use the right combination of hashtags, it becomes easier to find your target customers. This method will increase your brand awareness.
But it's not as easy as it sounds to find the right combination of effective hashtags. You must spend your time and effort doing extensive research. Make sure you use a balanced combination of unique and popular hashtags in your Instagram posts.
Experiment with different combinations to see which works best for you. Also, if you're working with influencers, ask them to use the same mixture of hashtags.
For example, Lacroix is ​​a brand of carbonated water. You can see in the screenshot below that the brand used a mix of different hashtags and managed to get over 1,600 likes.
How to use hashtags on Instagram – Lacroix
Like this brand, you can also research and use the correct mix of hashtags to increase your brand's visibility.
13. Don't post pushy or commercialized posts
You must remember that Instagram is not a selling and buying platform. People don't want to buy from brands, but rather socialize. Therefore, you should post content that is not too intrusive or too expensive.
If you want to use Instagram to sell your products, you have to be creative. This means that you need to provide potential customers with valuable, interesting content.
To do this, you can post photos inspired by real situations or share photos of customers with your product. You can also post photos and videos of tips or recipes, including products.
For example, My Protein is a fitness brand. Check your Instagram posts. They are not too skimpy, but at the same time entice potential customers to buy, as the photos they post are from real-life situations.
The post in the screenshot below gained over 1000 likes in less than seven days.
How to sell on Instagram – My Protein
In conclusion, social media is constantly evolving and Instagram is no exception. The above tips should give you some great ideas to increase your Instagram sales.
As you can see, game influencers can make a big difference to your marketing efforts and provide even more opportunities to engage your fans and share great photos and videos.
With over 600 million monthly active users, Instagram gives brands great results. This is a place where people turn their passion into shopping.